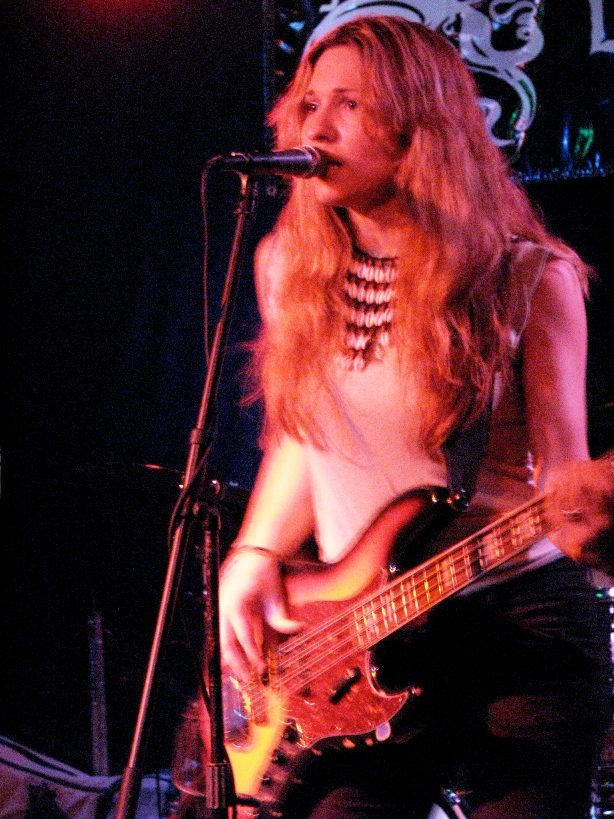 I like the word timeless, but what does it really mean? Last night, driving up to The Saint in Asbury Park, NJ for the Super 400 and Speakeasy co-bill, I had some examples of timelessness present themselves. Pearl Jam, driving with the windows down and the sunroof open, The Black Crowes, a quarter pounder with cheese meal: all timeless. You see, while I was driving I experienced all of these things. I enjoyed these things equally as a teenager as I do now. Admit it, Pearl Jam and the quarter pounder still have a soft spot in your heart, or at least create one.
As the sun set over Coutie's Convenience Store, I arrived in the small Northern New Jersey outpost. Old friends form my road weary days, the boys from
Spekaeasy
agreed to meet up with me to catch up on what's been going on as the miles ticked off their odometer for the past two years. As is always the case with this quartet from Springfield, MO, our reunion began with the tongue planted firmly in the cheek. When I approached the boys on the boardwalk, that feeling of discomfort came over me- that feeling we all experience when we get back together with friends from another life. What will I say? Should I hug them? Fortunately, before I had to resolve any of these stifling introspections,
Ryan Fanan
, drummer and dry humorist of the band jumped out form behind a nearby column and got a "Welcome Stites- did we scare you?" photo of the occasion. That's how
Speakeasy
likes their audience to feel. You are at the show to be amused, let your hair down, laugh, and feel true emotion flowing through your surging body, without the hang ups of formality.
When we returned to the venue, the opener was set to begin. When I first saw the poster with their name Free This, I wondered what they could be hoping to set free. My mind? My id? However, the rest of the band's poster let me know that they simply want to set their pants' snakes free. These young boys were raw, hungry, crude rockers and they set a great pace for the night. Free This is a hard rocking trio with a vocalist – allow me to go off on a quick tangent here. A singer who plays nothing always needs to be counted as an extra member of a band. Like a designated hitter or an extra skater on a delayed penalty, they exist somewhere within and in dispute of the rules at the same time.
The opener's time onstage also gave me a chance to acquaint myself with "The Saint" an old haunt held together by the stickers and posters of bands that have passed through. But, upon further inspection, it became apparent that many of the bigger names from this area got their chops in this humble beer hall.
Ween
,
Cake
,
The Kings of Leon
and even
REO Speedealer
had graced this small stage. By the end of the
Free This
set, the crowd was primed for rock and roll and I had come to understand that there was more to this venue if you'll just take the time to read the smoke stained walls.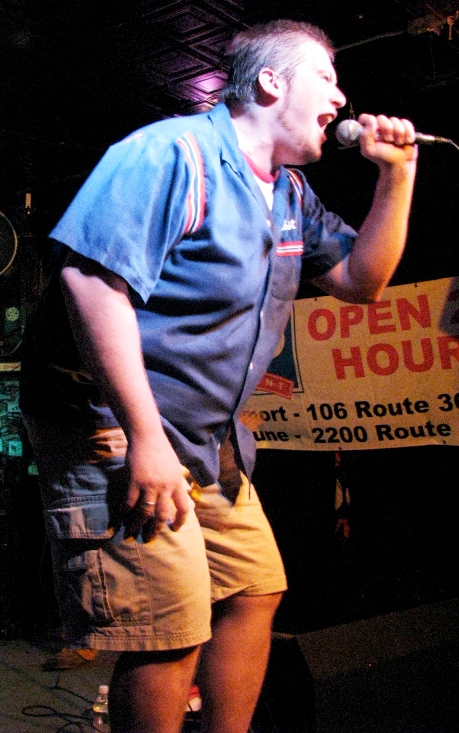 Knowing the many roads that
Speakeasy
can take in their setlist design, I was very interested to see where this night would go. The stench of rock hung thick and the air, and
Speakeasy
is capable of bringing just that. But in their opening tune, "The Great Unknown" they ventured in a direction I had not expected. This song is accentuated by numerous distinct changes and two and three part harmonies. Still, it told the audience that the band would not need the obligatory time to warm up. Simply put, this song said "
Speakeasy
is here, we are ready and, if you will let us, we will blow your fucking doors off."
The ebbs of flows of
Speakeasy's
set were designed to take the audience on a journey, as proven by the swinging blues beat of the next couple of newer tunes, followed by a rock ballad, entitled "The Bigger Picture". While the overlying message of this song, not so subtley conveyed in the line, "Some days are peanuts, some days are shells" was powerful, it was lost on this night's new audience and their virgin ears, and the band recognized this. Give and take between a band and their crowd can help the organic shaping of a good bar show and
Speakeasy
understood where there audience wanted them to go. The band quickly launched into the hard driving "Where You At". The straight-ahead rhythm of this selection is not to be taken lightly. It has the type of low end that could subtly make you pick up speed while driving and run your car off the road, all the while bobbing your head violently to the music. The wide-open guitar shredding solos by
Shawn Eckels
provided the first audible response from the night's crowd.
Speakeasy
had broken down the doors of our minds, invited themselves in and kicked their feet up on the furniture.
Speakeasy's
time on stage was running short and the decision to drop some tunes from the setlist was made so they could finish the crowd off like an alcoholic finished off a bottle, with exuberance and sorrow at the same time.
A few weeks ago I read an interview with
Trey Anastasio
. The reporter was talking to the Crimson Dego about his newfound sobriety and
Trey
told him that when he was using, he would be happy to never play You Enjoy Myself, a staple of the live
Phish
experience, ever again. However, now that he was clean, he said that he would give his "left nut" to play that song five times a day for the rest of his life. Having never written or created something as beautiful as an enduring song or piece of art, I cannot tell you what it is like to see it stand the trials of time. But I can say that, if I had to choose a list of songs that I would
hear
5 times a day for the rest of my life, "Places",
Speakeasy's
second to last song of the night, would be on the list. It starts with an upbeat swing that is infectous and reminds me of summer. Then, before you get too comfortable in the groove, piano man
Marcus Chapman
hurls himself into the song, but this time atop his coronet. But the ride of this rhapsody is not over with this unexpected horn playing. Instead, the song goes through rhythmic changes, spanning the distance from melodic chantey with simple guitar overhead, to full on rock saga with screams and laughs to make the impossible-to-miss comparison to a
Phish
song. But while
Phish
lacked the ability to channel the hair bands of the 80's,
Speakeasy
pulls this off song after song, night after night, especially in songs like "Places".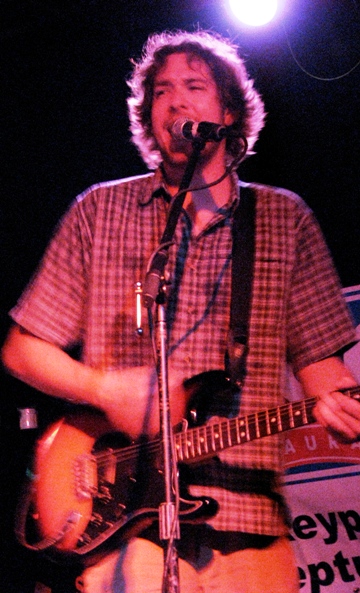 But an epic like this is no way to leave a crowd.
The Dead
rarely closed with "Estimated Prophet", but "One More Saturday Night" was an end of night main stay. Why? Because they knew that your socks needed to be thoroughly rocked off before you walked out.
Speakeasy
followed this same blueprint and finished the night off with "Stitch in Time" and Marcus Chapman, once again, took the reins for part of this song. But this time he left the coronet in its case. On this tune he simply crowned himself king ass kicker and the crowd bowed to his highness. He stepped to the front of the stage, jumped up and down and got the crowd as pumped as they had been all night.
Super 400
needed very little time to rearrange the stage, as they were sharing their backline with
Speakeasy
, and, before we knew it, the crowd was off again on a musical ride, this time through the backwoods and swamps of the musical landscape. "We're like your cousins… from the mountains" Kenny Hohman, guitarist from
Super 400
quipped early on in the set, like a self deprecating martyr before an unsure audience. Ah, now we had a better idea of what to expect.
In the early 90's, it was hard to find an urban area that did not have their local jamband answer to
The Grateful Dead
. As the decade wore on, you began finding copycats of
Phish
. At the change of the millennium, you found more and more jamgrass and funk bands. These bands were often formulaic, trying to capitalize on what they had seen others do. However, a few bands took a slightly askew approach to these templates and created something all their own. Yes
RAQ
does owe a lot of what they do to
Phish
, but what they do is all their own.
Railroad Earth
has elements of
The String Cheese Incident
, but they did not make their mark recreating what their brothers from Colorado had done before them.
This phenomenon continues today with what might be called "Blues Rock" or, the ever patriotic "American Rock ", but oddly with not one, but coutless bands inspiring this move towards the southern roots of American rock and roll. Its like the sub conscious of creative people nationwide clicked on at the same time. "Its time" the voice told them "for a return to good old rock and roll."
Kenny Hohman
,
Joe Daley
and
Lori Friday
all heard that voice and came together to form
Super 400
.
Hailing from Troy, NY this power trio has built a devout following close to, and not so close to home. "We just played a tour in Europe. In Spain we played a string of shows that felt like hometown shows. The fans had the album, they knew the words and they were into everything we were doing onstage." Kenny told me with a smile as the band was loading out later in the evening. Perhaps we should take more from the Spanish than their food. Clearly, they can recognize superb original music when they hear it.
A few songs into the set and after a rocking original lead by bassist
Lori Friday
, the band took a second and regrouped. Quietly,
Lori
told the crowd that "this is for the rock and rollers". Now, I'm not sure if she was talking about the next tune or the rest of the set. Either way, the
band
dropped the hammer like a 1978 Camaro with an eagle on the dash and t-tops on the open highway with no cops in sight.
This set within a set started with a rendition of
Carol King's
" I Feel The Earth Move". But
Super 400
did not just cover this song. They ripped its jeans, put holes in its disco shirt and made it their rock and roll slave. The baseline followed in the hallowed tradition of
Led Zeppelin
. Reed Herron, bass player from Speakeasy, later noted to me, "I have never seen a bass player embody
John Paul Jones
and the ideas he had about the bass like Lori does."
Changing gears, and changing guitars, the next song featured Hohman on his
Les Paul
, but unlike the enigmatic creator of this signature guitar, Kenny was not interested in the jazzier side of rock. The band waded into the swamp rock of "It's Gonna Burst", riding on guitar riffs, snare drum and down home lyrics.
I got a brake for a throttle, feels like I've been cursed
I got a heart full of love, feels like it's gonna burst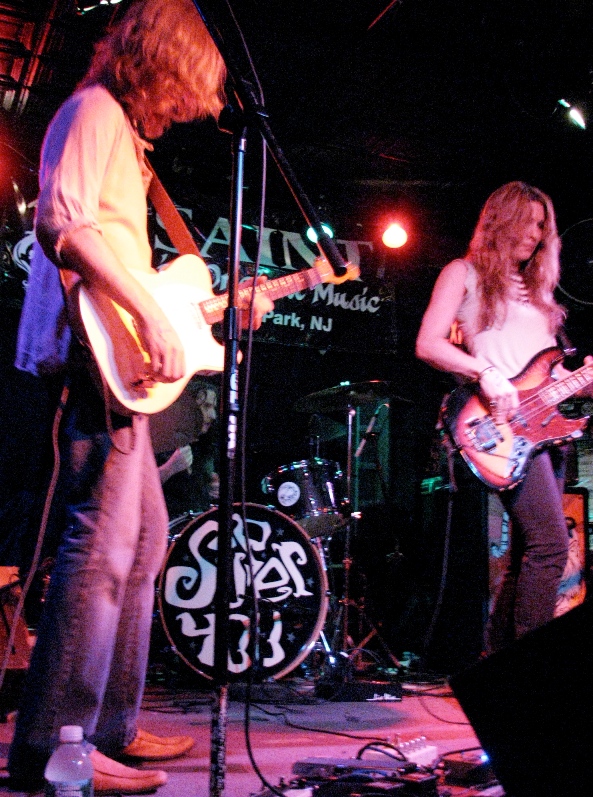 Hohman than switched back to one of his two Telecaster guitars for "Push Back Now." In Bernard Malamud's, The Natural, lightning strikes a tree and the hero of the story creates a baseball bat named 'Wonderboy' out of the tree's remains. Well, Super 400 has a similar hero, except he made not one but two instruments from a tree in his backyard. And jut like Roy Hobbes, Kenny uses his instrument to low the lights out in every venue he plays. In "Push Back Now", Hohman's guitar playing was in the spotlight, yet was equaled by the thunder Friday was laying down, thunder that made the white tiger on the front of her bass cabinet dance. I know, how fitting is the white tiger, right? But I digress.
The show finished with the slow "Green Grass End" followed by a fast paced original "Emergency", a name that sums up the feeling of an impending tension created by the trio. After a rousing round of applause, the band appeased the appreciative crowd with an encore covering a Nick Drake song. But, just as they had with the Carol King tune earlier in the night, Super 400 departed so drastically from the original intention of Nick Drake, had the author risen from the dead and been in attendance, he wouldn't have recognized his own tune.
So I am back thinking about the word timeless and, after this show, what I realized is that the brand of music Speakeasy and Super 400 should simply be known as timeless. I liked it when I first heard it. I like it now. And, unless I forget how cool all bad ass things are, I will assume I will like it for years to come.