Swing Fiddler/Vocalist Elana James Releases Solo Debut
Submitted by press on Tue, 03/13/2007 - 21:33
"When one door closes, another opens" might seem little more than a comforting cliché, but don't try telling that to Elana James.  Dealt a nasty surprise little more than two years ago, when the band she'd worked with for close to a decade suddenly dissolved, James was more pleasantly stunned just weeks later by an invitation to join Bob Dylan's band - and what she learned in the course of touring with a legend set her on a new path whose first (but certainly not last) milestone is the February 27th, 2007 release of her solo debut, Elana James (self released on Snarf).
Almost evenly divided between captivating originals and deftly chosen standards, Elana James is a portrait of an artist at the crossroads between where she's been and where she's headed.  Whether she's singing or leading a swinging instrumental with her violin, James is confident and convincing - the legacy of years spent as a member of the acclaimed Hot Club Of Cowtown.  But while the album offers a healthy dose of her own take on the energetic "string jazz" that was the Hot Club's stock in trade, it points in new directions, too, serving up a compelling change of pace with "All The World And I," a haunting folk-flavored song that reveals a hitherto-unknown side of her creativity.  Leavened by favorites like Duke Ellington's "I Got It Bad (And That Ain't Good)," the sprightly western swing anthem "Silver Bells," and a tip of the hat to Dylan ("One More Night"), Elana James marks the arrival of a strong new musical voice.
Even more than her contributions to the Hot Club's repertoire did, the set's original songs display Elana's deep affinity for the musical vocabulary of swing.  Backed by an ensemble that includes both current band members and some of the brightest lights of her adopted home town of Austin's rich musical scene, songs like "Twenty-Four Hours A Day," "Oh, Baby" and "Down The Line" go down smooth, yet swing ferociously from the first note to the last.  There's a nod to the dancers with the classic lines of her "Eva's Waltz," too, while James - with some help from Texas fiddle/mandolin legend Johnny Gimble - brings her own touch to "Goodbye Liza Jane" and "Silver Bells" in instrumental interludes that serve to complement the songs and highlight both James's and the ensemble's virtuosity.  And when it comes to interpreting standards, Elana easily rises to the challenge, whether giving a winsome reading of country music pioneer Carson Robison's "The Little Green Valley" or a sultry take on "I Don't Mind."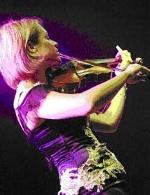 "One thing I realized when I was playing in Bob Dylan's band was that what we were doing was what everyone is doing, just at a higher level," James says.  "You write some songs, you teach them to people, and then you tour around and play them.  He's had unparalleled success, and he's peerless in what he does, and yet - on the outside, he's still off doing exactly the same thing as everyone else.  That was a revelation to me.  And it made me realize that if I started my own thing, there's a lot of dignity in just doing it; you don't have to worry about who you're playing for, you don't have to worry about how it's received, you just have to do it."
For Elana James, that realization led to a new career - and with the release of Elana James, it's led to a new opportunity for connoisseurs to discover the full extent of a remarkable musician's talent.
Elana James & The Continental Two ~ 2007 Tour Dates
* With Bruce Robison (solo)
3/16 SXSW / Momo's (9 PM) / Austin, TX
3/17 Gruene Hall / New Braunfels, TX
3/21 Maria's Taco Express / Austin, TX
3/23 Club Helsinki / Great Barrington, MA
3/24 United Methodist Church / Middlebury, VT
3/27-29 Rodeo Bar / NYC
3/30 Café Nine / New Haven, CT
3/31 Narrows Center for the Arts / Fall River, MA
4/10 Coffee Gallery / Altadena, CA
4/12 The Mint / Los Angeles, CA
4/13 Acoustic Music San Diego / San Diego, CA
4/14 West Side Theatre / Newman, CA
4/15 Freight & Salvage / Berkeley, CA
4/16 Don Quixote's Intl Music Hall / Felton, CA
4/18 Grass Valley Center for the Arts / Grass Valley, CA
4/19 Palm's Playhouse /  Winters, CA
4/20 Hotel Utah Saloon / San Francisco, CA
5/03 Continental Club / Houston, TX
5/05 Continental Club / Austin, TX
5/06 Gruene Hall / New Braunfels, TX
5/29 Ballard Park / Ridgefield, CT
5/30 Club Passim / Cambridge, MA