The psychedelic rock throw back band from Australia finally found their way back to Boulder to play at the last small venue that they'll probably fit in. The next time they come to Colorado, I am predicting that it will be at the Fillmore, Red Rocks, or dare I say the Pepsi Center. As soon as the masses catch on to this modern day Beatles flair, it will be exponential growth for the aesthetic band out of Perth. The band that they brought along with them to open, White Denim will probably outgrow small venues as well by the time they come back. These two musical masterpieces are something special. They are classic bands found in modern times. Their sound is so refreshing compared to some of the repetitive, identical sounding, electronic indie bands that seem to be really popular at the moment.
White Denim lit up the stage first. The four piece rock band out of Austin, Texas gripped the crowd at the Boulder Theater with a motivated opening set that the crowd remembered and screamed for even later in the show when Tame Impala gave them accolades.
Tame Impala came on in a fury of rock exposure with a liquid back ground light show and an air of nostalgia that every listener can connect with in their own way. It is so familiar even if you have never seen them before. It feels so good to hear the echo effect of lead singer, and multi-instrumentalist Kevin Parker's voice. It is so unique and like no other voice except for maybe John Lennon's if the Beatles played ten more years. It only took them till the second song, "Solitude of Bliss," to get the crowd absolutely screaming like the Beatles were actually there. Although they were out touring to promote their newest album Lonerism, this track was off of their debut album, InnerSpeaker. They played many of their new tracks, which are great, but tonight it seemed like the audience was mostly digging the InnerSpeaker songs because right before "It Is Not Meant to Be," a fan passed Parker a kazoo. He promised the crowd that he would incorporate it into the next song. Just about half way through the song, he ripped a kazoo solo to the enjoyment of the crowd, and then he threw it back to us. It felt like one of those special rock concert moments that only happen every once in a great while. We were mesmerized until the rocker "Half Full Glass of Wine" electrified the sold out theater. All I could think about were the Yardbirds. It is such a blessing to have a band like this touring especially since bands like Rose Hill Drive, Wolfmother, and Mars Volta pretty much vanished from our radars after so much hope that rock fans everywhere had in them.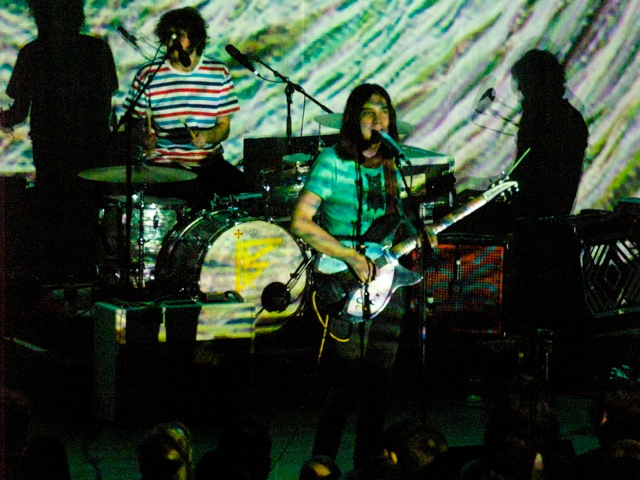 "Alter Ego" was the last song that the band rocked before they took a break pre encore. At least three of their songs at the end closely resembled the Syd Barrett days of early Pink Floyd. Then at just 11pm, the encore "Feels Like We Only Go Backwards" became a huge farewell sing a long that the crowd did not want to let go of. This band is very very special, and if you have not ever heard of them or heard their music, they are definitely worth jumping on the bandwagon for before it is too late. They are already back in Australia finishing up circumnavigating the world, but they will be back, and when they are, do not miss them. I do not often find a brand new band that I am this excited about. I am really looking forward to seeing them again. I am almost positive that they will be part of this summer's biggest festival extravaganzas, if we are lucky at least.