TAUK with Karl Denson's Tiny Universe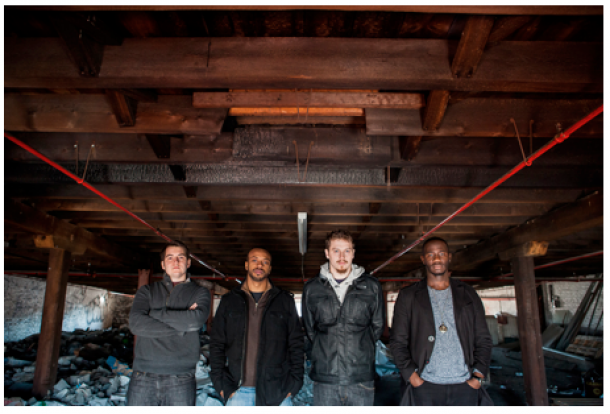 The prog/rock quartet TAUK announces today they will support Karl Denson's Tiny Universe on select East Coast dates, from January 28th - February 1st. TAUK will bring their unique instrumental blend of funk, jazz, pop, and rock to shows in Portland, ME; Cambridge, Mass; Philadelphia, PA; Washington, D.C. and Westbury, NY. For tickets and more details, visit: www.taukband.com.  
In the meantime, TAUK will wrap up a successful 2013 with performances at New York City's Official Phish After-Party with Fikus on December 28th and Baltimore's New Year's Eve at The 8x10 with Pigeons Playing Ping Pong. 
TAUK joined forces with Grammy-Winning Producer Robert Carranza (Mars Volta, Jack Johnson) to craft their first entirely instrumental full-length album, Homunculus, released in April 2013. The album is available for download on iTunes here: http://bit.ly/iTunesTauk.
TAUK's unique experimental blend of instrumental funk, jazz, pop, and rock landed the band spots on the nation's biggest festivals such as Bonnaroo, Gathering of the Vibes, The Hangout Music Festival, Summer Camp Music Festival, The Allman Brother's Peach Fest, snoe.Down, Mazfest and opening gigs for moe., Robert Randolph & the Family Band, O.A.R., 311, Tea Leaf Green, Perpetual Groove and more. Check out TAUK performing their unique rendition of The Beatles classic "I Want You (She's So Heavy)" for Indaba Music: http://bit.ly/TAUKbeatles.
TAUK is Matt Jalbert (Guitar), Charlie Dolan (Bass), Alric "A.C." Carter (Keyboard-Organ), and Isaac Teel (Drums). Forming in middle school, a majority of TAUK's members have been playing together for over a decade. The group experimented with their sound throughout the years both individually while studying at top music universities and conservatories, and together as a band - always working to find their ideal sound. It wasn't until 2012 with the addition of drummer, Isaac Teel, and the realization the band could build a fan base around a completely instrumental act, that the pieces fell into place for Homunculus.
TAUK manages to create a live show experience to match their masterfully produced recordings.  The unique chemistry and relaxed-focus of Tauk's performance is undeniable, but their ability to create immensely melodic and emotional music without a vocal lead is what continues to captivate and impress music lovers across all genres. The future continues to look bright for this talented and ambitious quartet.
Upcoming Tour Dates:
Dec 06 - Albany, NY @ The Hollow w/ Formula 5
Dec 07 - Nyack, NY @ Olive's
Dec 18 - Chapel Hill, NC @ Local 506
Dec 19 - Asheville, NC @ One Stop Deli w/ Captain Midnight
Dec 20 - Chantilly, VA @ Bungalow Billiards w/ Shack Band
Dec 27 - Philadelphia, PA @ Theater of Living Arts w/ Dopapod and Swift Technique
Dec 28 - New York, NY @ Drom w/ Fikus
Dec 31 - Baltimore, MD @ 8x10 w/ Pigeons Playing Ping Pong and ELM
Jan 28 - Portland, ME @ Port City Music Hall**
Jan 29 - Cambridge, MA @ The Sinclair**
Jan 30 - Philadelphia, PA @ Theatre of Living Arts**
Jan 31 - Washington D.C. @ 9:30 Club**
Feb 01 - Westbury, NY @ The Space at Westbury**
** With Karl Denson's Tiny Universe