Long before their marriage and musical union, Susan Tedeschi and Derek Trucks found success in their individual endeavors. Susan has been belting out independent and Grammy nominated blues since the mid-nineties. Derek, growing up amongst the famous and exploitative shadows of The Allman Brothers Band, has been touring since he was a teenager and now embodies the spirit of the slide guitar. With Susan leading the way vocally and Derek howling through his Gibson SG, their combined effort has evolved into a traveling caravan eleven people deep. By inviting Sharon Jones & The Dap Kings and Doyle Bramhall II along for the ride, The Wheels of Soul have really started spinning, and look to keep rolling through early August.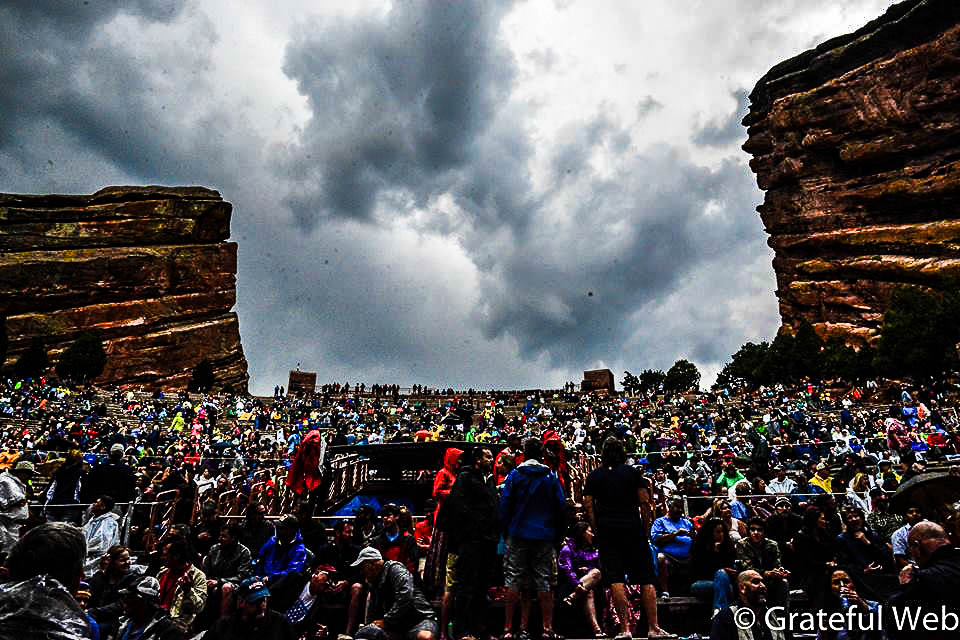 Anybody familiar with the weather in Colorado will roll their eyes when you mention a spring concert at Red Rocks Amphitheatre. The wind, rain and violent bursts of lightning roll over the foothills of the Rocky Mountains and descend upon Morrison with impending wrath. It isn't unusual. Red Rocks, like most of Colorado, has had its fair share of storms over the past two months, and in turn led to show delays and soggy, abandoned socks scattered throughout the lower south lot. With shows seemingly booked earlier each year, it's just something you live with and (hopefully) dress accordingly for.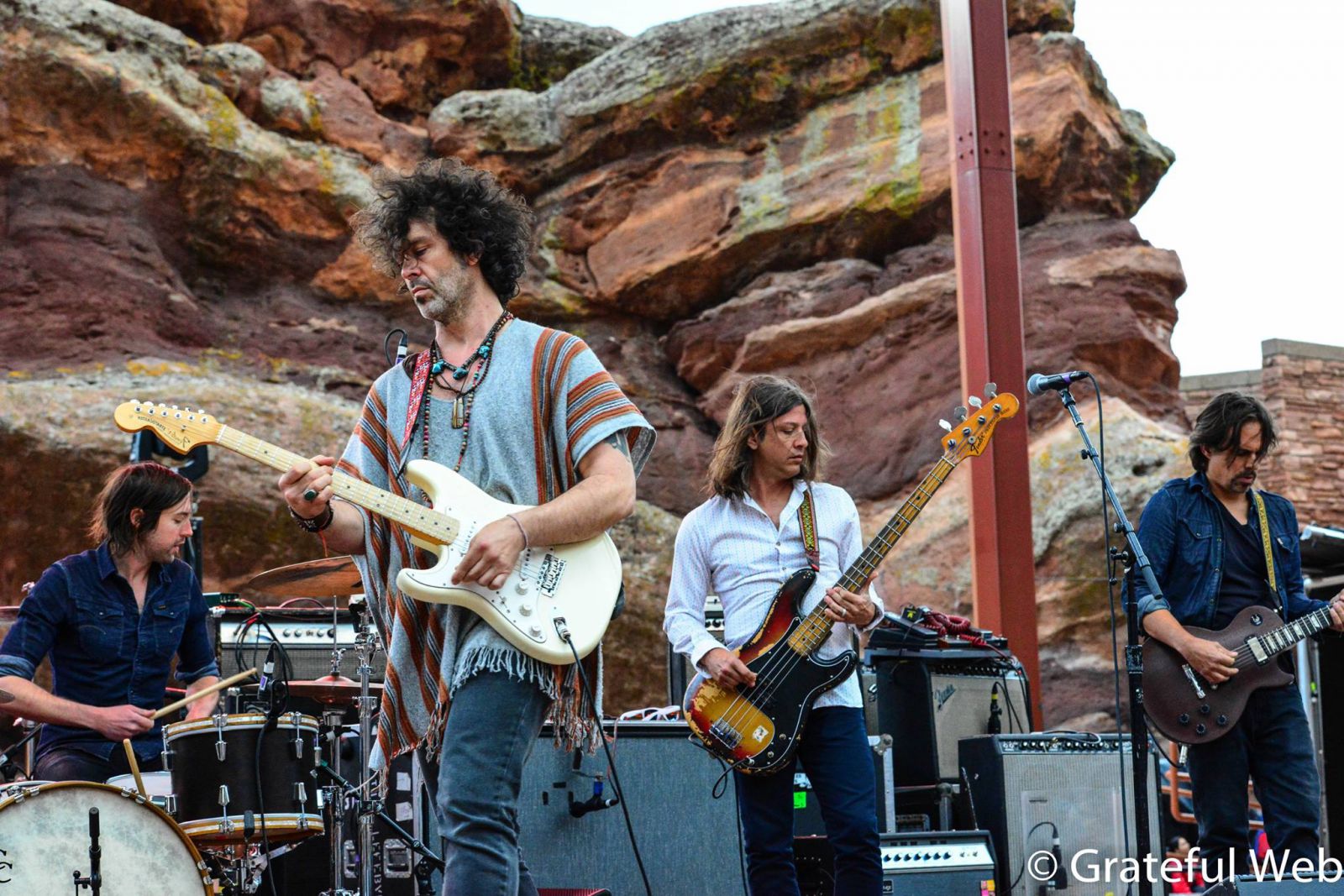 Due to the influx of traffic and the oncoming storm, Doyle Bramhall II could be heard but not seen for some in the lot, and not heard at all for others. Those already inside the venue were able to catch his set before taking cover, whereas those still parking were encouraged to stay in the shelter of their cars. Once the lightning ceased to dance across the apocalyptic sky, a colorful montage of rain jackets crowded the ramps leading into Red Rocks; the soul shaking voice of Sharon Jones ringing like a beacon to the wet and weary concertgoers.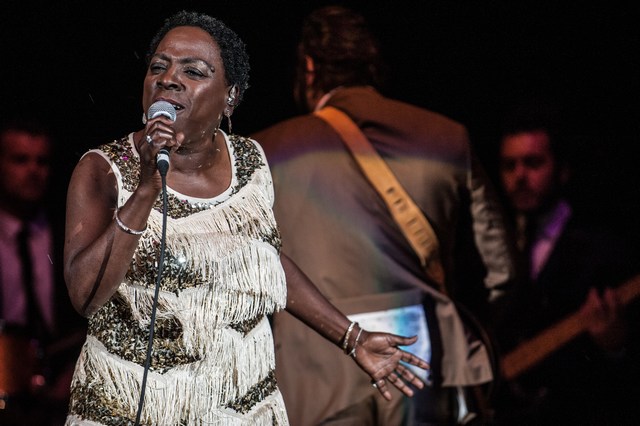 Though Sharon Jones and The Dap Kings' soul-revival sound is polished and feel-good, just seeing her running around on stage with her vocal range and energy is enough to make you smile and appreciate life. Only a couple of years removed from her initial diagnosis with cancer, Sharon is back and better than ever, and seems to be keeping it in high gear during her performances. With a throwback sound comes throwback style, and Sharon didn't disappoint, taking us through a variety of old dance moves while her band kept the rhythm going. With wind and rain surrounding her, she decided to kick off her shoes and dance around in the puddles surrounding her vocal monitors, at one point exclaiming that she better not get electrocuted while bringing the house down with a cover of "Heard it Through the Grapevine." In true soul fashion, she traipsed offstage while her band continued playing her outro. A queen and a star, Sharon is a must-see for any fan of soul and R&B looking to lose themselves in dance and time.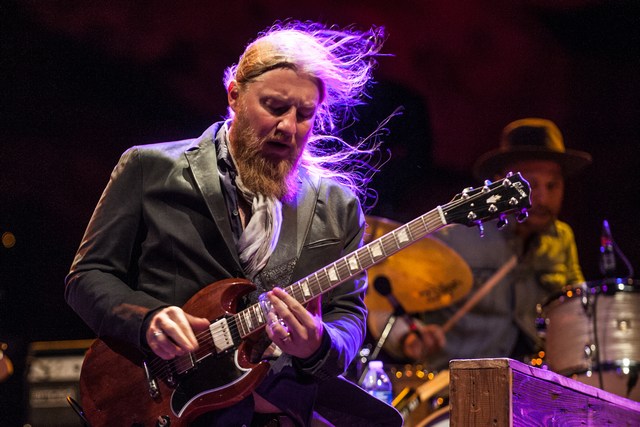 While the rain had slowed to a trickle, the wind was relentless as the eleven-piece ensemble emerged to the joy of a near sell-out crowd. The singers, the horns, the drummers, bass and guitars, this grouping is tight knit and roars with a collective identity. They started with Sly and The Family Stone's "Are Your Ready," initiating a show-long Sly sandwich. Dual drummers and percussionists Tyler Greenwell and J.J. Johnson quickly churned into "Made up Mind," the name of their second and most recent studio album, without so much as a pause. The soft rock muzak-feel of "Anyhow" gave way to the much grittier "Break in the Road" by Betty Harris. "You were the only man that could turn me on and make a bad girl out of me," Susan growled over the blasting horns and Derek's snake-charming fret slides. Susan has the range, and the emotive struggle she conjures in her vocals lets her tackle even the most revered covers.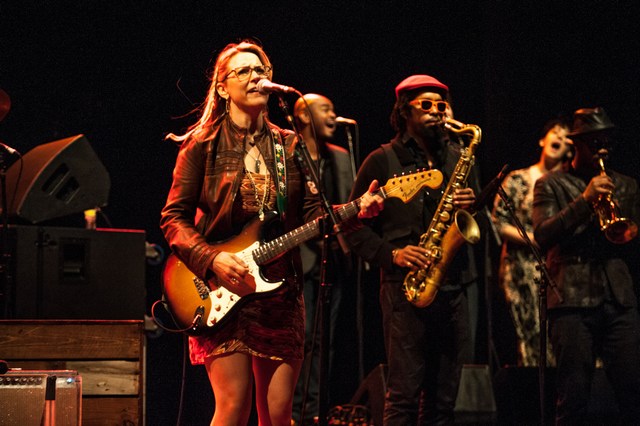 The band rocketed through an instrumental take on Led Zeppelin's "What is and What Should Never Be," playing around with the Jimmy Page riff before zipping into an aptly chosen tune, "The Storm." Derek tapped into a dose of acid-soaked Jimmy Hendrix blues, and the wind whipped his solos around Ship and Creation Rocks to a point where it was nearly inaudible at the top of the natural amphitheater. Kebbi Williams' sax solo led into "Midnight in Harlem," one of the bands most popular and exceptionally arranged tunes off of Revelator. The Mike Mattison composition features exceptional harmonies from himself and backup vocalist Mark Rivers, and saw each selfless individual pushing the team forward while integrating solos across the board.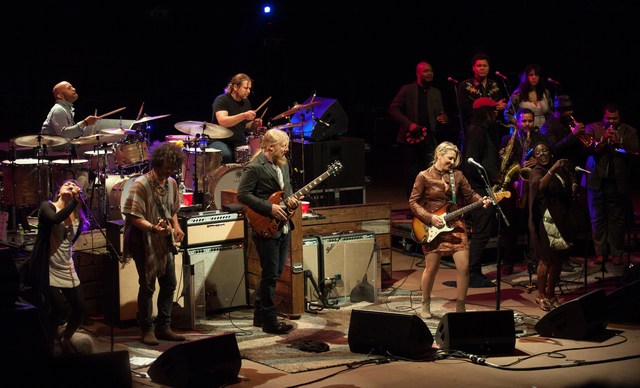 Doyle Bramhall II returned to the stage looking like a cross between a spaghetti western Clint Eastwood and a mescaline-fueled member of Carlos Santana's band at Woodstock. Kofi Burbridge ushered in another original, "All That I Need," with a flute solo before continuing to work the keys. The horn section featuring Kebbi, Maurice Brown on trumpet and Saunders Sermons on trombone rolled along a sixties' soul bridge to the sky like a sunny side up-sounding Derek and the Dominos tune. "Derek said we're going to go as long as they let us," Susan said after the song. "We're just going to keep going until we get tackled, or until my fingers fall off…I can't feel my fingers, is that bad?"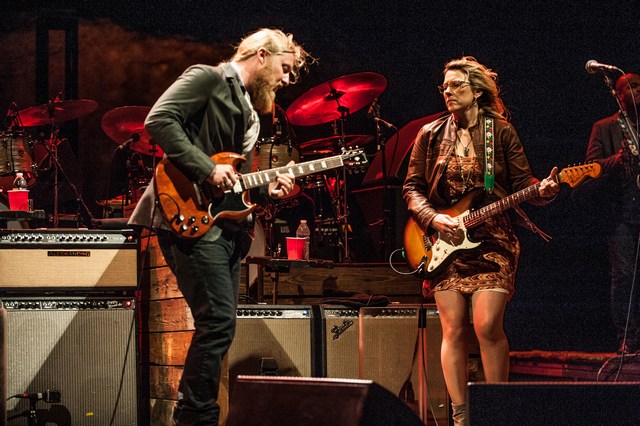 Doyle remained for a take on Elmore James "The Sky is Crying," a song covered by nearly every recognizable R&B artist and numerous musicians with connections to TTB. With Doyle and Derek both having played with Eric Clapton, their familiarity with this song was off the charts and made for some soaring solos. Doyle is more trudge through the sludge, feeling his way through solos before wafting frenetic notes out like lightning bolts. Doyle even sang one of the verses, letting Susan showcase her often-overlooked guitar technique despite her numb fingers.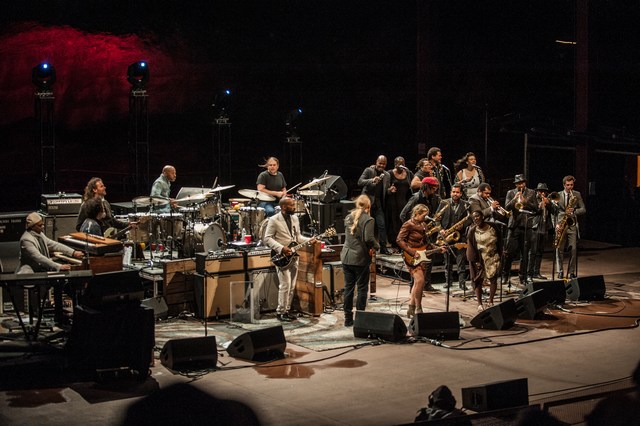 "Idle Wind's" swamp rock rhythm flew under the radar with a light bass run from Tim Lefebvre and minute piano accompanying Susan's voice. Kofi soloed on flute as Sue built her vocals to climax, the drum pace quickening from a hop to a skip. Channeling his long history with The Allman Brothers, Derek's slide guitar slithered through the anything but idle winds that felt like a class five hurricane in the hills. An extended drum segment abbreviated the song, with the band rejoining as the dual percussionists nailed their kits in unison.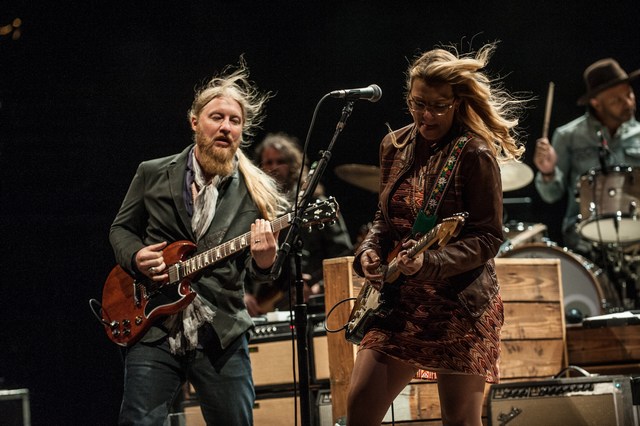 "Oh Lord, I thought it was Summertime," Susan said after inviting Doyle, Neyla Pekarek from The Lumineers, along with Sharon and her horn section to the stage. Sharon teased Susan about how she had to perform in the rain compared to wind alone. "Can you tell we have a lot of fun up here?" Susan quipped before launching into "Tell Mama," written by Clarence Carter and popularized by Etta James. The tight grooves and powerful horn section-reminiscent of The Blues Brothers-backed the three part lead vocals, with Sharon encouraging Susan to "tell em!'" They could have said goodnight right there, but all good things deserve another, and they returned to the stage with twenty artists in tow: all of the aforementioned folks and the remainder of The Dap Kings.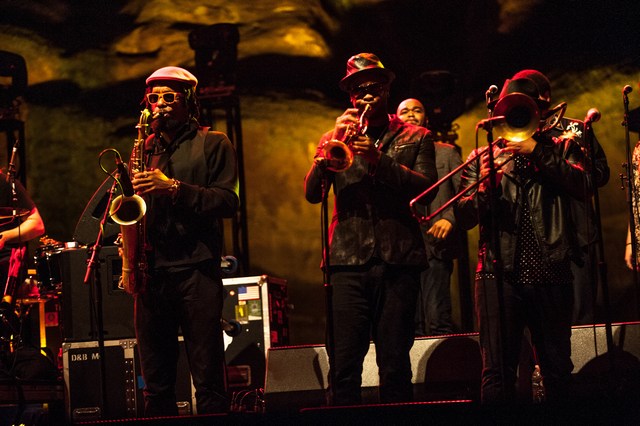 Starting with a horn-tastic take on Sly and the Family Stone's "Sing a Simple Song," they kept it going with "I Want to Take You Higher." The vocalists took control over the wash of guitars and horn barrage during the chorus and had the entire crowd singing along. Then the guitarists started trading licks chop for chop, with Binky Griptite upping the ante. Sharon howled at the moon as Derek's trademark slide wound us down slow, the full-blown soul shakedown culminating in a blinding array of improvisational freedom. Susan sent us off with thankful and appreciative words, The Wheels of Soul spinning onto their next destination and set of ears to turn on.