They Might Be Giants Return To Rock, Advance Tracks Drop April 26!
Submitted by mike on Tue, 03/15/2011 - 18:21
They Might Be Giants new album, Join Us, is the recordings that their fans have been waiting 20 years for!  Impossibly catchy, sometimes strange and always original the album is a stunning return to form. As the band turns away from the family oriented projects that dominated their output in recent years (and garnered them two GRAMMY nominations and a win) on Join Us we find the band has returned to their singular sensibility that made them an instant phenomenon in the world of alternative rock.  Join Us is an electrifying mix of clever, maddeningly catchy songwriting and studio mastery.  The album was created in the brand new private studio of their long-time collaborator Patrick Dillett (David Byrne, Mary J. Blige, Tegan and Sara, Doveman).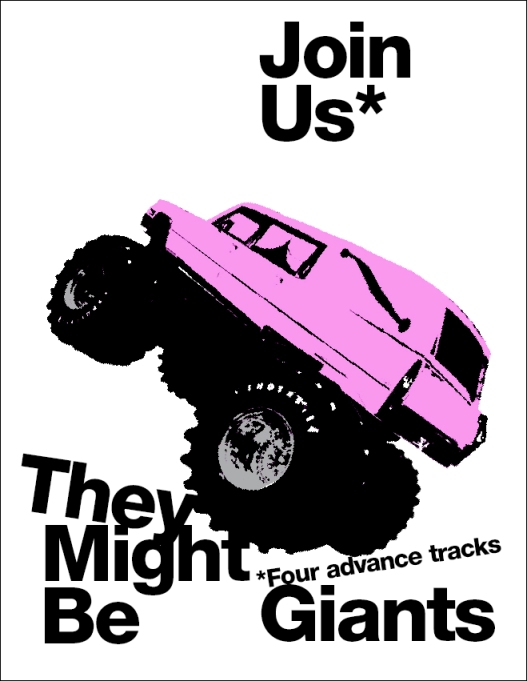 The advance track offering opens with "Can't Keep Johnny Down"--a summer-perfect pop single that will get instantly stuck in your head and make you want to roll down the windows. The electronic ballad "Never Knew Love" puts a new and simple twist on the love song.  The pure folk-pop of "Old Pine Box" showcases the band's signature harmonies, handclaps and the always popular, never anticipated vocoder.
The advance tracks will be released digitally April 26 on iTunes through their "Complete My Album" program on April 26th, with the full album arriving in all digital and physical outlets later this year through Idlewild/Rounder Records. Flansburgh recently talked to AOL Spinner. Read his exclusive interview announcing the arrival of the album.
They Might Be Giants unlikely success story started nearly three decades ago with their Dial-A-Song service. High energy, low budget videos broke them into heavy rotation on MTV and the rest would soon become alternative rock history.  Along the way the band has become the recipients of two GRAMMYs and a platinum record (1990's Flood). They recorded numerous themes including The Daily Show with Jon Stewart, their GRAMMY-winning theme Malcolm In the Middle and many more. John Flansburgh is currently produced Jonathan Coulton's upcoming studio release "Artificial Heart" which also features TMBG"s Marty Beller on drums.
Notorious for their energized live show, They Might Be Giants will launch the first  international tour in over a decade this Fall, hitting 6 countries and over 50 US cities.  Stay tuned for details!