Tiësto Releases "Kaleidoscope" TODAY On Ultra Records
The world's biggest electronic artist and critically-acclaimed DJ/ producer, Tiësto, joins forces with some very special guests on his latest full length album 'Kaleidoscope' out TODAY on Ultra Records.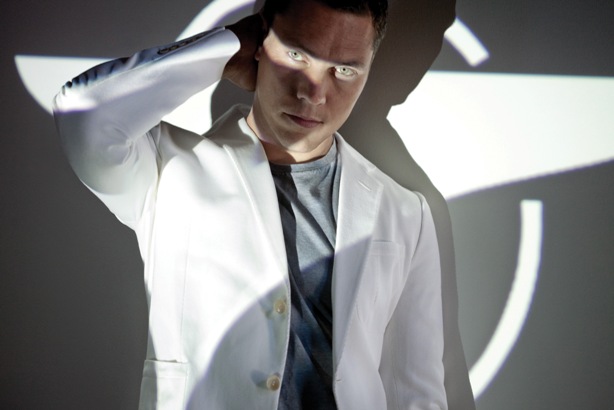 After a run of four top-selling artist albums, Tiësto offers his fifth and most ambitious album to date, Kaleidoscope. A stunning collection of songs written and recorded in collaboration with a variety of music's brightest talents from the worlds of dance, pop and rock that include Nelly Furtado, Jónsi Birgisson from Sigur Rós, Tegan & Sara, Kele Okereke from Bloc Party, Emily Haines from Metric and Calvin Harris just to name a few.  Kaleidoscope is an artist album in the truest sense and has already been making waves via exclusive song premiers on Pitchfork, Stereogum, CosmoGirl, and Myspace along with a newly launched remix contest of "Knock You Out" Feat. Emily Haines in conjunction with dance music heavyweight Beatport.  A number of Tiësto's new songs will also be featured in the launch of new Tap Tap Revenge 3 top Iphone application coming out in the next few weeks as well.
Along with this release of the album, Tiësto embarks on a worldwide tour in 2009-2010, taking the sounds and sights of Kaleidoscope on the road for 175 live performances across 5 continents. Enlisting the talents of Montreal's Moment Factory (NIN, Cirque Du Soleil), Tiësto has created the biggest and best live show to date leaving fans and critics breathless, evident from the 3 SOLD OUT shows at NYC's legendary Hammerstein Ballroom to launch the tour.
Tiësto's career highlights to date are many, with recent exploits including a GRAMMY nod for his last artist album, 'Elements of Life', headlining both Coachella and Bonnaroo Festivals and performing live in front of over one-billion people during the Parade of the Athletes at the official opening ceremony of the 2004 Olympic Games in Athens. Having over 1 million Facebook friends (the largest of any electronic artist on the planet), global brand sponsorships deals and sell out shows around the world, Tiësto is on the crest of a wave which is only set to continue.
Just Announced LA Shows
November 25, 27, 28 in Los Angeles, CA - The Shrine
North American Tour
Sat 10/10 Atlanta, GA - North Atlanta Trade Center
Sun 10/11 Washington, DC - Fur
Mon 10/12 Cleveland, OH - Aura
Tues 10/13 Columbus, OH - Boma
Weds 10/14 Philadelphia, PA - Electric Factory*
Thurs 10/15 Charlotte, NC - The Forum
Fri 10/16 Orlando, FL - UCF Arena *
Sat 10/17 Ft Lauderdale, FL – NSU Arena
Sat 10/17 Miami, FL – Liv
Sun 10/18 Tampa, FL - The Ritz
Monday 10/19 Naples, FL – Sway Lounge
Fri 10/23 Houston, TX - Reliant Arena*
Sat 10/24 Dallas, TX - the Palladium
Sun 10/25 San Antonio, TX - Cowboys
Mon 10/26 OK City, OK - City Walk
Tues 10/27 Nashville, TN - Limelight
Weds 10/28 St Louis, MO - Home
Thurs 10/29 Kansas City, MO - Uptown Theater*
Fri 10/30 Minneapolis, MN - Myth
Sat 10/31 Chicago, IL - The Congress
Sun 11/1 Milwaukee, WI - The Rave
Saturday 11/7 El Paso, TX – Cohen Satdium
Sunday 11/8 San Diego, CA – 4th and B
Monday 11/9 Denver, CO – Beta
Tue 11/10 Edmonton, Canada - Shaw Conference Center
Wednesday 11/11 Winnipeg, Canada – Duckworth Center
Thu 11/12 Calgary, Canada - Big Four Building (Stampede Grounds)
Friday 11/13 Calgary, Canada - Big Four Building (Stampede Grounds)
Sat 11/14 Vancouver, Canada – PNE
Friday 11/20 Salt Lake City, UT – Saltair
Saturday 11/21 San Francisco, CA – Cow Palace
Sunday 11/22 Phoenix, AZ – Marquee Theater
Wednesday 11/25 Los Angeles, CA – The Shrine
Friday 11/27 Los Angeles, CA – The Shrine
Saturday 11/28 Los Angeles, CA – The Shrine
First Leg Of Latin Tour & Dates
December 4 in Bogota, Colombia at Coferias Convention Center
December 5 in Medellin, Colombia at Plaza Mayor Convention Center
December 7 in Cali, Colombia
December 9 in Panama City, Panama
December 11 in Porto Alegre, Brasil
December 12 in Sao Paulo, Brasil
December 13 in Brasilia, Brasil
December 16 in La Paz, Bolivia
December 17 in Lima, Peru
December 18 in Santiago, Chile at Espacio Riesco
December 19 in Buenos Aires, Argentina
Stay tuned for more information on Tiësto's forthcoming artist album and other news!