Tim Reynold & TR3 w/ On the One @ Tipitina's French Quarter!
Submitted by press on Fri, 04/17/2009 - 06:06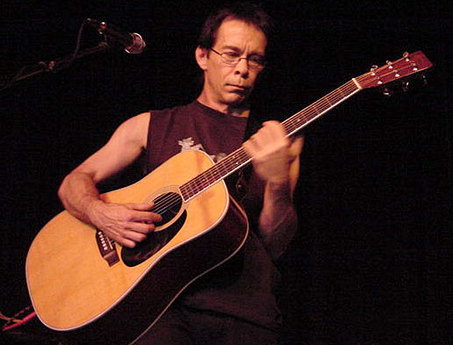 Tim Reynolds has been playing music all of his life. Starting as a bass player in a gospel band in his hometown of St. Louis to his break through band in the 80's, TR3 and forward to recording and touring with Dave Mathews Band, Reynolds is a guitarist who rises above the mere mastery of chops to a virtual state of communion with his instrument. Since earning the reputation as a musical virtuoso alongside Dave Matthews, Tim Reynolds has been recognized for his mind-bending guitar techniques, his trademark ability to improvise on any instrument, and his uncommon command of melody and dissonance. He makes use of every capacity the guitar possesses from progressive rock, straight-up jazz and high-powered funk fusion guitar. Tim Reynolds founded TR3 in the 80's and brought back a new version of the band in 2008 to rock and funk the house down. Don't miss this master of psychedelic improvisation on the acoustic guitar!
Opening for the funky rock of Tim Reynolds and TR3 will be San Diego Music Award Winners for Best Jazz Album (2007), ON THE ONE. Drum King John Staten (Karl Denson's Tiny Universe) teamed up with long time friend and sax aficionado Jesse Molloy (Giant People) to create ON THE ONE in the summer of 2006. Bassist Andy Irvine (Giant People) and the recent addition of guitarist Pete Lombardo square this funky soul rock quartet. With music industry heavy hitters calling him one of the best drummers in the business, Staten's hard hitting hip-hop beats drive ON THE ONE's sound. Sax, groove bass, and effortless guitar team up to bring generations of music lovers to the dance floor.
Don't miss the Funkdown at Tipitina's French Quarter!
And remember, this year the Backbeat Jazzfest Series will be offering music lovers and the musicians they love smoke-free environments at all shows.
Advance tickets are $20 and can be purchased at www.backbeatpresents.com or www.ticketweb.com.
Additional details and information about the events can be found at www.backbeatfoundation.org or by visiting the Foundation's Myspace and Facebook pages. Additional information and updates about the series can be found at the BackbeatJazzfest Series 2009 group page.
For information about the Tim Reynolds please visit his official website at www.timreynolds.com. Additional information about TR3 can be found at www.myspace.com/timreynoldstr3. For information on One the One please visit www.myspace.com/ontheone.
The Louisiana Campaign for Tobacco-Free Living (TFL) and the Louisiana Department of Health and Hospitals Tobacco Control Program (LTCP) coordinate their efforts in tobacco prevention and control by providing statewide coordination of existing tobacco control initiatives, funding innovative community programs for tobacco control, and improve the overall health and quality of life in Louisiana. For more information visit, www.tobaccofreeliving.org.