Time, NYT Laud Jake Shimabukuro
Submitted by mike on Sat, 02/05/2011 - 18:41
It's been a banner year thus far for Jake Shimabukuro. His new album 'Peace Love Ukulele' (HITCHHIKE RECORDS) debuted at #1 on the Billboard World Album chart, and has brought the Hawaii native national acclaim from NPR, YouTube and others. Time Magazine and the New York Times can now be added to the list in praise of Shimabukuro's virtuosic ukulele playing.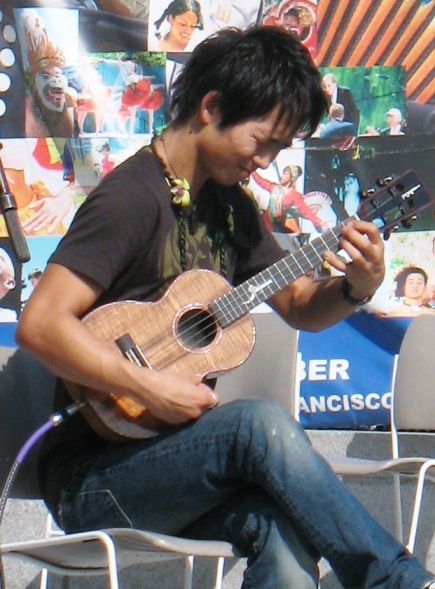 Nate Chinen of the New York Times said of a recent performance Shimabukuro at Brooklyn Bowl:
"Shimabukuro… comes by his fame with buoyant musicianship and brisk proficiency. The innovation in his style stems from an embrace of restrictions: the ukulele has only four strings and a limited range. He compensates with an adaptable combination of rhythmic strumming, classical-style finger-picking and fredboard tapping."
Read the entire review here.
Shimabukuro and his ukulele are also featured in a Time Magazine article by Tim Morrison about the instrument and its sudden surge in popularity. Morrison notes that a quick Google search of ukulele "won't be some grainy clip of Tiny Tim or George Formby but a performance by a hair-gelled 34-year-old Hawaiian named Jake Shimabukuro."
Read the Time Magazine piece here.
Read Grateful Web coverage of Jake here.