Toubab Krewe @ Blue Nile!
Submitted by mike on Tue, 04/07/2009 - 06:12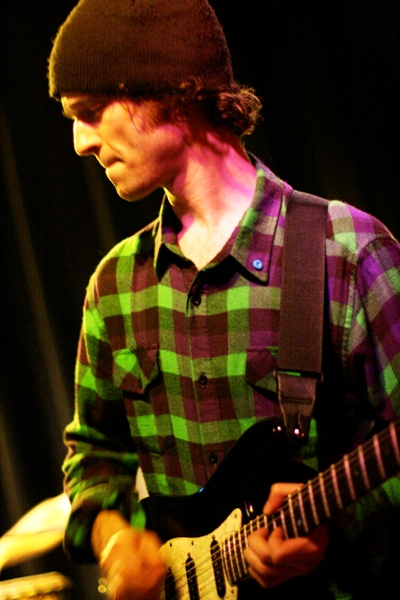 Blending American and West African influences into a sound of its own, Toubab Krewe has set "a new standard for fusions of rock 'n' roll and West African music" (Afropop Worlwide). Toubab Krewe developed their unique sound over the course of numerous extended trips to Mali, Guinea, and the Ivory Coast, where they immersed themselves in the local culture and studied and performed with luminaries of the West African musical tradition.
The band's name in itself speaks volumes about their musical quest. In several West African languages, including Bambara and Wolof, Toubab means "foreigner." Krewe is a reference to the New Orleans's Mardi Gras tradition. The musical aptitudes of the members of Toubab Krewe are as unique as the band's name. The group's instrumentation includes kora (21-string harp-lute), kamelengoni (12-string harp-lute), soku (Malian horsehair fiddle), electric guitars, electric bass, drum set and African percussion.
Since forming in 2005, the magnetic instrumental quintet from Asheville, North Carolina has won a diverse and devoted following at performances everywhere from Bonnaroo to the legendary Festival of the Desert in Essakane, Mali, known as the most remote festival in the world. Toubab Krewe has created a winning blend of guitar rock 'n' roll and traditional West African music for a sound that the Village Voice describes as "a futuristic, psychedelic, neo-griot frenzy" and Honest Tune hails as "one of the most innovative voices in music today."
Don't miss the magic of Toubab Krewe's African dance grooves at Blue Nile!
And remember, this year the Backbeat Jazzfest Series will be offering music lovers and the musicians they love smoke-free environments at all shows.
Advance tickets are $20 and can be purchased at www.backbeatpresents.com or www.ticketweb.com.
Additional details and information about the events can be found at www.backbeatfoundation.org or by visiting the Foundation's Myspace and Facebook. Additional information and updates about the series can be found at the Backbeat Jazzfest Series 2009 group page.
For additional information about Toubab Krewe please visit their website at www.toubabkrewe.com.
The Louisiana Campaign for Tobacco-Free Living (TFL) and the Louisiana Department of Health and Hospitals Tobacco Control Program (LTCP) coordinate their efforts in tobacco prevention and control by providing statewide coordination of existing tobacco control initiatives, funding innovative community programs for tobacco control, and improve the overall health and quality of life in Louisiana. For more information visit, www.tobaccofreeliving.org.