Toubab Krewe Join YO GABBA GABBA Live! Tour
Submitted by mike on Sat, 11/13/2010 - 03:58
Toubab Krewe will join DJ Lance Rock and the rest of the Gabba Gang as Super Music Friends in six cities across Texas and Arizona as part of Kia Motors Presents YO GABBA GABBA! LIVE!: THERE'S A PARTY IN MY CITY! - live shows between 12/04-12/12. Other special guests include a surprise Dancey Dance guest and Hip-Hop legend Biz Markie who will also join the party showing kids how to beat box with "Biz's Beat of the Day."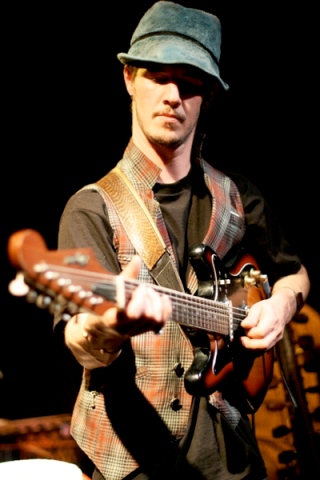 Toubab Krewe are West African-educated rockers from Asheville, NC whose new album 'TK2' (Nat Geo Music) is "a triumph of originality and appeal" (Boston Globe). The foursome's music has been hailed as percussive sound that "swirls together indie rock, African traditions, jam sensibilities, international folk strains and more."
Back on the road for their 60-city North American tour running through December 12th, Kia Motors Presents YO GABBA GABBA! LIVE!: THERE'S A PARTY IN MY CITY! features music, singing, dancing and animation. The live show is an interactive experience that offers audience members of all ages the opportunity to witness their favorite characters come to life. Super Music Friends is a popular segment on the TV series that has been adapted for the live show where a musical guest performs a song.  One musical act will be a part of each show as the Super Music Friend.
Read Grateful Web's interview with Toubab Krewe here.
Toubab Krewe dates with Yo Gabba Gabba Live!:
Sat 12/4 - Phoenix, AZ - Dodge Theatre (1 pm/4 pm)
Sun 12/5 - Phoenix, AZ - Dodge Theatre (1 pm/4 pm)
Tue 12/7 – El Paso, TX - Abraham Chavez Center (5 pm)
Thu 12/9 - San Antonio, TX - Freeman Coliseum (5 pm)
Fri 12/10 - Houston, TX - Hobby Center (1:30pm/5pm)
Sat 12/11 - Cedar Park, TX - Cedar Park Center (1 pm/4 pm)
Sat 12/12 - Frisco, TX - Dr Pepper Arena (1 pm/4 pm)
For complete tour and ticket information, visit www.yogabbagabbalive.com.
About YO GABBA GABBA!:
Yo Gabba Gabba! currently ranks as one of the most popular series on television and stage, with a broad appeal among preschoolers, parents, teens and adults.  W!LDBRAIN Entertainment, The Magic Store and S2BN Entertainment brought the groundbreaking series to the stage with the launch of YO GABBA GABBA! LIVE!: THERE'S A PARTY IN MY CITY  in November, 2009 to sold-out shows in major cities.  Christian Jacobs and Scott Schultz are the co-creators of YO GABBA GABBA!  Yo Gabba Gabba!, the television series, is now in its third season in the U.S. and is produced by W!LDBRAIN Entertainment and The Magic Store.  Yo Gabba Gabba! airs 7 days a week on Nick Jr. and in several major international territories, including Australia, Canada, Israel, Latin America, New Zealand, South Africa and the U.K.  YO GABBA GABBA! infuses retro-style and beat-driven music to teach simple life lessons through music.  The series and the live show star DJ Lance Rock and a cast of colorful characters, including Brobee, the little green one, Foofa, the pink flower bubble, Muno, the red Cyclops, Toodee, the blue cat-dragon and Plex, the yellow robot. Today's most popular names in movies, television, music and sports flock to YO GABBA GABBA!. Fred Armisen, Erykah Badu, Jack Black, Anthony Bourdain, Devo, Rachel Dratch, Rob Dyrdek, Flaming Lips, Melora Hardin, Tony Hawk, The Killers, Angela Kinsey, Solange Knowles, Biz Markie, Jack McBrayer, MGMT, Mos Def, Mark Mothersbaugh, The Roots, Andy Samberg, Amy Sedaris, The Shins, Sarah Silverman, Amare Stoudemire, The Ting Tings, Weezer, Jimmy Eat World, Elijah Wood and Weird Al Yankovic, among others, guest star.  Celebrity guests who performed during the live tour kick-off shows include Devenda Banhart, Cold War Kids, Matt Costa, DMC (Run DMC), Snoop Dogg, Jon Heder, Talib Kweli, Mix Master Mike, Kid Sister, Keri Russell and more, while Christina Aguilera, Jason Bateman, Travis Barker, Brendan Fraser, Heidi Klum, Chris Noth, Brooke Shields and Dennis Quaid attended the live shows with their families.  Visit www.yogabbagabba.com and www.yogabbagabbalive.com.