The greatest thing about The Travelin' McCourys, or Del's Boys, is that they are so open to collaboration. They were bread in a family of musical versatility that never limited any possibility if they could do something interesting. In the last decade especially, Ronnie McCoury (mandolin), Robbie McCoury (5-string banjo), Jason Carter (fiddle), and Alan Bartram (bass) have opened themselves to collaborations with artists such as Keller Williams, Andy Falco, Preservation Hall Jazz Band, and beyond. For their Fox Theatre performance last Wednesday, they made it a local's choice by calling on guitarist Billy Nershi of String Cheese Incident to be their guitar guest of honor. Those who made it to SCI's Horning's Hideout Festival in North Plains, Oregon last summer might have been lucky enough to catch the side stage bluegrass workshop with Nershi and the McCourys. The musical bond was obviously strong enough to play again together in Boulder. Many younger fans who know more about String Cheese Incident had the opportunity to open their bounds and here some real Nashville quality picking, something that SCI has veered further from in recent years.
The full house at the Fox Theatre also came to support the strong opening act Pert' Near Sandstone, a bluegrass quartet from Minneapolis that has a growing Colorado fanbase. It was clear that their clear harmonies and tight playing would continue to build them momentum on our Planet Bluegrass. After a solid hour from Pert, the crowd was ready for Nersh and the McCourys. The band came out not dressed in suite and tie like during performance with their elder bandleader Del, but looking sharp nonetheless. Without skipping a beat they opened up with a cover of Jimmy Wakeley's "I Wonder Where You Are Tonight." From then on a few things were apparent; Nershi, a fine flat-picker, needed to warm up in order to keep up with the speedy perfectionism of the untouchable McCourys. Ronnie McCoury's vocals aren't a carbon copy imitation of his fathers, but certainly carry the same key and presence. Robbie's banjo was textbook perfect. Jason Carter's souring fiddle leads are as complex as they are danceable.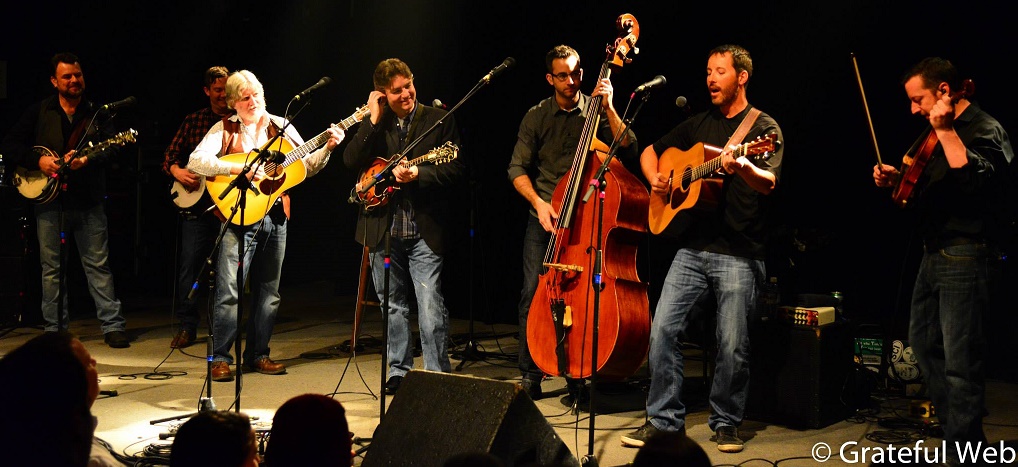 Another local's choice special treat came when the McCourys invited guitarist Adam Aijala and banjoman Dave Johnston of Boulder born Yonder Mountain String Band to guest for a few songs. Johnston boisterously exclaimed "It's been a while since we've rocked the Fox on a Wednesday." That was apparent when he practically false started "Shenandoah Breakdown" leaving superior banjoman Robbie to get it right on the next verse. Still nonetheless the unannounced guests were appreciated. The McCourys with Nershi continued on classics like "Southbound" and "Shady Grove." The grass-loving crowd was plenty kind to one and other, with plenty of noodling and spinning in the mix. The band kept it fairly traditional, in the vein of Del's music, no doubt to the delight of most. The exception came when Nershi broke out his String Cheese favorite "Jellyfish" with roars of approval from the crowd.
No doubt Wednesday night was quite the hootenanny. We hope that they boys make it back soon, with or without Del, to rock our bluegrass souls. See you this summer at when the grass gets greener.