There is a certain feeling I get before a Phish or a Trey show that is unlike any other pre-show feeling. I don't know why, but it almost feels like it's my show that I'm preparing for. Everything has to be right. I have to be on time, in my spot, with everything that I need. I probably acquired these survival skills during ten years of Phish Jedi touring. Wherever it comes from, it is very exciting!
Tonight was a home show for me at the Electric Factory in Philadelphia, which incidentally is a city where Trey feels at home as well. I got into the venue early, bought my poster and arranged a spot on the rail by the VIP section, then ventured backstage where I saw Ray Paczkowski, keyboard extraordinaire, hanging by himself patiently shooting pool, calm as can be. I went out and positioned myself in front of the stage, amazed that I was the only photographer there. Before long, Trey & Classic TAB came out to the recognizable roar.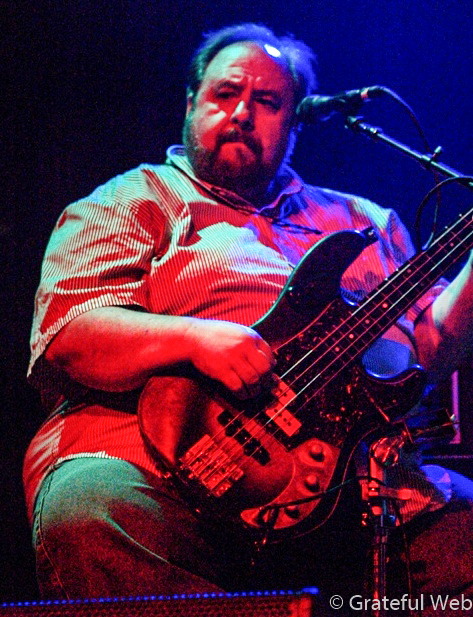 As Trey was placing his guitar around his neck, a phan in the front row screamed out, "Louise!" referring to the song "Cayman Review." Trey heard him and looked back as the guy screamed again. Trey smiled, nodded, and then said something to the band. Seconds later, they opened with "Cayman Review." Trey looks and sounds renewed, excited, and extremely energetic.
The band played a well paced "Last Tube" and "Drifting" before going into the best song of the night, "Gotta Jibboo." This Jibboo was off the hook. The Stevie Wonder funk that Paczkowski added to this version was filthy. I also noticed lately that Trey's guitar playing has been extra bluesy, clear, and contains a lot of notes in a space that resembles a conversation between that Languedoc and the crowd. The next two songs were of the groovier nature with "Alaska" and "Ooh Child," the song of hope written by soul songwriter/producer Stan Vincent and performed originally by The Five Stairsteps. This was a prophetic choice of song selection, which means a lot more to me now that Barack Obama has renewed faith in American ideals for many people in this country. The first set came to a crescendo with an explosive "Money Love and Change," although I really miss Jennifer Hartswick for this number.
As the second set started, the chants of "Let's go Phillies!" were escalating between many songs. As a Philadelphia sports fan, Trey came on to the microphone to tell the crowd that the Flyers won their first game of the season beating the New Jersey Devils and the crowd roared again. "Backwards Down the Number Line" opened the second set and contained "Sand" teases. I turned to my friend and predicted "Sand" next just as the first drum slap by Russ Lawton introduced it. Again the combination of Trey's bluesy guitar licks and Paczkowski's electric organ complimented and formed one of the funkiest grooves possible while bassist Tony Markellis as always kept an automatic thick bass line. "Tuesday" appropriately lead into "Spin," where I swear I heard Markellis tease "Come Together" by the Beatles. Then they played a newer song that I was hoping to hear, "Greyhound Rising," which seems to be a new crowd favorite, sounding dark at times. The final song of the second set provided enough exercise for a month for Trey and most of the crowd. "Push On 'Till the Day" included fist pumping, jumping, and climaxes galore.
Luckily for us, the band came out quickly to perform a three song encore. Trey described to the crowd how this group (Classic TAB) was the original writers of all the songs that they heard tonight. The fun and poppy "Moesha" started the encore off, and I could see all of the family members and friends of the band dancing and smiling in the VIP section with total freedom. It was great watching them have so much fun. Then we were lucky enough to hear the beautiful "Let Me Lie," from Bar 17. After that I was praying to hear another rocker like "First Tube," and sure enough they delivered just that. This show was perfect! It didn't leave anyone unsatisfied, and for many it was the first time they've seen Trey in a while. The crowd was murmuring compliments all the way out of the venue about how good he looks and how great he sounds. The show was electric and the crowd was buzzing all night. Now if we could just get our hands on some Phish tickets, everything will be back to normal. I'll see you in Hampton hopefully...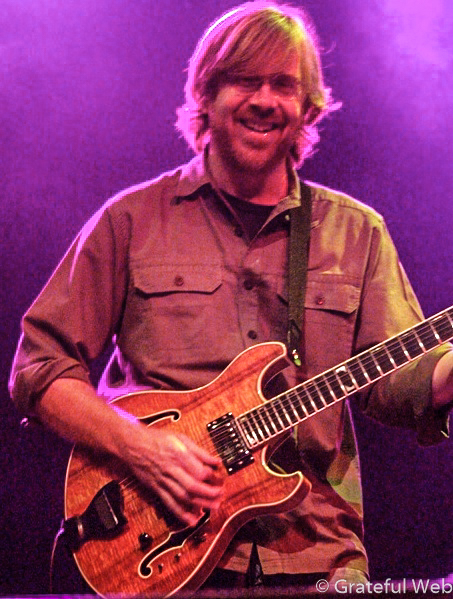 Check out more photos from the show here.
And feel free to read some other Trey and Phish reviews, including Trey at Red Rocks and Trey in Albany.