I've always secretly felt badly for people with birthdays that fell during the deep winter. Mine's in late August.. Pretty much everywhere I've ever lived or visited, I've found August to be lush, warm, and full of nature's bounty. Birthday gatherings for me were pretty much always outside, and in nature. I feel most comfortable near trees, and earth, and sky, and bright, warm sunshine. To me, a birthday in February, for example, must surely be frigid, and dreary, and well – not that much fun. Or so I assumed.
The birthday party, that I attended at Charlottesville, Virginia's Jefferson Theatre on February 8th, was indeed cold.. Frigid, even.. But it was anything but dreary.. And it was most definitely fun..
The historically prolific snow totals in the mid Atlantic states had not quite reached their zenith on this night, but there was plenty of snow on the ground, to be sure. The previous weekend had brought yet another dumping in the area, with a measure of ice as well. Thousands were still without power. But the lights were on at The Jefferson Theatre, as was the sold out benefit show with Trey Anastasio and Classic TAB. There was a veritable blizzard of reduced price, and in some cases, free tickets left on the ground just outside. Cancelled flights and treacherous driving conditions kept some ticketed fans away, leaving the venue feeling full, but not overstuffed.
Billed as a benefit performance for the Kristine Anastasio Manning Memorial Fund, it also served as the opening night of a short, quickly paced tour by Classic TAB. Starting in Charlottesville, TAB is poised to move like a clipper weather system up and across the Atlantic seaboard and into the midwest, before quickly turning south and bringing the tour to a close by month's end.
On what would have been his sister's 47th birthday, Anastasio along with a number of his family members and those of his sister's married family gathered for what at times, felt like both a great party and a musical group hug. Manning succumbed to neuroendocrine cancer in April 2009. Given that this show was a benefit, I do think it was a missed opportunity for educating fans about the myriad of environmental causes that fall under the umbrella of the late Ms. Manning's Memorial Fund. And given her own accomplishments in environmentalism, Ms. Manning's opinion would be sage advice for anyone considering affiliation with a given group or organization.
Described as a env-story-iron-mentalist, Kristine graduated from Princeton Day School in 1981 and Harvard University, and spent time at the Natural Resources Defense Council in New York City. As director and vice president for programs at Island Press in Washington, D.C., she focused on finding ways to protect the oceans and discover ways to conserve functioning ecosystems around fast developing cities and towns. Her work as president of the Haw River Assembly near her home in North Carolina made it possible for neighbors and visitors to continue to experience the beauty of that clean river.
In recent years, she helped create and oversee her brother Trey Anastasio's non-profit endeavor, the Seven Below Arts Initiative, an Artist-in-Residence program established to foster artistic development and arts education in Vermont.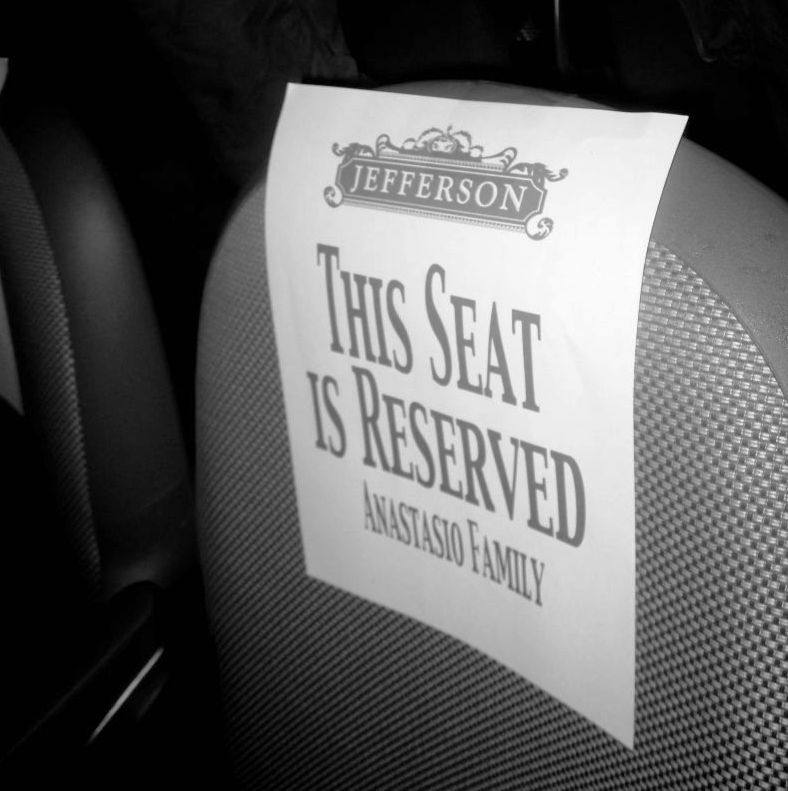 The Harvard and Duke University graduate wrote in her book, The Ecology of Place, of a "a world in which land is consumed sparingly, cities and towns are vibrant and green, local economies thrive, and citizens work together to create places of enduring value." Was it her own greener-version of Gamehendge, perhaps?
Anastasio family creativity was in full bloom at The Jefferson Theatre, as Kristine's brother Trey threw her a party, any sister would be proud to attend. Charlottesville was really lucky to get such an intimate show.
The current TAB lineup is a septet, described by Anastasio as a 'lean and mean.' In a recent interview, Anastasio reintroduced the line up, and welcomed a new member.
"So this tour, it's going to be the core of the band – Ray Paczkowski, Jennifer Hartswick, Russ Lawton, Tony Markellis and Russ Remington – we've all been together for 10-12 years. And we're really excited to have Natalie Cressman, who is Jeff Cressman's 18-year-old daughter, join us. Jeff was our trombone player up until 2008. He's going out with Santana, so his daughter is our first second-generation member and she's an incredible player," Anastasio said.
Sounding well-rehearsed overall, they offered up a number of new songs including Liquid Time, Birdwatcher, and the Dude of Life composition, Show of Life. The paired-down horn section still sounded rich and lush, given the new arrangements made with longtime collaborator, Don Hart. Anastasio explained, "We started [rehearsals,] in December with the three horn players and my friend, Don Hart, who I collaborated with on Time Turns Elastic. We spent three days at my house going through all the old charts – shoeboxes full of papers, many of them handwritten, from 10 years of horn writing. Don helped us re-voice the chords to sound richer," he said.
New trombonist Natalie Cressman, is a fine addition to the lineup. Her playing is top notch and her voice is a valuable addition to arsenal of singers at TAB's disposal. And she's only 18 years old. She and trumpet player Jennifer Hartswick sound fabulous together both as horn players and vocally. I especially liked their sassy deliveries later in the night, with Birdwatcher, a big band swing composition.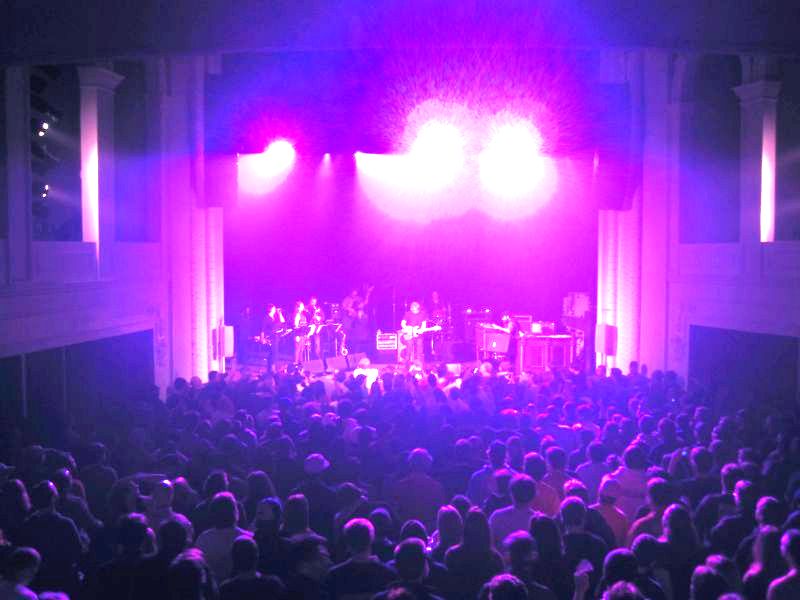 Great TAB standards were also part of the evening. Cayman Review, Mozambique and Driftin' were among the highlights. Playing was brisk and tight, with an emphasis on the second set. Kuroda came with his red Chuck Taylor All star sneakers and 8 additional moving lights to beautifully illuminate the interior of the 750 person capacity venue. Sound was excellent.
During the four song encore, Anastasio stopped to thank everyone for coming and added a word of encouragement for families who were dealing with cancer, as his had, during the previous year. Dedicating At the Gazebo to such families, and to his sister whose spirit Anastasio said, 'was present tonight.' Closing with a jubilant rendition of First Tube, Anastasio and company delivered the quite a party to a bone-chilled winter-weary crowd. It was a great deep winter birthday party, in my estimation. Too bad the guest of honor couldn't be there.