Two More Mondays of Thelonious MONK
Submitted by press on Sat, 02/13/2010 - 20:38
Thelonious Sphere Monk, recognized as one of the most inventive pianists of any musical genre, he achieved a startling original sound that even his most devoted followers have been unable to successfully imitate.  His musical vision was both ahead of it's time and deeply rooted in the tradition.  He shares with Edward "Duke" Ellington the distinction of being one of the century's greatest American composers.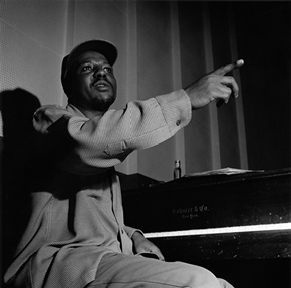 Two more Mondays left to see Laurence Holder's hit play, MONK, about the life and times of Jazz genius, Thelonious Sphere  Monk.  The play will be in performance on Feb 15th, and Feb 22nd @7pm.  at the world famous Nuyorican Poets Cafe.
For the February 22nd closing performance Rome Neal will have a special Banana Puddin' Jazz Jam & Open Mic event after the play, starting at 9pm. Purchase your tickets for the play and stay for the JAM all for $20. If you come down just for Rome's Banana Puddin' Jazz that night it's only $10!
MONK, the play received it's world premiere at the Nuyorican ten years ago and has since been seen by audiences all over the United States, from the east coast to the west coast and in the north and south.  So come out and celebrate this play which has made it's footprints in Black History/Jazz History/American History........
For advance ticket sales: www.nuyorican.org