Tyler Ramsey: A Long Dream About Swimming Across The Sea
Submitted by mike on Wed, 01/05/2011 - 03:36
Tyler Ramsey's sophomore album A Long Dream About Swimming Across The Sea was re-released today, January 4th, 2011, via Brown Records/Fat Possum.
A well-established and praised figure in the burgeoning Asheville music scene, Ramsey - who joined Band Of Horses as guitarist in fall 2007 - wrote A Long Dream About Swimming Across The Sea while living in a log cabin in Swannanoa, NC, in late 2006-7. Recorded at Asheville's Echo Mountain Studios with the help of Bill Reynolds (also of Band Of Horses; who's worked with The Avett Brothers and Lissie) and Danny Kadar (My Morning Jacket, Band Of Horses, Grizzly Bear), the album is a collection of haunting and atmospheric songs that exude a markedly fluid, easy grace.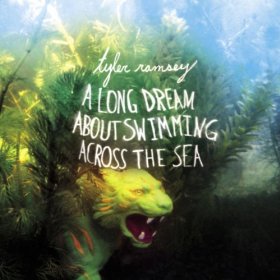 Ramsey's warm vocals and intricate finger-picked guitar playing lead the way throughout A Long Dream About Swimming Across The Sea, the expressive guitar lines often telling as much of a story as the lyrics. "A Long Dream" opens with a rolling and ruminative cadence, while the ethereal "Night Time" and the gorgeously languid "Once In Your Life" rise to gentle and varied crescendos. Other standout tracks include the bluesy waltz of "No One Goes Out," the elaborately layered instrumental "Birdwings," and the mesmerizing, strings-laced "When I Wake," each song reinforcing the album's fine, hypnotic brilliance. Championed by NPR (World Café - "Heartwarming, delicate, and comforting, Tyler Ramsey's music showcases a thoughtful approach to his craft."), Stereogum ('Artist To Watch'), WNYC's Soundcheck, and Popmatters, among others, A Long Dream About Swimming Across The Sea was originally released by Echo Mountain Records in 2008.
Ramsey is currently working on a follow-up album to be released later this year. He will also head overseas for a Band Of Horses tour at the end of the month that will run through February.
Track listing for A Long Dream About Swimming Across The Sea:
A Long Dream
Ships
Night Time
Once In Your Life
Chinese New Year
No One Goes Out
Birdwings
These Days
When I Wake
Iris
Worried
Please Stop Time
Waves