Umphrey McGee's 2013 sUMmer school Evolution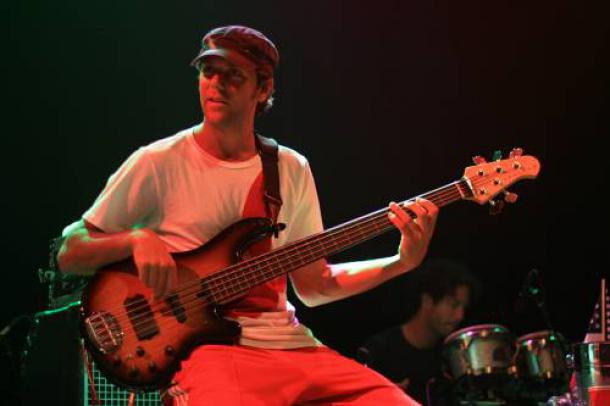 Preparation is underway for sUMmer school 2013, and we think you're going to like these new changes. First and foremost we have reduced the camping option to an absurdly low $599, which gets you four days and four nights of all things Umphrey's, three incredible gourmet meals a day and serene camping in the Catskills. Think of it as a private festival with a twist- while there will still be loads of opportunity of music instruction for those who want it, there will be an added emphasis on private concerts and spending quality time with team UM during a myriad of leisure activities. Hit us with any questions at summerschool@umphreys.com and sign up for a week you'll never forget.
Speaking of steals, the clock is winding down on the Spring Clearance Sale in our online store. With tees and more marked down over 50%, this is your last chance on last chance merch! Additionally, each week in March we are giving away a free download of one side off the Hall of Fame 2011 vinyl with every order over $20. Hop to it.
We wrap up on the west coast this weekend. These are markets we love and don't get to play nearly enough, so come on out and rage with us. If you're heading to LA, swing by merch early for a LE poster by Baker Prints. Love the print, but can't attend the show? Pick it up along with all the prints for 2013 Winter/Spring tour in our Poster Subscription Series, where just a handful of spots remain.
We are also offering a one-of-a-kind audiophile experience in LA if having your mind blown is your thing. Say what?
\mm/
Umphrey's McGee
March
3.21 House of Blues, Las Vegas, NV (w/ The Bright Light Social Hour)
3.22 House of Blues, Los Angeles, CA (w/ The Bright Light Social Hour) umVIP
3.23 House of Blues, Los Angeles, CA (w/ The Bright Light Social Hour) umVIP
3.24 McDowell Mountain Music Festival, Phoenix, AZ
April
4.10 Music Farm, Charleston, SC
4.11 Freebird Live, Jacksonville, FL (w/ Break Science)
4.12 Plaza Theater, Orlando, FL (w/ Break Science)
4.13 Jannus Live, St. Petersburg, FL (w/ Break Science)
4.15 Georgia Theatre, Athens, GA SOLD OUT
4.17 George's Majestic, Fayetteville, AR (w/ Space Camp)
4.18 George's Majestic, Fayetteville, AR (w/ Montu)
4.19 House of Blues, Dallas, TX (w/ Moon Taxi)
4.20 Stubb's, Austin, TX (w/ Moon Taxi)
4.26 UMBOWL IV, Chicago, IL umVIP SOLD OUT
May
5.9 Summer Camp Pre-Party with Brendan and Jake, Cubby Bear, Chicago, IL
5.24-26 Summer Camp Music Festival, Chillicothe, IL umVIP
5.31-6.2 Wakarusa Festival, Ozark, AR
June
6.7 Red Rocks Amphitheatre, Morrison, CO (w/ Dr. Dog and Delta Spirit) umVIP
6.8 Chautauqua Auditorium, Boulder, CO umVIP SOLD OUT
6.17-6.21 sUMmer school, Big Indian, NY
July
7.11-13 Camp Bisco, Mariaville, NY