Umphrey's McGee Announces 4 Night New Years Run in Atlanta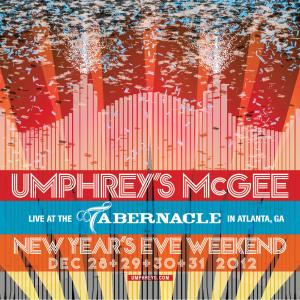 Umphrey's McGee is thrilled to announce the details of their New Year's Eve run in Atlanta, including VIP enhanced-experience packages, alongside dates for the second leg of fall tour.
Bright Light Social Hour joins UM as support on our "first-ever 12/28" as well as a smattering of dates in October and November. The Austin foursome has been generating buzz with their southern-rock-dance-party sound and we're pumped to have them on board. On 12/29, electronic rockers Zoogma kick things off, and on 12/30 we'll soak in the fresh eclectic sounds of Moon Taxi. New Year's Eve proper brings you three sets of face-melting Umphrey's McGee. Further NYE details and free support downloads available here. Sound good?
Kick things up a notch and roll VIP this NYE. Settle in to the luxurious Ritz-Carlton with our discounted room rates, located walking distance to the Tabernacle. This year's umVIP packages include a band meet and greet, signed event poster, early entry, reserved center balcony seating, an exclusive merchandise item, pre-party with food and cocktails on 12/30 and more.
General admission and umVIP tickets go on-sale Friday, July 20, 2012 at 12:00pm CT through umticketing.
Bayliss doesn't like us to use the word "epic", but we dare you to find a more fitting word to describe what we have in store for you this New Year's Eve. GITV.
See you in Atlanta.