Umphrey's McGee Colorado New Years Tickets On Sale Now!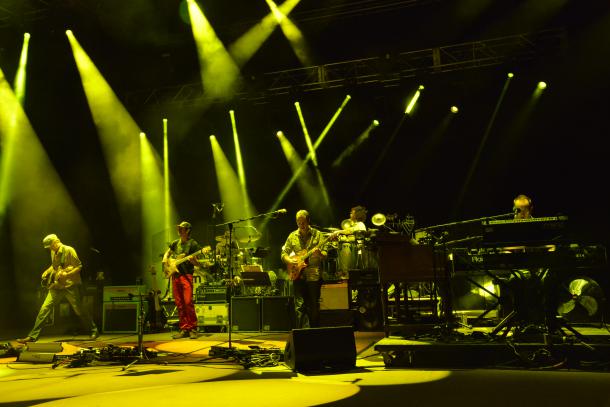 It's a good day to be an Umphrey's McGee fan in Colorado. Three-day tickets and umVIP + travel packages for their 2013 NYE run are now live and ripe for the taking.
This year's umVIP experience includes three-, four- and five-night travel packages, access to sound check and a cocktail party with the band on the 29th, a reserved VIP section adjacent to the bar, the event poster autographed by all six members of Umphrey's McGee, a soft cooler complete with Mionetto Prosecco and more! Need a payment plan? No problem. Shoot us an email at VIP@umphreys.com.
UM is also pleased to announce the debut of our last Colorado show at the magnificent Red Rocks Amphitheatre on AXS TV this Sunday, July 21st at 8PM. Find AXS TV on your local network provider, and use #axsUM to help UM spread the word.
August (w/ STS9 + umVIP)
8.15 Louisville Palace Theatre, Louisville, KY
8.16 The Lawn at White River, Indianapolis, IN
8.17 FirstMerit Bank at Northerly Island, Chicago, IL
8.18 Meadowbrook Music Festival, Auburn Hills, MI
8.21 Crossroads KC, Kansas City, MO
8.22 Chesterfield Amphitheatre, St. Louis, MO
8.23 Riverfront Park, Nashville, TN
8.24 Verizon Wireless Amphitheatre, Alpharetta, GA
8.25 Red Hat Amphitheatre, Raleigh, NC
8.28 Time Warner Uptown Amphitheatre, Charlotte, NC
8.29 Maymont, Richmond, VA
8.30 Mann Music Center, Philadelphia, PA
8.31 Bank of America Pavilion, Boston, MA
September 
9.1 Filene Center at Wolf Trap, Vienna, VA (w/ STS9) umVIP
October 
10.4 & 5 Family Circle Stadium, Charleston, SC (w/ Widespread Panic)
10.31 The Riverside Theater, Milwaukee, WI (w/ London Souls) umVIP
November
11.1 The Riverside Theater, Milwaukee, WI (w/ Cosby Sweater w/ Joel Cummins) umVIP
11.2 The Riverside Theater, Milwaukee, WI (w/ Boombox) umVIP
December
12.16-20 Mayan Holidaze, Puerto Morelos, MEX SOLD OUT
12.28 The Fillmore, Denver, CO umVIP
12.29 The Fillmore, Denver, CO umVIP
12.31 The Fillmore, Denver, CO umVIP