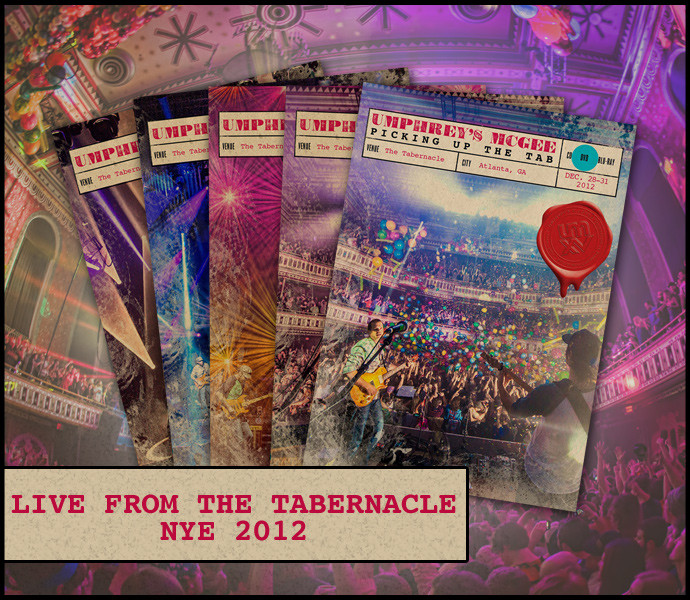 Umphrey's McGee is proud to unveil their latest live video offering for your sensory enjoyment. The first ever four-night New Year's celebration at the legendary Tabernacle in Atlanta is now available for pre-order on DVD, Blu-ray and digital download.
There are a myriad of options to relive these four incredible nights of music, all in crystal clear High Definition video and immersive 5.1 surround sound. Picking Up The Tab contains 5+ hours of the best of the best from all four shows. All four nights are also available individually or together as a bundle. If you buy all four shows, you also receive the "best of" Picking Up The Tab disc for only $5.
Pre-order begins today and orders will begin shipping on May 31st. You can purchase the DVD or Blu-ray via UM's online store, or you can purchase as DVD, Blu-ray, and digital download through TourGigs. All pre-orders placed in our online store will instantly receive a free MP3 code for an audio download of the show of your choosing + more. Pre-order any digital download at TourGigs and you'll receive a free HD download of the Boulder Theater show from 09/15/12.
Finally, for those of you joining UM at Summer Camp Music Festival, UM will have a limited number of copies available on site if you want to pick one up in advance of the official street date. Everybody wins. No matter where you get them, just make sure to get them. These blowout shows received rave reviews and these videos are the best UM has released to date. Rage. Rest. Repeat.