Umphrey's McGee New Years in Atlanta Almost Here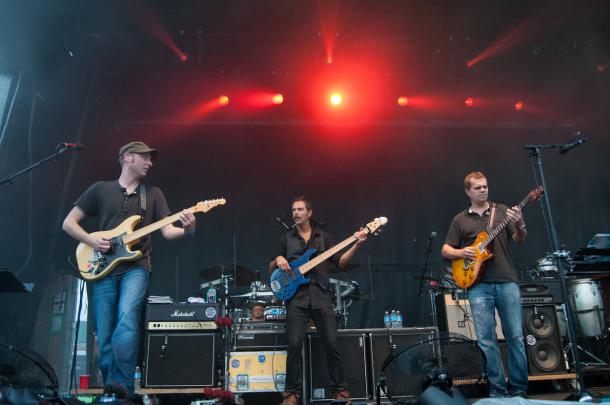 Umphrey's McGee New Year's Eve run in Atlanta has finally arrived. The 29th-31st are officially sold out (with the 28th close behind), but there's still hope- a handful of tickets are being re-released right now (12:00 PM ET). Go get em, and ring in the new year properly with some face melting rock.
UM is pumped to bring you an arsenal of talented supporting acts on the bill down in Atlanta, with The Bright Light Social Hour, Zoogma and Moon Taxi. On the 29th, be sure to catch Zoogma's late-night set in the Cotton Club inside the Tabernacle. Tickets are just $5 with an Umphrey's stub, and $10 without, and are available here.
Atlanta has always welcomed UM with open arms and it's time to give back. UM is hosting a canned food drive the 28th-30th to benefit the Atlanta Community Food Bank. Look for donation bins and representatives from the UM camp every day when doors open (7:00 PM on the 28 & 29th, and 6:00 PM on the 30th) until UM takes the stage. They'll hand out 1 raffle ticket for every 5 items donated, pull the winning ticket during UM's first set, and post the winning number on the big board behind the table. Check back at set break, and present your winning ticket at the merch booth for an Emek 2012 NYE print autographed by the band. It's just that easy! Let's join together and help make the burden of those in need a little lighter this season. Learn more about the most needed items at the food bank.
Can't join UM in Atlanta? Get the next best thing with a live stream. Pants optional. UM has teamed up with StageIt to stream all four nights of the run via a single HD camera from "front of house" with soundboard audio. It costs only $6 for the 28th, 29th and 30th, and $8 for the three-set 31st. The top three "tippers" each night will receive download codes to download the MP3s of the show, and the top tipper each night will get a customized voice memo from the band member of their choosing.
Finally, the clock is winding down on your chance to grab the Game Tapes bundle, featuring over a dozen live concert videos shot with the band's front of house camera and paired with high quality soundboard recordings. Even cooler than the content, is the fact that every dollar spent buys a meal for the hungry this holiday season.
See you in 2013!
Umphrey's McGee
December
12.28 The Tabernacle, Atlanta, GA (w/ The Bright Light Social Hour) umVIP
12.29 The Tabernacle, Atlanta, GA (w/ Zoogma) umVIP SOLD OUT
12.30 The Tabernacle, Atlanta, GA (w/ Moon Taxi) umVIP SOLD OUT
12.31 The Tabernacle, Atlanta, GA (w/ nopener) umVIP SOLD OUT
January
1.16 Town Ballroom, Buffalo, NY
1.17 Landmark Theatre, Syracuse, NY (w/ Giant Panda Guerilla Dub Squad)
1.18 Beacon Theatre, New York, NY
1.19 Fete Ballroom, Providence, RI
1.23 Ziggy's Rock House, Winston-Salem, NC (w/ Papadosio)
1.24 The Fillmore, Charlotte, NC (w/ Papadosio)
1.25 The Ritz, Raleigh, NC (w/ Papadosio)
1.26 The National, Richmond, VA (w/ The Mantras)
1.30 Tennessee Theater, Knoxville, TN
1.31 Buster's, Lexington, KY
February
2.1 Orbit Room, Grand Rapids, MI (Greensky Bluegrass)
2.2 The Fillmore, Detroit, MI
2.6 The Venue, Fargo, ND
2.7 First Avenue, Minneapolis, MN
2.8 The Pageant, St. Louis, MO (w/ Mike Dillon Band) umVIP
2.9 The Pageant, St. Louis, MO (w/ Mike Dillon Band) umVIP
2.10 The Bluebird, Bloomington, IN
2.14 Metropolitan Theatre, Morgantown, WV
2.15 LC Pavilion, Columbus, OH (w/ Mike Dillon Band)
2.16 Orpheum Theater, Madison, WI (w/ Mike Dillon Band)
2.17 Canopy Club, Urbana, IL
March
3.6 Belly Up, Aspen, CO SOLD OUT
3.7 Belly Up, Aspen, CO SOLD OUT
3.8 The Depot, Salt Lake City, UT (w/ The Bright Light Social Hour)
3.9 Wilma Theatre, Missoula, MT (w/ The Bright Light Social Hour)
3.10 Emerson Cultural Center, Bozeman, MT (w/ The Bright Light Social Hour)
3.14 The Neptune, Seattle, WA (w/ The Bright Light Social Hour)
3.15 McDonald Theatre, Eugene, OR (w/ The Bright Light Social Hour)
3.16 The Fox Theatre, Oakland, CA (w/ The Bright Light Social Hour)
3.17 The Montbleu Resort, Stateline, NV (w/ The Bright Light Social Hour)
3.21 House of Blues, Las Vegas, NV (w/ The Bright Light Social Hour)
3.22 House of Blues, Los Angeles, CA (w/ The Bright Light Social Hour) umVIP
3.23 House of Blues, Los Angeles, CA (w/ The Bright Light Social Hour) umVIP
3.24 McDowell Mountain Music Festival, Phoenix, AZ