Umphrey's McGee Releases Live from The Pageant: NYE 2011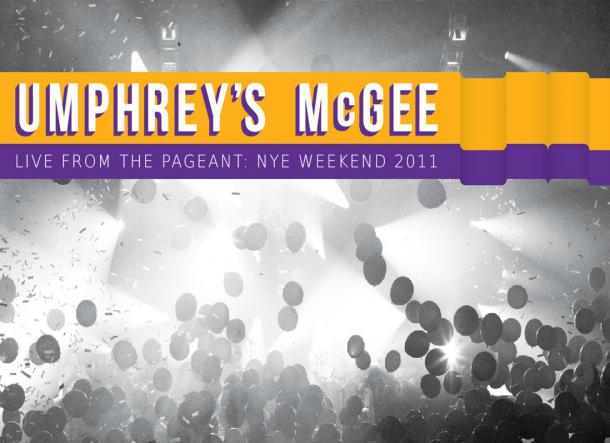 We're pumped to bring you the latest in our UMLive DVD series, Live from The Pageant: NYE Weekend 2011. Featuring nine and a half hours of video spanning three nights and seven sets of classic Umphrey's McGee, these performances are raw, live and awesome. Both the video and audio were captured in real time, as it happened - no remixing, editing, 5.1 mixes or other blemish reducing measures - what you saw is what you get. This DVD also features unreleased bonus material from the Death By Stereo in-studio webcast. Additionally, you can build your own bundle to save 20% on select merch.
A hearty thanks to those that joined us over the weekend for the third annual UMBowl. The audio (and by audio, we mean four hours of face-melting rock) is now up on UMLive.net  for the taking. If video is more your bag, our friends at iClips have archived the UMBowl III video stream for your viewing pleasure.
Death By Remix has dropped! In late 2011 we asked you to take a stab at remixing tracks off Death By Stereo, and this latest digital release showcases the best of the best. Download your copy here. 
And as always, we'll be popping up at festivals across the country this summer, including two-set shows at Re:Generation Festival in North Plains, OR and Catalpa in NYC as well as two shows at Wakarusa.  But we'll see you for a whopping six sets at Summer Camp Music Festival over Memorial Day weekend first. 
\mm/
Umphrey's McGee
2012 Tour Dates
May
​5.18-20 Hangout Music Festival, Gulf Shores, AL
​5.25-27 Summer Camp Music Festival, Chillicothe, IL Three Shows
June
6.1-6.2 Wakarusa, Ozark, AK Two Shows
6.7-10 Bonnaroo Music Festival, Manchester, TN
​6.21-24 Re:Generation Festival, North Plains, OR Two Sets
​6.28 Lewis Ginter Botanical Gardens, Richmond, VA
​6.29 Outside the Factory, Philadelphia, PA*
​6.30 Bank of America Pavilion, Boston, MA*
July
​7.1 Stone Pony Summer Stage, Asbury Park, NJ*
​7.3 Kresge Audtiorium, Interlochen, MI*
​7.4 Moonlite Gardens, Cincinnati, OH*
​7.7 White River State Park, Indianapolis, IN*
​7.28-29 Catalpa NYC Music Festival, New York, NY Two Sets
​August
​8.10-12 moe.down 13, Turin, NY
September
​9.14 Red Rocks Amphitheatre, Morrison, CO (with Railroad Earth)
​9.15 Boulder Theatre, Boulder, CO
October
​10.26-27 Riverside Theatre, Milwaukee, WI
November
11.8-11 ​Bear Creek Music and Arts Festival, Live Oak, FL
December
​12.17-21 Mayan Holidaze, Tulum, MEX SOLD OUT