The Chicago progressive jam outfit Umphrey's McGee brought their explosive live show back to Colorado over Labor Day weekend, and rained down a handful of stunning performances to the Rocky Mountain faithful.
The last taste this area got of these amazing musicians was from their electrifying Halloween show in 2007 at the Fillmore Auditorium in Denver. The display of classic horror movies meshed with their unique blend of rock, jazz, jam, and metal was incredible, and fans here were still buzzing about that triumphant evening.
This weekend, however, saw the band return to the grandest venue of them all; Red Rocks Amphitheater in Morrison. The group has played a handful of supporting slots there before, which they would do again this last weekend as an opener for the Warren Haynes' led project Gov't Mule.
This is what guitarist Brendan Bayliss had to say on the band's blog "The Floor" about playing Red Rocks again this past weekend:
"Colorado has always been good to us, but this past weekend Colorado was really good to us. Playing Red Rocks was always a goal for the band, and we have been blessed to play there now four times. There really is nothing like the view from the stage - I wish I could express it in words - but just imagine the coolest thing in the world, and that's kind of what it's like. A big thanks to Gov't Mule (perhaps the nicest band/crew on the planet) for letting us tag along on Sunday night".
After the fiery performance they gave, one wonders how soon it will be before Umphrey's McGee will finally be a headliner there.
The lot scene prior to the show was energetic as fans were sharing beers and stories from the summer. Even as dark clouds began to descend over the venue, spirits remained high. A few light sprinkles quickly turned to heavy rain and lightning, motivating the people to scramble for their vehicles. Just as things were beginning to look grim for the evening, the moisture subsided and the sun once again splashed the green foothills and red boulders surrounding the park.
Attendees quickly shuffled out of their cars and into the amphitheater, just as the band was taking the stage in perfect time. Though the numbers were small, the ovation was not as the sextet opened with a newer song from their catalog, "Search 4". Following was a beat-heavy number called "Wappy Sprayberry", another young instrumental tune that has been making the concert rounds for just over a year now. Percussive mastery displayed by Kris Myers and Andy Farag highlighted this new danceable favorite.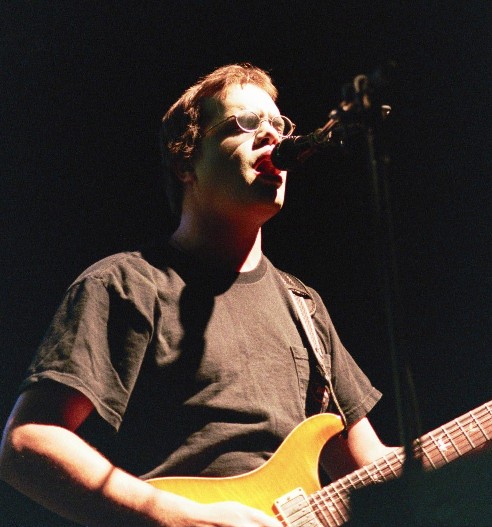 As the sun began to set behind the mountains, more familiar songs emerged starting with a magnificent version of "Higgins". Superb interplay between guitarists Brendan Bayliss and Jake Cinninger roused the crowd throughout this extended version.
"The Bottom Half" and a sandwiched "Glory" followed and were perfectly executed. Again, Cinninger and Bayliss led the group through these progressive numbers, staking their claim as one of the absolute best guitar duos in the music scene.
The remainder of the set was non-stop music, as each song gave birth to another. The classic show favorite "Divisions" segued into "Pipeline", "Resolution", and the set-ending mostly instrumental beast "JaJunk". Seamless transitions and musical precision highlighted yet another excellent performance by these monsters of the Midwest.
Fans wishing for more Umphrey's McGee would get pieces throughout the evening and about town. During Gov't Mule's well-received show, Bayliss returned to the stage at Red Rocks to help the group through a beautiful rendition of the Beatles' tune "Dear Prudence".
Meanwhile, other members of the band which included Myers, Cinninger, and keyboardist Joel Cummins headed into Denver to perform with their side project The North Indiana All-Stars (a clever take from the popular rock group North Mississippi All-Stars) at Cervantes Masterpiece Ballroom. This late night extravaganza also welcomed fretless bass master Tony Franklin and trumpet player "Wild" Willie Waldman to the stage for a multi-hour improvisational session that lasted until the wee hours of the morning. Cinninger wowed the crowd with his blistering guitar work, but even he seemed generally in awe of the madness coming from his band mate Franklin's heavy bass riffs.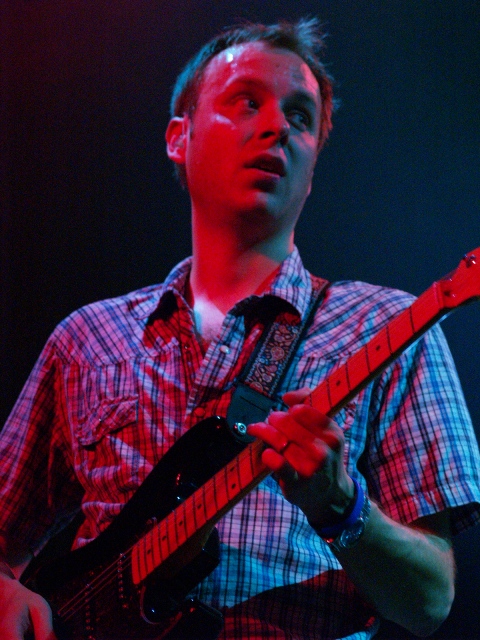 The following evening Umphrey's McGee would give one more performance of the weekend, a two-set all acoustic show at the fabulous Fox Theater in Boulder. This was the group's first foray into a complete acoustic performance, and they dazzled fans with UM originals and fantastic covers such as Zeppelin's "That's the Way", the Grateful Dead's "Crazy Fingers", and the Blind Faith ballad "Can't Find My Way Home".
With another successful Colorado stint behind them, Umphrey's McGee will soon finish out their fall tour all the while wrapping up the final touches on their new studio album set to hit shelves in late winter. Here is what Jake Cinninger had to say about the upcoming album from an interview with the Grateful Web a few months ago:
"We are getting back to more of the Anchor Drops kind of sound. It is pretty progressive, a little more hard-edged. We are just kind of reassessing what we are doing. Some of these songs have taken a year-and-a-half of writing. You know, just making sure some of the sections back up to one another perfectly. It is like the idea of dissolving what you create and then rebuilding it. Dissolving and rebuilding, dissolving and rebuilding. That to me is what makes a good progressive rock album, always going back to the drawing board."
Fans all over are eagerly waiting to hear the new disc, and with some of those tunes already being "road tested and approved" it is sure to be another quality project. On another note, Colorado fans will not have to wait too long to see their heroes perform again. The group stated they have tentative plans to return somewhere around January or February for an extended run of shows. And with the response they received last weekend, another spot at Red Rocks next summer seems highly likely.