Vanity Theft Announce New Album & Tour
Submitted by mike on Wed, 11/10/2010 - 03:20
Following on the heels of several months of non-stop touring in support of their recent EP, Anatomy, Vanity Theft, Ohio's rockin' female quartet is ready to unleash their new full-length album, Get What You Came For, due digitally on February 1st, with the physical album available in stores on March 1st via
Vigilante Music/Adamant Records.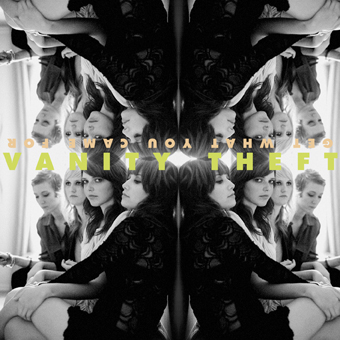 To celebrate the news, we're happy to share a remix of the albums' track "Anatomy," by Lefse Records' artist Houses, who gives the song a nice ambient spin! Vanity Theft is also thrilled to announce a Spring 2011 national tour, alongside Hunter Valentine! The tour will find them hitting markets all across North America- let us know if you'd like to check out any of the dates.
Vanity Theft is Alicia Grodecki (vocals/keyboard), Lalaine (bass), Brittany Hill (guitar) and Elyse Driskill (drums). Over the past five years, the band has built a rabid following the old fashioned way: by touring their asses off. The bands' early gigs started in their hometown of Dayton, then spread after a highly successful stint on 2009's Warped Tour, resulting in several national tours in 2010 (most recently with Sick of Sara).
Reminiscent of some of the best old school as well as post riot-grrl indie sounds (The Runaways, L7, Sleater Kinney), Vanity Theft tears it up live, leaving the audience almost as sweat-drenched as the band when it's all over.
After attracting the attention of former Disney Channel star Lalaine, who joined the band permanently earlier this year, the band set to work on the Anatomy EP, which dropped last month as a precursor to the upcoming full-length. Get What You Came For finds the band at their very best: catchy, edgy, and dancey as hell. The album kicks off with the charging track "Trainwreck," and doesn't let you go until the final notes of "Missing Teeth" slowly fade out.
--
Upcoming Vanity Theft Tour Dates
November 10 - Indianapolis, IN - Birdie's
November 12 - Dayton, OH - Canal Street Tavern
(* = w/ Hunter Valentine)
February 2 - New York, NY - The Knitting Factory *
February 4 - Washington, DC - U Street Music Hall *
February 5 - Charlotte, NC - The Milestone *
February 7 - Atlanta, GA - Purgatory *
February 9 - Webster, TX - Club Eden *
February 10 - Austin, TX - Emo's *
February 11 - San Antonio, TX - Korova *
February 12 - Dallas, TX - Sue Ellen's *
February 13 - Oklahoma City, OK - The Conservatory *
February 17 - Scottsdale, AZ - The Rogue Bar *
February 18 - San Diego, CA - Soda Bar *
February 20 - San Francisco, CA - Milk Bar *
February 24 - Seattle, WA - Studio Seven *
February 25 - Boise, ID - Neurolux *
February 26 - Salt Lake City, UT - Burts Tiki *
March 1 - Kansas City, MO - The Riot Room *
Mar 2 - St. Louis, MO - Ciceros *