Vincent Minor News & MP3!
Submitted by mike on Sat, 06/19/2010 - 07:52
Singer/songwriter Vincent Minor, will release his self-titled debut album, September 21 on Social Science Recordings. The album fuses indie pop with classic Tin Pan Alley tunesmithery and then lights the bonfire with colorful, often discordant orchestral arrangements. Unexpected passages of strutting brass, apocalyptic strings and malfunctioning kitchen appliances bring subtlety and life to Minor's stories of danger and heartbreak.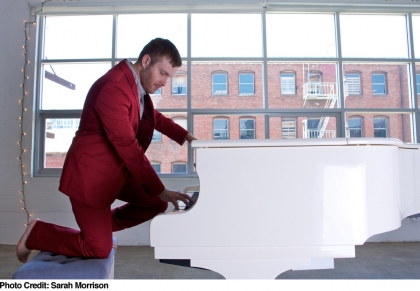 From the fuzzed out guitars and driving beat of "Late Night Show" with it's tale of LSD in the desert and double-dutch with Morrissey to the gorgeous "Pin Drop Silence" with its escalating piano and strings that sonically recall Bowie's epic "Rock'n'Roll Suicide", the album never stops evolving, surprising and mesmerizing. Humor, an unusually wry and dark variety, is also pervasive, as evidenced in tunes like "Heavy Metal Lover" which tells the tale of someone who manipulates through drugging a lover's tea with arsenic rather than dealing a kosher break-up.
Vincent Minor assembled some amazing LA area talents to round out his grand vision including producer Tom Biller (Fiona Apple, Sean Lennon, Where the Wild Things Are), keyboardist Zac Rae (Annie Lennox, My Brightest Diamond), horn player Stewart Cole (Edward Sharpe, Rachael Yamagata), and upright bassist Ed Maxwell. The result is a collection of wryly humorous and troubling tales carried by Minor's tuneful baritone and his orchestrally lush production.
To introduce this album to live audiences Vincent Minor will be embarking on a national tour this summer. He will spend a week in each city and assemble an entirely new band for each show. For an early listen, check out the "Late Night Show" MP3 premiered on the Advocate yesterday. You can download the MP3 here. We encourage you to post & share this MP3 & look out for one of the year's most exciting debuts!
Listen to Vincent Minor's 'Late Night Show.' {play}images/mp3/Late_Night_Show.mp3{/play}