On the eve of their 20th anniversary as a band, southern jam rocker's Widespread Panic had a difficult decision to make. The decision to dismiss their new lead guitar player George McConnell was most likely a mutual one. Their hardcore fan base was having a hard time accepting him as a replacement to the late great Michael Houser, who founded the band with his band mates John Bell, Dave Schools, JoJo Herman, Todd Nance and Domingo Ortiz. Houser's trademark souring leads and blissful improvisations sculpted the band's legendary status. On August 10, 2002, pancreatic cancer took Houser's life. Instead of doing what most other bands would have and calling it quits, Panic made a bold decision and as of 2004 continued to tour without Houser. One could understand the pressure on McConnell's shoulders. His slow-hand bluesy style was not aggressive or peppy enough to comfortably integrate to Panic's swampy soulful rave-up performances. The band's saving grace came with legendary scene guitarist Jimmy Herring.
Herring gained his reputation with a couple of small-time acts; Phil Lesh, The Dead, The Allman Brothers, and Billy Cobham to name just a few. When Widespread Panic asked their old Georgia buddy to join to group, it was a brilliant choice, and a decision that saved the band. Who else besides Widespread Panic could successfully continue to create interesting music after the loss of their lead guitar-man? It's plain to see that the band with Herring has reached the highest of heights. Herring is a patient and attentive musician, never parroting Michael Houser but expanding upon his legacy. Jimmy commented earlier this year in an interview with Grateful Web,
" [Mike] had such a distinct sound and its tough to know where you draw that line and where you play like the original. To me it's important to know something about the original and where it was coming from, and even if you don't copy it, you certainly need to tip your hat to it."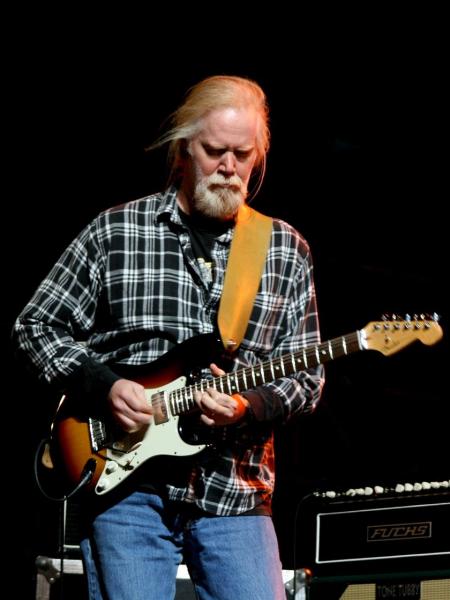 Modestly spoken indeed. When Panic decided to take a nice long break late in 2011, they announced something they had never done before. The first, and final tour of 2012 would take place in February at small select venues in Washing DC, hometown Atlanta, and Colorado; all acoustic. Whoa, Panic doing acoustic? Isn't their sound more, electrified? Regardless of whose reactions, the tour sold out instantly through their website months before. It was time for the band to take that chance to be vulnerable and unplugged. They dubbed their 11-date "final tour" the Wood Tour. It was a fitting time for Panic to highlight the nuances of their loveliest ballads and breakdown the dynamics of their heaviest jams. And since they were never a band that relied on bells and whistles, the announcement of the Wood tour was received with heavy anticipation.
This major milestone in their career would not have been as effortless without Herring's versatility as a lead guitarist. Then again vocalist and rhythm guitarist John Bell's trademark vocal scowls never sounded better than behind the acoustic lineup. Without having to strain his vocals over electric amplification, Bell's voice never sounded more appropriate. Bassist Dave Schools got his chance display his extreme virtuosity touting an acoustic bass throughout the tour and never drowned out his other band mates, despite the heavy-hitting style that made him legendary. Drummers Todd Nance and Domingo Ortiz got the chance to play around on various odd and ends in the percussion world including bongos, buckets, and boxes. This tour saw the collective band at their musical finest, performing without a net, taking risks and never looking back.
Then came the exciting announcement of a double-disc release highlighting the entire tour. Not only was the music fun for them to play, and great for us to hear, but it also turned out release worthy. The release is simply titled "Wood", and is being released on CD and a limited edition 3LP vinyl box-set with lots of photos, essays, etc., for collectors and devoted fans. And with Panic having announced their break from hiatus, performing December 30th at the Fillmore and the 31st at Charlotte's Time Warner Cable Arena, the "last tour" mentality that the Wood tour rode behind became a nostalgically vital moment in their history, and is now being made available to re-live for those who made it, and heard by those who didn't.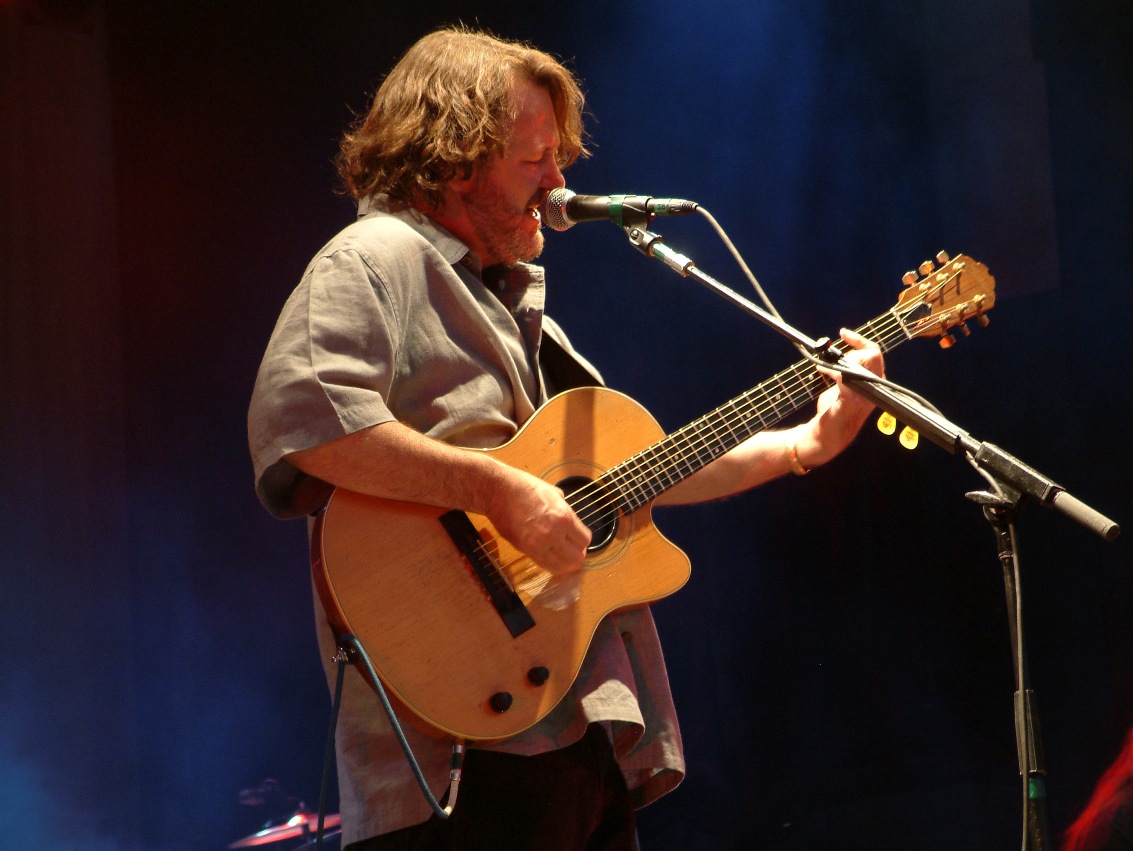 The release highlights old and new Panic tunes, as well as some common covers. A first performance ever for this tour was a punchy cover of John Lennon's "The Ballad of John And Yoko". You can feel the band's enthusiasm as the crowd is captured singing along to every word of the 60s classic. As a more casual fan of band, the release started off enjoyable for somebody who wouldn't know every crazy back catalogue song from the vault. Also from the D.C. shows "Mercy" allowed the band to display their stripped down sound bringing out the best in their classic ballads. After a poignant explorative jam the band segues into the Panic classic "Imitation Leather Shoes". The importance of the acoustic sound is materializing. A highlight from the Fillmore Auditorium, Denver performance is the band's cover of "Good Morning Little Schoolgirl" with Bell at his vocal finest and Herring delivering those bluesy goods one slow note at a time.
A few of their newer tunes on the release ended up being some of their strongest cuts on the album, especially the instrumental track "St. Louis" which really allows JoJo and Jimmy to take on some truly brilliant solos. "Sell Sell" is a campy tribute undoubtedly to the cult-classic British film "O' Lucky Man" ("Sell Sell", an Alan Price original, was part of the film's soundtrack,) and the rag-timey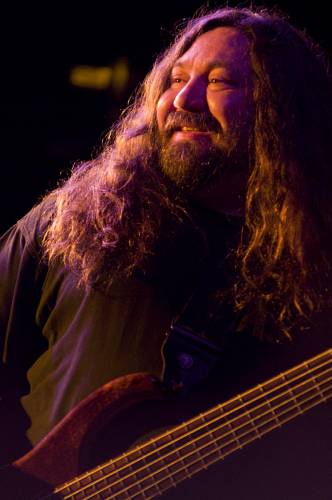 "Time Waits" is lyrically telling, displaying Panic's ability to build a story out of a song. Another fine moment came with a guest appearance from Bruce Hampton, Jimmy's old bandmaster in Aquarium Rescue Unit, taking the vocal lead on "Fixin' To Die," a song consistently performed live by both Panic and ARU. From the Atlanta shows the highlight came with not an original, but the cover of "End of the Show." Originally written and performed by Georgia rock band Bloodkin, John Bell's version of the song is a touching crowd favorite. A fitting way to end the Wood release.
What's next for Widespread Panic? It's obviously not the end of their show. They have too much chemistry and momentum with the Jimmy Herring lineup to call it quits. Their tour is bigger than ever, setting records at Red Rocks Amphitheatre for most shows ever sold-out consecutively. They are too big of a staple in the live touring scene to stop performing. The Wood tour gave them a moment to breath. They announced it as a way to take a break from touring but also to take some risks that had never been explored before. With this release, the most successful track weren't the Widespread originals, but the cool assortment of cover tunes and guest appearances. Panic has always been about pushing themselves to take their sound further and never play it safe. Wood will serve as a worthy addition to any casual or hardcore Panic fan's collection and as a document of a band in their mature peak. Moving forward from the loss and struggles of the 2000s, Panic is undoubtedly at an all-time high and will continue to impress their fans and wow newcomers. Panic's Wood is due for release on October 16th on both CD and LP, make sure you reserve your copy soon.