Genuine charisma is what sets Chris and Oliver Wood Brothers Band apart from other contemporary rock bands. Their own brand of Americana, fused by two different musical paths bound together, has evolved from a genre-bending project into a highly popular full time band. Before the groups' inception in 2004, many were less familiar with guitarist Oliver Wood but knew his brother Chris as the virtuoso bass ace of avant-garde jazz trio MMW. When the two come together and create music, it resonates hints of other beloved American bands, while creating something entirely organic and new. Oliver's guitar work brings back familiar sensations, the twangs of Robbie Robertson and Ry Cooder, the aggressive blues-acid of Hendrix, the roots of Paul Simon. And though the two Brothers are both well versed in the art of improvisation, their band is not about soloing or egotistical over-orchestration. Most of their live show is comprised of originals with a few less likely covers sprinkled in. Admittedly, I'm one of those Medeski, Martin, Wood fans that heard about The Wood Brothers years ago but never had the chance to see them. The band's Boulder show was a gig at the Fox Theatre bringing the Wood Brothers back to their once hometown to an audience of hardcore fans.
The sold out crowd seemed to groove familiarly to most of their two hour set, singing along to their favorites and gawking at the band's charm and ease. Since the Wood Brothers last Colorado visit, they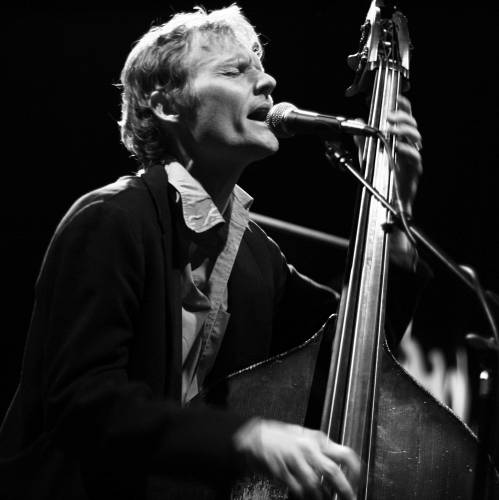 released a new album this October called The Muse, and gained a third brother with multi-instrumentalist Jano Rix. Rix covered mostly percussion and a drum kit and fit in well with the brother's soulful vocals and melodies. Having a third voice strengthened the band's undeniable gospel edge. He also created a funky percussion instrument out of the body of a guitar, kind of the opposite of Futureman's Drumitar. Certain songs were punched up with Rix's drumming on the full kit, bringing the once roots duo to the level of a full-bodied blues band. The trio's chemistry with each other and their crowd was adorable. Oliver's imposing stature cranking his hips every which way, getting closer to the crowd for that guitar lick, was very rock 'n' roll, but never in a poseur way. Chris Wood's classic standup bass-man demeanor was something else. An aristocrat letting loose at a party and suddenly displaying his suppressed natural groove. At one point during the evening, he stepped away from his bass to let Jano and Oliver take the musical reins. Chris goofs off, swinging away from his instrument, then dance-chases Oliver whose too busy shredding a nasty solo to notice. Effortlessly it became classic deadpan comedy sketch and music performance all in one.
Certain crowd favorites were recognizable to me. "Postcards from Hell", "Blue and Green" were familiar standbys. The new material sounded tight, a strange brand of jazzy, country, and soul. "Wasting My Mind" and "Honey Jar" seemed already familiar to the sold out Fox Theatre audience. Chris' jazzy dexterity on the standup bass was equaled by Oliver's slide abilities, seamlessly connecting guitar lines with simple but powerful intent. Oliver's vocals are grizzled and bluesy, smoothed out with soulful vibrato. Ultimately the (now) trio has created a sound solely based on their already existing musical traits. I'd imagine they move most audiences the way they won over Boulder's crowd last Friday. The Wood Brothers concert is puzzling to describe but delightful to experience. As natural as anything else, but like nothing else. Colorado fans can catch the guys at the Belly Up in Aspen tonight and continuing into the Midwest then forward. With a full touring schedule through February, there's plenty of chances to catch them.