If there were to be a declared "newgrass" hub for the 1990s-2000s resurge of popularity, most would undisputedly agree that Colorado is that place. Sure the great states of California and Oregon have their fan base and head venues, and lets not forget that the Nashville scene is still souring with talent young and old. But all those Nashville folks never miss a single year of Colorado's Planet Bluegrass Festivals (Telluride Bluegrass, Lyon's Rockygrass and Folks Fest). Last year those summer festivals saw the best of them coming out to gaze upon the Colorado bluebird skies and play way outside of their normal southern touring circuits. Something about our hospitality and crowd enthusiasm brings them back every year. Our hometown venues are also assessable and generally friendly to both families and harder-boogie sort of folks experiencing altered states of consciousness. Aside from all of this, Colorado has birthed some of the most important newgrass projects of the last 20 years. String Cheese Incident, Leftover Salmon, Head for the Hills, and Yonder Mountain String Band. The last of those just listed were a bunch of Midwest fellas that moved to Nederland, Colorado sometime in the late 1990s. Nederland, being nestled 18 miles into the Rocky Mountains outside of Boulder has been a breeding ground for freaky music since the 1960s. When Adam Aijala (Guitar), Ben Kaufmann (Bass), Jeff Austin (Mandolin), and Dave Johnston (Banjo) began collaborating, they brought together Yonder Mountain String Band, one of the most popular jamgrass outfits of the last decade.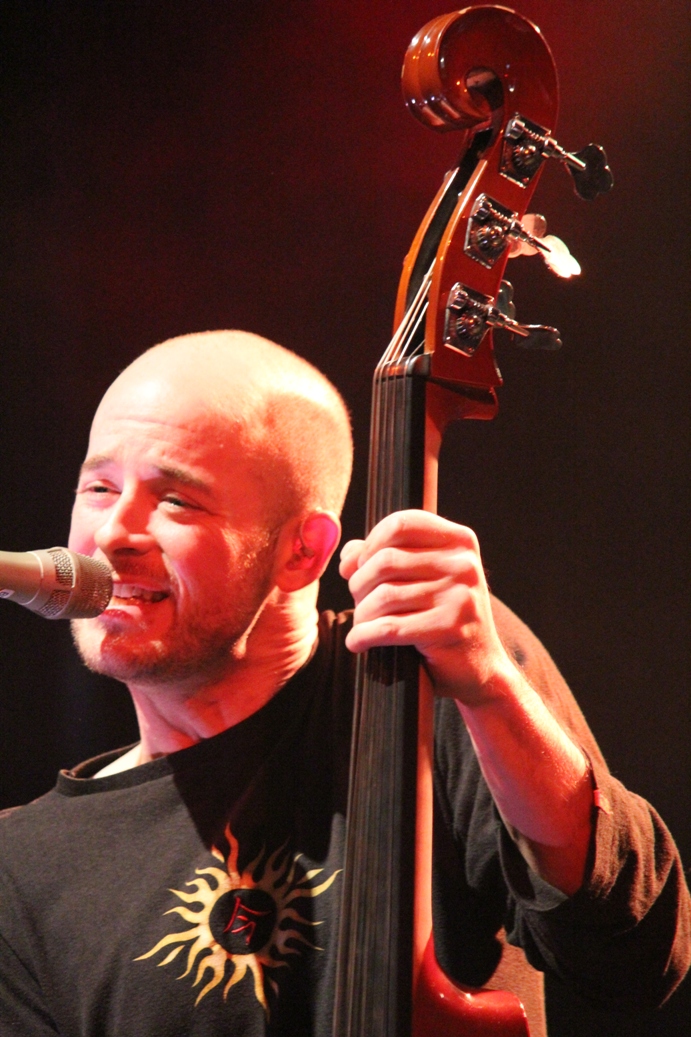 Calling Yonder a bluegrass band would be inaccurate in my opinion. Their music and styles covered are too across the map to be referred to as bluegrass, though they do take on an instrumentally traditional ensemble with no drummer (usually). Yonder will cover reggae, folk, pop, fusion, and waltz arrangements before I would use the term bluegrass. Much like the father of their style, Sam Bush, they aspire to bring the liveliest and mind bending arrangements to challenge the meaning of bluegrass. This is why the style has been aptly applied the term "newgrass". The Yonder boys also seem to have backing from the most legendary players in bluegrass. For example, Darol Anger, fiddle virtuoso and musicologist, was an unofficial guest member for many years and still occasionally sits in. Aside from being music festival and theatre band regulars across the country, Yonder has played the legendary Telluride Bluegrass Festival for eleven consecutive years. Quite the credentials!
With five studio releases and a dozen more live releases, Yonder has quite enough original material in addition to popularly loved common covers. This must be why they booked an ambitious five-day New Years Eve run at Colorado's historic Boulder Theatre. The 27th through the big night was filled with numerous guest appearances and saw the boys moving through their vast repertoire of material, hopefully not repeating too many. I had the opportunity to review their second night of the run, the 28th, for Grateful Web. This was a sold-out show on a Wednesday night. In fact, as I understand it, four of the five days of this run were sold out. And that's the thing about Yonder, they bring the crowds in hoards, old and young alike (though the old were mostly on the seated balcony while the under 40 crowd took the standing room on the floor.) Aside from having seen the band at Telluride Bluegrass for the last four years in a row, and some scattered festival appearances, this was the first time in a long time I had come to see a headliner Yonder Mountain String Band show.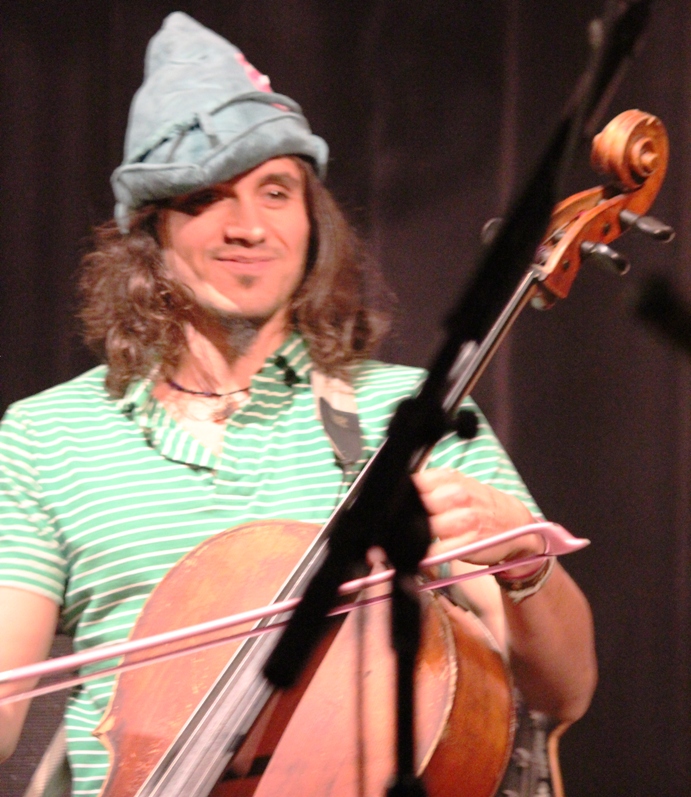 As the houselights went down and the band collected on stage, an unfamiliar gentleman walked out with them. Dressed like Robin Hood (?) and sporting a cello, Jeff Austin (their self-proclaimed defacto leader) introduces their cellist friend as Rushad Eggleston. Though he is a friend of theirs instead of a "big name" in the scene, the crowd welcomed him warmly for a high energy first set. Honestly, I am not the reviewer who could dissect a Yonder set list song by song. However, first set highlights for me included a "Troubled Mind" opener and "Follow Me Down To the Riverside" sandwiched in between "Angel". Their cellist friend added many lead riffs that set, feeding onto the energy to the already jazzed crowd.
After a short set break the band returns, this time with a very familiar face, E-town founder and Hot Rize member Nick Forster. Forster has made Boulder Theatre the home of E-town for a while now while they await the completion of E-Town hall, being built a few blocks away. Instead of his usual bass he totes in Hot Rize, Forster comes onstage with a lap-steel guitar. He takes a seat and jams on three songs with the boys starting the second set. Him and Adam Aijala take turns soloing during the goofy romp "Two Hits and the Joint turned Brown". Aijala is my favorite member of the band. Simply put, his flat-picking talents put him a slight step above the other member's ability wise. All due respect to the rest of them, Adam could be playing in Nashville if he wanted to. But he's stuck with YMSB and played his ass of that night yet again. A surprise cover of Bob Dylan's "It Takes A Lot to Laugh, It Takes A Train To Cry" got me amped and the crowd went nuts as well.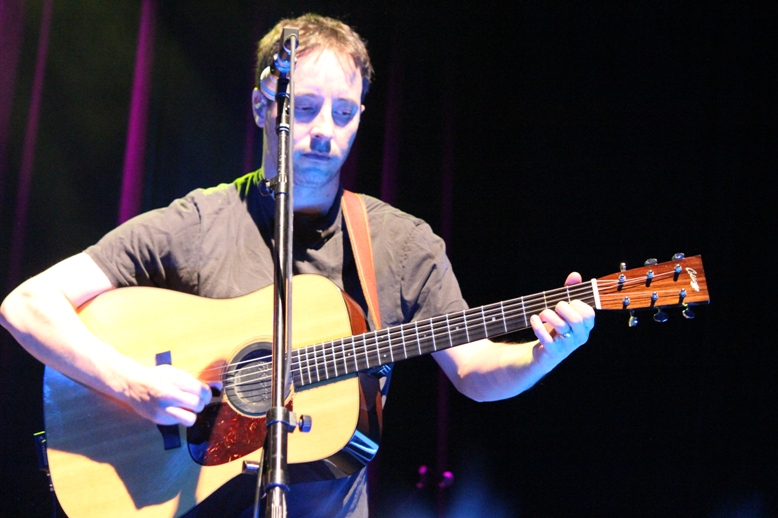 The final surprise of the night was when song before encore another very familiar face pops out. Roy Wooten, otherwise known as "Futureman", from Bela Fleck & The Flecktones comes out with a conga looking instrument to bang along for the last songs of the second set and an encore. It's an interesting collaboration and I'm curious about other times Futureman has sat in with Yonder (most likely in Telluride.) Nonetheless, still a pleasant surprise appreciated by all.
Hats off to Yonder for selling out five days at Boulder's Theater. They obviously have a huge following of loyal fans that will keep coming back for more. Whether they are the fastest or have the most in-key harmonies is secondary to their energy on a good night and the enthusiasm that the crowd brings along as well. If anything, I'm sure I'll see the boys next summer at Telluride, where they are usually in great form and supplemented by other high-caliber guests.