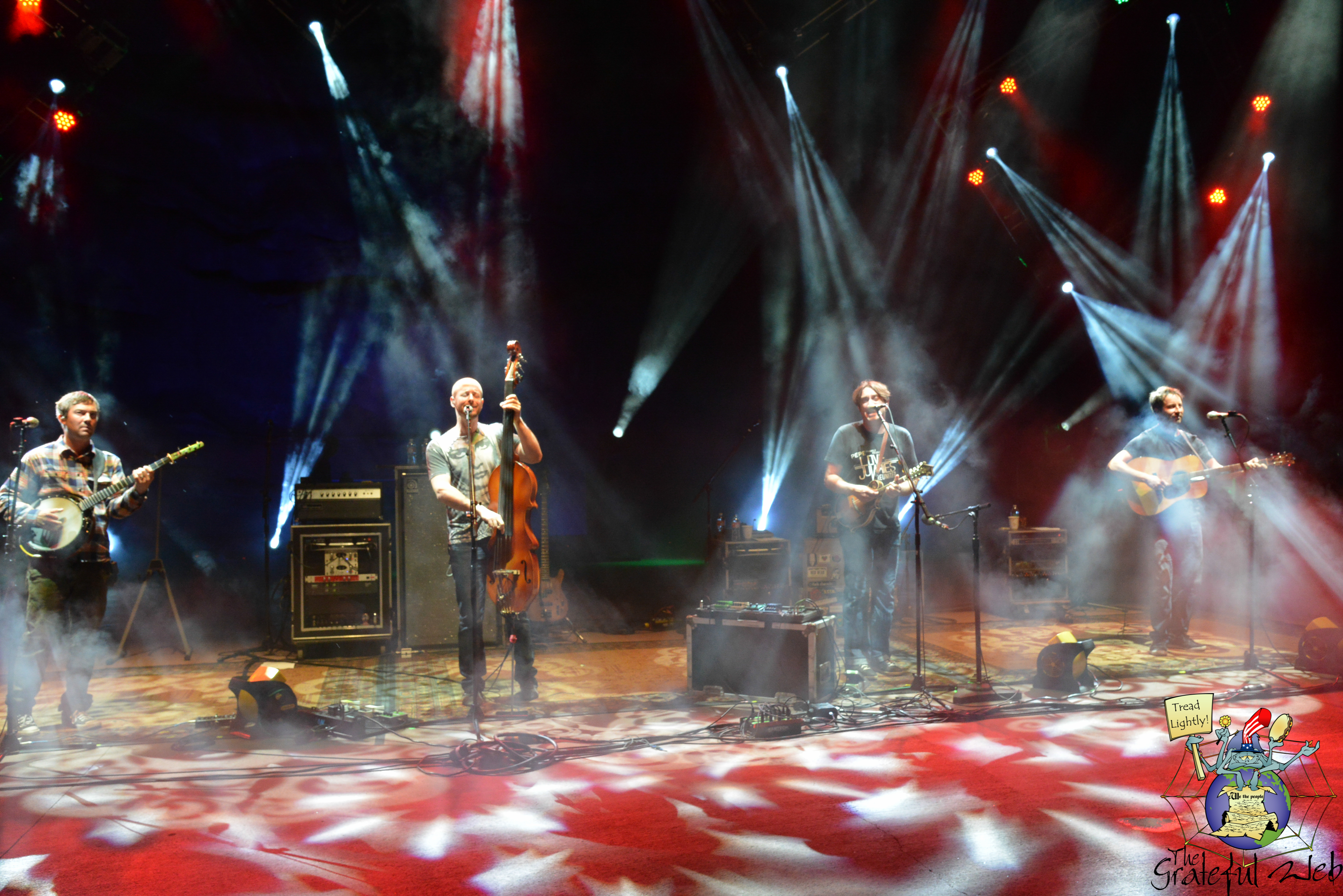 Yonder Mountain String Band is celebrating its 15th year as a bluegrass quartet and, as I awaited its tour closer at Red Rocks, I started reflecting on another 15-year anniversary: my own. The Music and I have been married for 15 years now. It started innocently enough with a Dick's Picks flirtation in 1998, but quickly blossomed into regular dates at The Canopy Club in Urbana, New Years Eve blowouts at Big Cypress and Madison Square Garden, and festival vacations at Summer Camp and 10,000 Lakes. As I got older (She never does) and didn't have the freedom to travel as much, I decided to keep things fresh by moving to the American epicenter for jaw-dropping improvisational performance: Colorado. Living in Boulder has afforded us an embarrassment of wealthy trysts, from The Boulder Theater and Cervantes all the way up to The 1st Bank Center and Red Rocks. No need to travel when every month's Marquee displays an abundance of choices instead of holes in the calendar.
I have seen more stellar shows in my three years in Colorado than I had in my first 12 years elsewhere. When I'm in the mood to wax nostalgic, these are the shows that prominently jut out in my memory – the ones that make me feel like I was present at the best place on earth that given night. And I am adding Yonder Mountain's Red Rocks show to The List. Having seen the band 25 times since my first encounter at The Canopy Club in 2001, I came away knowing that this Red Rocks performance was monumental in nature. Not only was this the best show I've seen Yonder Mountain stage, it is also one of the most torrid feats of two-set execution I have ever witnessed.
The band took the stage at 8:48 p.m. To kick off its first of four meat and cheese sandwiches (i.e. at least two songs in between the bread), it roared out of the gates with New Horizons. After laying down its bottom slice, bassist Ben Kaufmann pulled out his bow and melted the up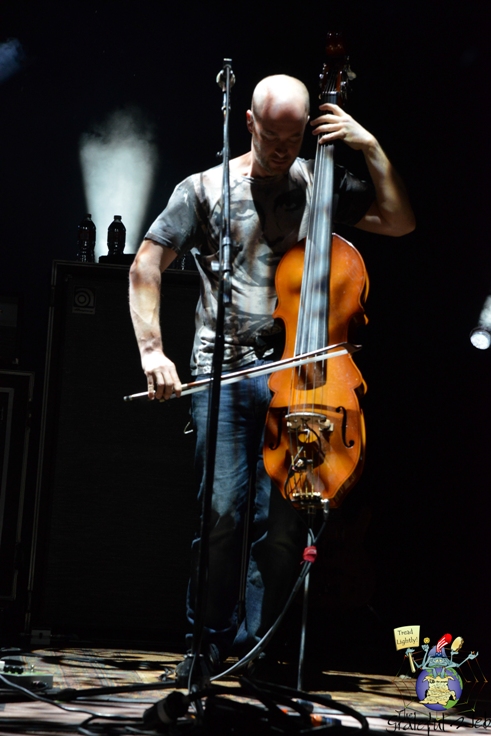 -tempo opener into its sonically darker counterpoint: Goodbye Blue Sky. The timbre of his upright bass was rich and silken. From our vantage point in Row 16, just left of the tapers, Kaufmann's strokes felt like a Charmeuse scarf running across my entire body. The sonorous tones and beautiful harmonies in the first two songs belied their message of doom and disaster that lyrically linked them as companion pieces.
The shorter Pink Floyd cover segued into a longer Beatles one, It's Only a Northern Song, and then cycled back for a New Horizons reprise. The pace and potency of these first 21 minutes are usually reserved to close out a second set. Consequently, what elevated this show to epic status was the band's ability to maintain, and even augment, its initial burst of power and energy through a three-hour performance.
The second big sandwich of the night was a very thought-provoking bookend to the first. On The Run provided the bread and, while it was a Yonder Mountain original, Pink Floyd wrote a song by the same name, found on Dark Side of the Moon. The band did, in fact, play a second Beatles cover, Dear Prudence, which coyly responded to Goodbye Blue Sky: "The sun is up / The sky is blue…" The White Album classic started with the spartan melody of Adam Aijala's guitar and Jeff Austin's voice. And then it built. First, Kauffmann sang harmony to Austin's lead, and then Dave Johnston paired a simple banjo roll with Aijala's melody. About 1:45 in, after the first "Look around, round, round" stanza, the framework for the groove was set with Johnston taking the first solo, floating buoyantly above Kaufmann's bass line. A minute later, Austin took the reins and was very deliberate to ensure the tempo did not accelerate outside of the established framework. Aijala then played a sparse, yet incisive, solo on the lower octaves of his guitar. The band returned to the "Look around, round, round…" stanza at about five minutes. And then it hit the cradle of the groove during a final two minutes that I'm sure will sound good on a recording, but will only provide a simulacrum of the true experience levitating between Ship and Creation Rocks.
An On The Run reprise capped off a first set which was so technically, emotionally, and visually expressive, I didn't think Yonder Mountain could come close to eclipsing, or even matching, it after setbreak. I turned to my neighbor, who was recording audio for the show, and said, "I honestly don't think it's possible to top that set? Do you think they can?"
And of course it not only did so, but in a great titular irony, the band christened the second set with an Honestly sandwich. Aijala delivered on lead vocals, but the "Won't you run back to me?" chorus was transcendental – all four musicians sung the entreaty in a multiple-part harmony with such spirit, a dude just one row down from me was literally running in place. Yonder Mountain filled the sandwich with Casualty and Fine Excuses before reprising Honestly and firmly putting me in my place. The 17-minute sandwich matched the intensity and Honestly was one of three songs that broke the pulchritude meter for the night. It was so viscerally beautiful, I was actually sad when it ended.
But the sadness faded a minute later as banjoist Danny Barnes, who opened the show, joined the band for two songs: Rag Doll and Barnes's Funtime. Both pieces articulate the fallout from failed relationships and the psychological damage that ensues. Barnes acquitted himself really well, helping the band strike an intensely ominous tone to bolster the verse. The 20-second crescendo leading up to the final refrain of Rag Doll was notably exquisite, with Kaufmann pulling full force on his bass strings while Barnes and Johnston wound a haunting level of tension into their rolls.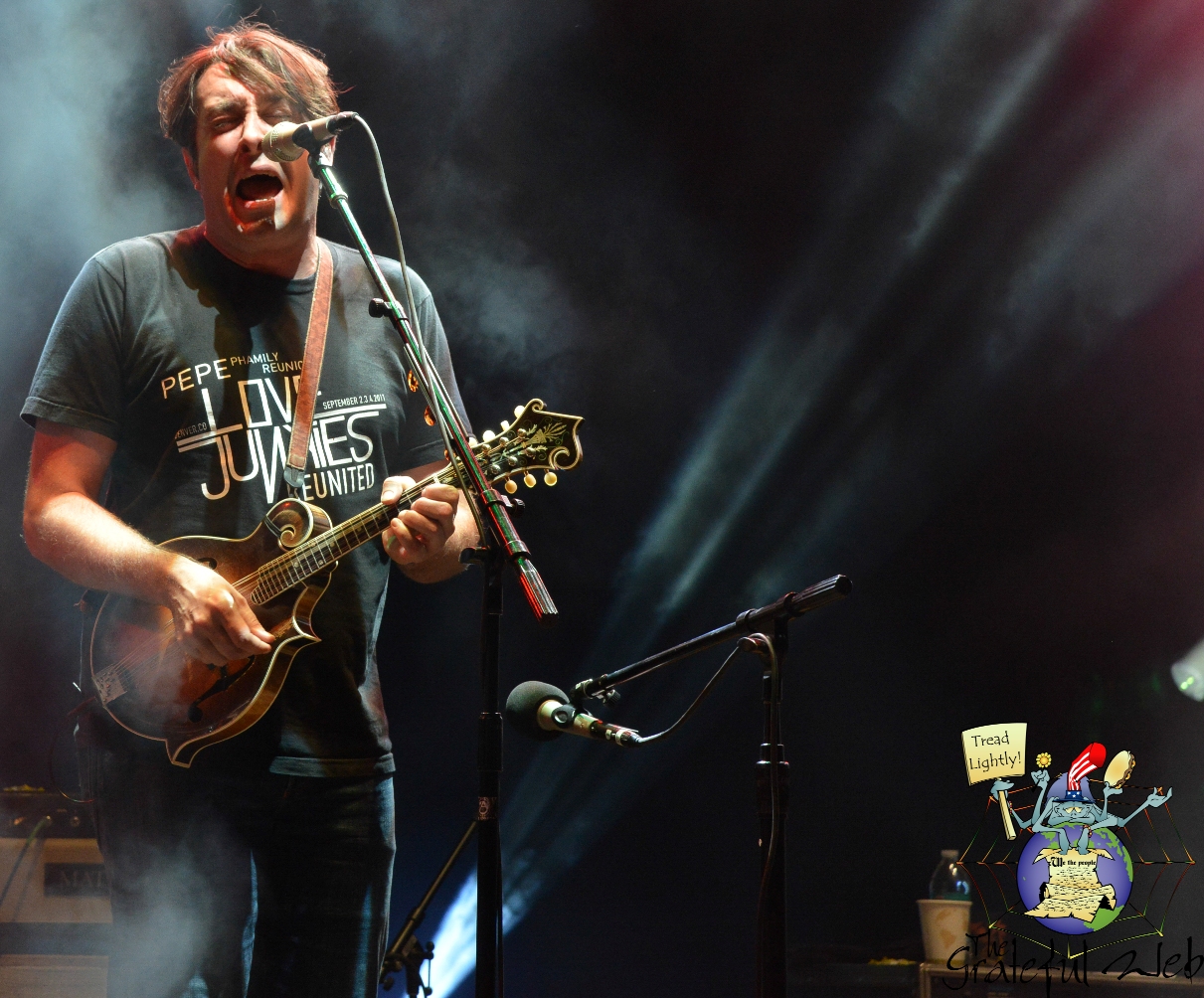 Yonder Mountain closed out the second set with the final of their four meat and cheese sandwiches, this time with extra cheddar: Peace of Mind > Angel > Follow Me Down To The Riverside > Angel > Peace of Mind. For my money, this nearly half-hour beast was the highlight of the night and I don't mind being truthful here when saying I'm just not talented enough to describe what went down for that last chunk of the second set. On the band's website, Jeff Austin put up a quote that started: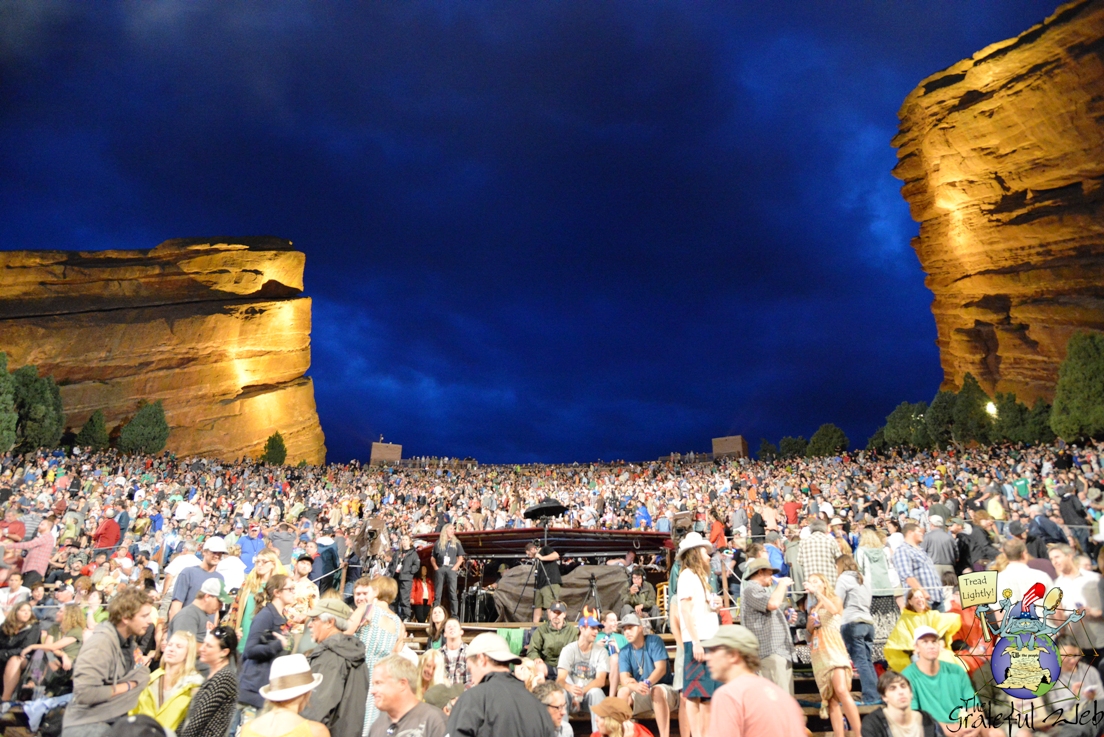 "It is so hard to put into proper words what it means to play Red Rocks. The emotion…the true deep emotion of the combination of nature, energy, and music…I've never felt that emotion more clearly than the times I've spent on the Red Rocks stage."
Just replace "play" and "on the Red Rocks stage" with "see a show at" and "at Red Rocks". Some things are ineffable and as a writer, I have to fight for les mots justes (the right words) when I'm at a loss…most of the time. But sometimes I just know when fighting is utterly futile. I will say this, though; The Peace of Mind, in particular, will prominently jut out in my mind for years to come and fill me with a sense that there was nowhere on earth more euphoric than Red Rocks on August 10, 2013. Nights like these, as Austin said, are truly "fuel for the soul".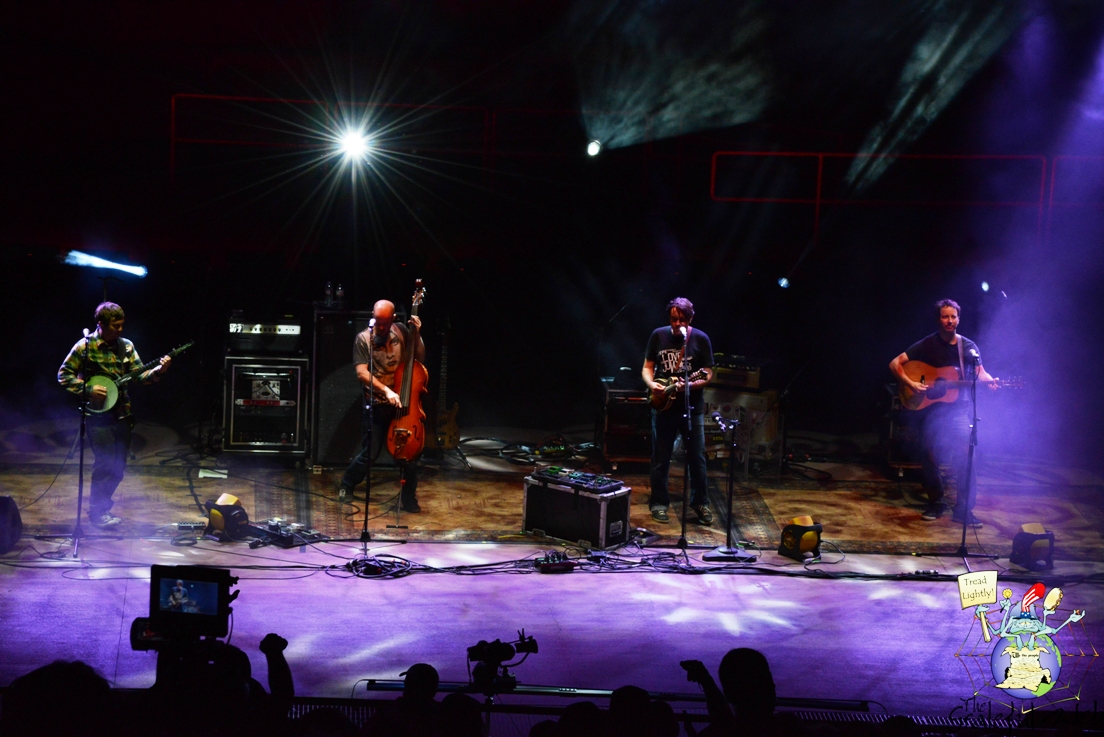 The four-song encore was no slouch, even though I couldn't comprehend how the band had anything left to give after two sublime sets of music. What The Night Brings closed out an evening of brilliant music, a phenomenal light show, and ecstatic dancing. For fans and musicians alike, Red Rocks is imbued with an organic energy that lights an eternal flame. I spent time last Saturday with a woman who was on her maiden trip to the Colorado landmark and a guy who has seen close to 200 shows here. Both of them, along with myself, were kids walking into our first candy store.
And even after 15 years with The Music, including a healthy dose of Red Rocks trysts, my goodness was the candy still ever-so-sweet!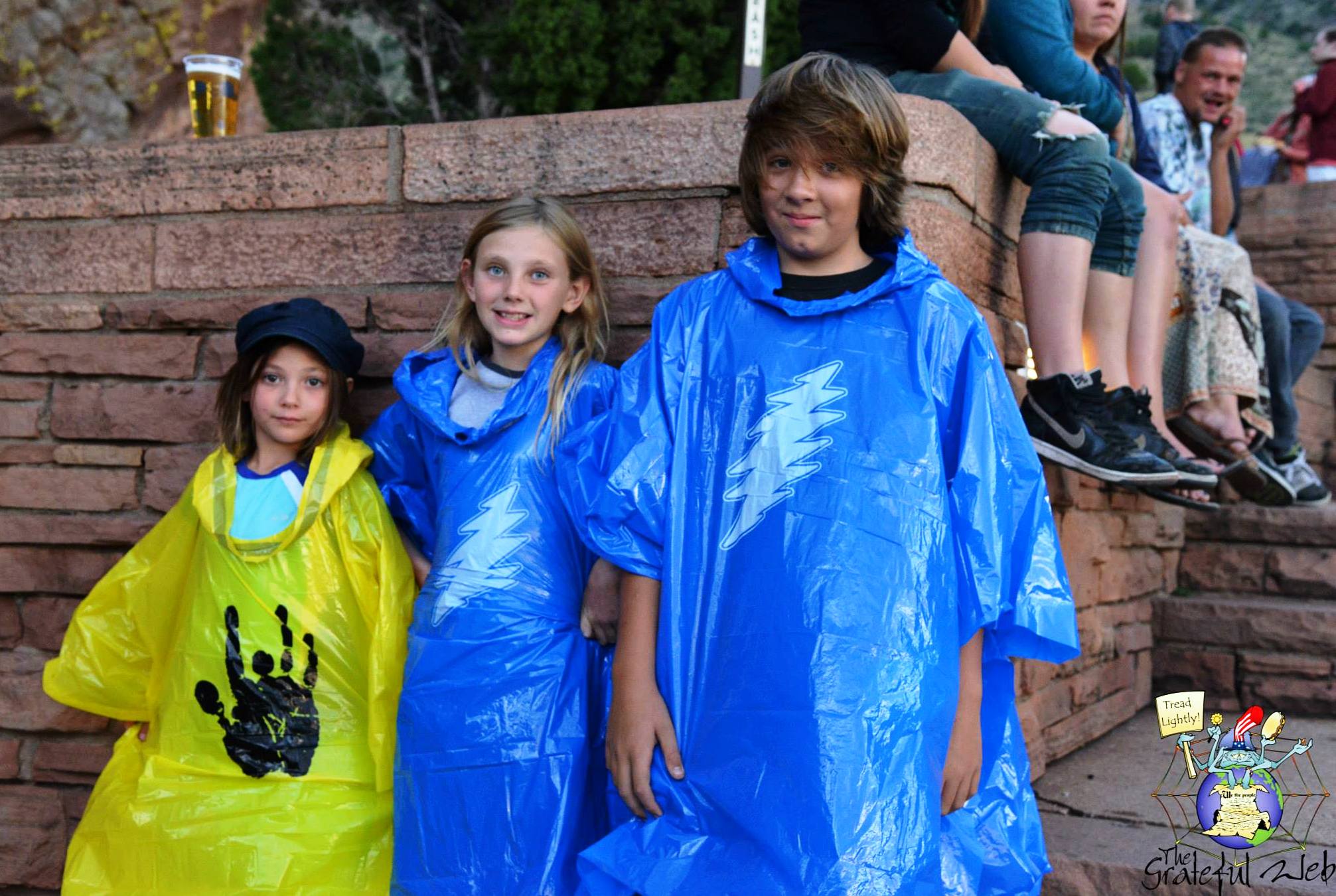 Check out more band photos and fan pictures.