In a classic Zach Deputy move, the one-man-band touring machine played 4 shows in two days at the Rockwood Music Hall September 13th and 14th in New York City. The venue was an intimate bar, with only a slightly raised stage for the artists, and a little dancing room for the listeners.
As a celebration for the forthcoming release of Another Day, these shows were a bit different from regular ZD shows. First and foremost, he played with a full band backing him- bass, keys, and drums- and to be honest, seeing Zach with a band was unusual. Normally, he's got his whole rig of effects shelves and microphones, like a pod of music-making doo-dads and turny knobs that somehow create a beautiful sound. This time, however, it was just a modest Zach Deputy playing a special type of show.
When I talked to Zach a few months ago, he said that it takes way more time and resources to produce a CD the way he would ideally like to. Naturally, it would take a significantly greater amount of effort for him to lay down each instrumental track, and each vocal track, exactly the way he wants, so his band comes into the studio to help him out. This time, in an effort to recreate the album as it sounds, the band took time out from their regular touring schedule with Ryan Montbleau to hook up with Zach in NYC.
This is not the only difference, of course. During his first performance of the run, he said that they set out to make a funky dance album, but wound up recording the songs he usually played just for himself. For his newest release, Zach wrote much more serious, slow ballads and love songs than a live crowd might be used to hearing.
The first set made my heart flutter a little, with poetic songs like "By Your Side." It certainly didn't call for hula-hoopers or poi-spinners like it normally might, but irresistible performances like "You Don't Even Love That Girl" were so full of passion and soul. He sung about heartbreak, lost loves, and even a lullaby, "Sleep," for his young daughter. The band was definitely a nice addition for this set; the percussionist added a level of serenity to some of the songs that might not otherwise be accomplished, the bass creates an immediate and meaningful depth, and the delicate piano parts gave the whole set an old-time club jazzy feeling.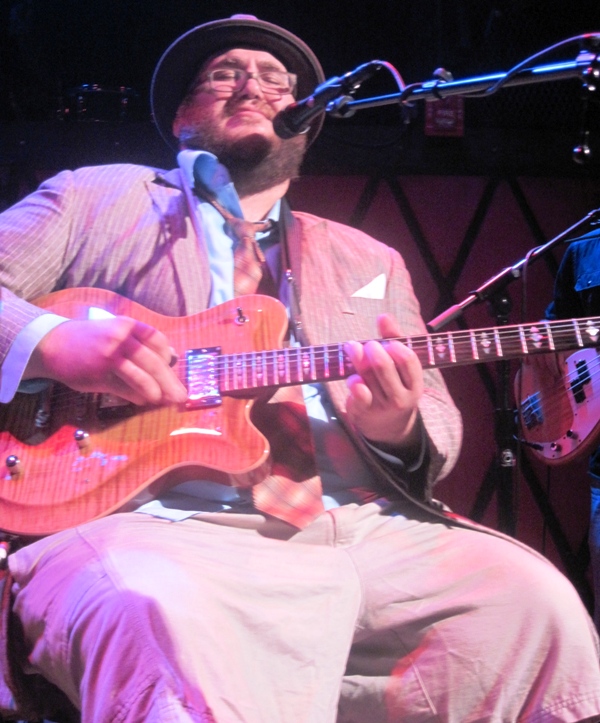 Time between shows was a nice chance for the band to mingle and Zach to meet his loyal fans. His band members all seemed very excited to be part of this project and enthusiastic for the coming release of the album, regardless of whether they perform with him regularly. Zach, with his big hugs and loving smile, was also pumped for the party. He said it was nice to do something different for a change and wanted to show off the hard work he had put into such an intimate album.
The second show, which started around 10 pm, was less emotionally charged, but still calm and kind of contained. About half the crowd was sitting, ready to absorb the music and listen patiently to Zach's new tunes. The other half was ready to start grooving, standing around with their drinks and bobbing their heads to the first few chords. While he did do a few repeats- it was a double-header CD release party, after all- he played some of the more upbeat tracks from his album, starting slow and seductive with "Thoughts of Yesterday" and gradually gaining a dance-party rhythm with "Make it Right."
After the second show ended, a humble Zach Deputy mingled with crowd and thanked us all for coming out to support him. The show was certainly a unique Zach Deputy experience, but it was special to see his most personal songs performed the way they were written. Nothing compares to Zach's solo performances, but with Another Day, he has expanded his repertoire of music and his fan base while keeping his current fans happy and supportive. Live and solo, the beautiful songs off Another Day could transform into something completely new, and that's the joy in an artist like Zach Deputy.