Tabla maestro Zakir Hussain has done far more for the craft than any predecessor of the instrument. Hussain crossed over into experimental Western music with groups like Shakti (alongside John McLaughlin and L. Shankar) and with Grateful Dead drummer Mickey Hart in the classic World percussion releases Rolling Thunder, Diga and later Planet Drum. Still nothing has prepared followers of Hussain's illustrious career for his marvelous group Cross Currents. If bop ever married traditional Indian music, their striking child would sound something like this. The core spirit of the group reveals how music can cross cultures and sound natural if played from inside. Alongside Hussain in Cross Currents is double bassist Dave Holland, saxophonist Chris Potter, guitarist Sanjay Divecha, legendary Indo-Jazz Ensemble pianist Louiz Banks, and drummer Gino Banks. Last weekend's four show series at SF Jazz in Hayes Valley theater district of downtown San Francisco drew a full house for each unique performance. Grateful Web was beyond humbled to be invited to the Sunday matinee.
Most impressive of all was how each original came from the individual players in the ensemble, all of whom seemed to enjoy the unique occasion to collaborate on those tunes. While Divecha's electric guitar could scarcely be identified as "traditional" in the scope of classical Indian music, he managed to bring phrasing and elements of both backgrounds. The band opened the matinee performance with the flourishing arrangement "Shadows," allotting everyone the venture to initiate their craft within the context. During "Five Spices," Hussain fluttered his palms and fingertips with sharpness, and dull depth. Holland and Gino Banks aligned alongside in a rhythm trio unlike any other. Hussain's focused gaze on their handiwork made clear that this was not his singular project, but a clinic for each player to absorb each other's dissimilarities in a harmonious manner.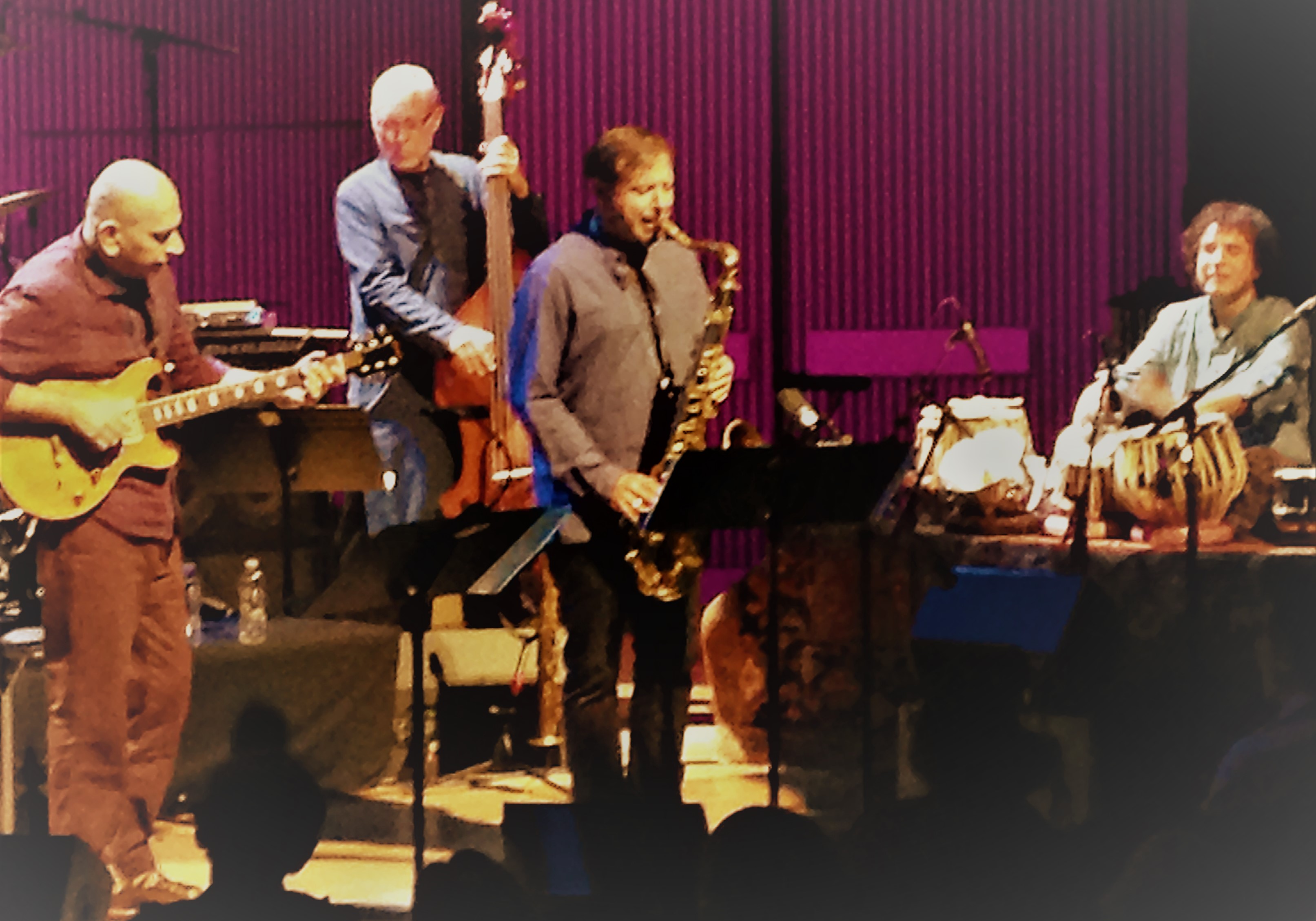 Hussain warmly addressed the adoring audience, speaking of opening up both traditions of westernized jazz and classical Indian music on a level landscape. He then introduced a special guest and frequent collaborator. Classical Indian fiddler and vocalist Ganesh Rajagopalan led Cross Currents through an interpretation of the Indian traditional, "Rama Rama." His invigorating chants resonated chillingly. Hussain began to tap the edges of his tablas, circling the perimeters and illuminating the subtle textures of each individual drum. He'd shift one to the forefront with an entirely different dynamism and emotion. Dave Holland's original "Finding the Light," brought more depth to the performance, with Louiz and Sanjay both contributing an unpredictably classical accompaniment. Perhaps the highlight of the performance came with Chris Potter's original "Hulk," where a syncopated repeating tenor phrase grew purposefully dissonant with each stanza, succumbing to its own chaos with the others swirling alongside for the journey. The performance came to a striking conclusion with "Solace" which tied together the musical fundamentals that the previous textures had built.
Each individual performance last weekend at SF Jazz brought in a dissimilar set list with remarkable approach. Hussain, who's a Resident Artistic Director for SF Jazz, brought new layers to his illustrious variety of projects. The tie together of Cross Currents is that music is a universal language that bonds. It's hard to place where each tradition begins and escapes. The obscurity is part of the purpose, as the traditions harmoniously blend together. That is the quintessence of fusion music.