The New Pornographers kicked off their spring tour to a packed house at the Fox Theater on Wednesday night. What you get from a Pornographers show is a mix of melodies and catchy pop hooks tempered with a sufficient balance of edge, and banter laced with plenty of f-bombs and sarcasm. The elder states-folk of indie rock rarely disappoint, and Wednesday was no exception. Tambourine- check, snare- check, all encased by driving guitar and a plethora of vocal harmony. They're not your mom's indie favorite, or maybe they actually are; but they're not afraid to throw a bitch-slap your way, if necessary.
Wednesday's performance brought a bit of good news and a bit of bad news. The good news- Neko Case was in the house. The red-headed vixen is truly an ace, and her attitude, and facetious, swear-word strewn stage banter only ups her appeal. She's sexy and cool as hell; and in a scuffle, she'd probably kick your ass. The bad news- Dan Bejar was not in the house. The singer/songwriter and multi-instrumentalist is currently on tour with his band Destroyer- maybe next time. Regardless of the this and that's, The NPs, (vocally), whether A.C. Newman is at the helm, or Case and Kathryn Calder are at the helm, are one of the best things going, and have been for a long while.
The crowd seemed satisfied having Case in their presence and verbalized the fact with several "we love you Neko"'s throughout the evening. They played roughly half of the tracks from their latest release Together, including a "Crash Years" featuring plenty of tambourine clapping and whistled rhythm, and a "Sweet Talk, Sweet Talk" that demonstrated the power and beauty of Case and Calder's vocals coming together with those of Newman. The evening was a decent run through the Pornographer's catalog: from "Mass Romantic," to "It's Only Divine Right" on down thorough "My Rights vs. Yours" and "Up In the Dark," the band ran through their down the line, clearly on a mission to deliver to the audience.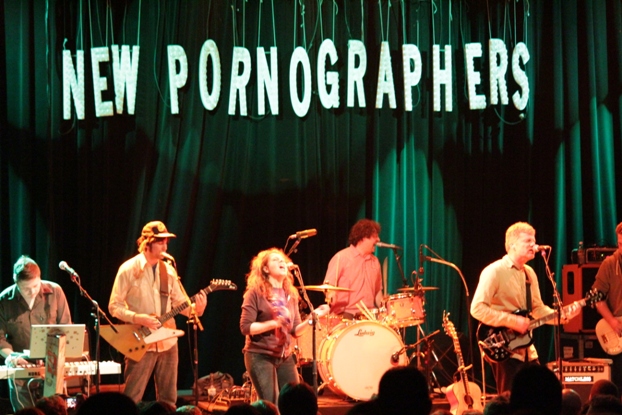 An electric guitar and heavy drum driven "Jackie, Dressed in Cobras" along with "Use It," kept a hyped crowd bouncing and singing along. Mellower selections off of 2007's Challengers, including the title track and "Go Places," along with "All the Old Showstoppers" and "Adventures in Solitude," gave the audience their due fix from a favorite album. The second set and encore, both bookended, respectively, with "Bleeding Heart Show" and "Sing Me Spanish Techno" drew screams and hipster head bobbing alike.
The Pornographers are equally adept with their collective talent and solo pursuits, and it's no telling which particular line-up you might get each time you buy your ticket, unless you follow their individual projects closely. Wednesday's show was a very satisfying line up, a plethora of multi-record favorites, and a crowd full of smiles and sing-a-longs that kept the audience well satiated.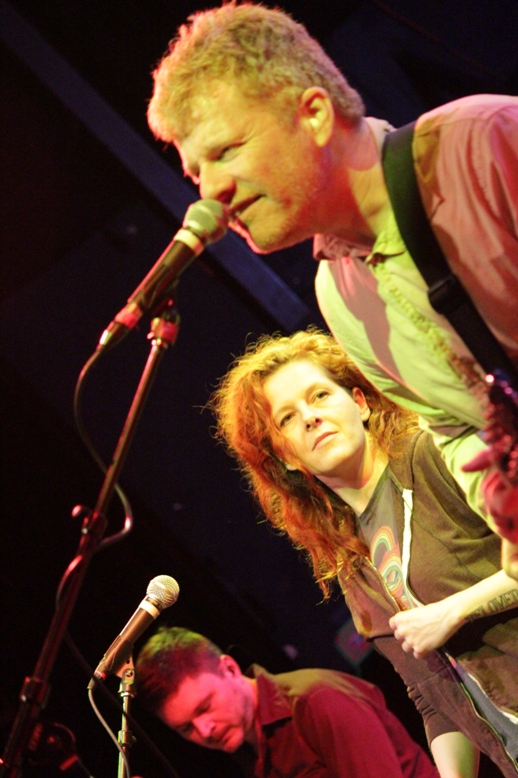 Check out more photos from the show.
--
Setlist:
The Slow Descent into Alcoholism
It's Only Divine Right
Crash Years
All the Old Showstoppers
The Laws Have Changed
Jackie, Dressed in Cobras
Twin Cinema
Adventures in Solitude
Sweet Talk, Sweet Talk
We End Up Together
Go Places
Your Hands (Together)
My Rights vs. Yours
Mass Romantic
Testament to Youth in Verse
Use It
Bleeding Heart Show
E:
Challengers
Up in the Dark
Sing Me Spanish Techno