When the new disc by KJ Denert landed in my snail mail box, I didn't think much about it, considering I get a lot of unsolicited CDs for review. But when I put this one into my player, I was thrilled to discover a new artist to add to my faves pile. Lucky 7 is Denhert's seventh album on her Mother Cyclone Records label. She is a remarkable talent. Unlike many soul or jazz singers today who apply their vocal skills to standards or even to new songs written by the graybeards of the industry, Denhert writes her own music, creating a brand new category in the jazz scene. She calls her music urban folk and jazz.
Denhert grew up in New York, the daughter of immigrants from the Caribbean island of Grenada. It may have been that heritage that drew her to folk music, jazz, and the Latin music here in the US. She became a fan of Brazilian pianist Sergio Mendes and a devotee of jazz flutist Hubert Laws. But she also soaked up everything she could find by songwriters John Hartford, Carol King, Laura Nyro, James Taylor, and Joni Mitchell.
Picking up the guitar at ten, Denhert immediately started writing. She never took a guitar lesson but taught herself how to play by listening to records and figuring out how to reproduce those sounds. She also taught herself how to read tablature through a James Taylor songbook and learned how to do modal tunings from a Joni Mitchell book. All of that work paid off as young Denhert grew into a very accomplished female guitarist and singer.
In the 1980s, she toured with the all-female band Fire. She was their lead guitarist and occasional vocalist as they played top-40 rock all over the US, Canada, and Europe.
Then in the 1990s while working a day job as a financial analyst, she formed Mother Cyclone Records and recorded her first album. In 1997, she formed the NY Unit, her current band, consisting of bassist Mamadou Ba from Senegal, drummer Ray Levier, keyboardist Peter Vitalone, electric guitarist Sheryl Bailey, and percussionist Sue Hadjopoulos. Dehnhert has written that she looks for players who can groove and jam and "have lots of drama in their playing." These players certainly do!
Lucky 7 was released last year and has been gathering lots of attention. The album is a collection of twelve songs, all originals and only one cover. The tunes pay homage to all of the artists that have influenced Denhert in her career. Her "Beautiful" with its acoustic guitar, piano/synth, and drums and "Sad Song" with simply a guitar and voice are certainly tributes to James Taylor and other songwriters of that era. The Latin influences are definitely heard in "Rivera," "He's Not Coming Home" and in the second part of a trilogy called "What's My Name." The feel of Hubert Laws (though I heard echoes of Yusef Lateef) was evident in the first part of that trilogy, yet there isn't a flute to be found. Interestingly, hand percussion is sprinkled throughout the album but its Latin feel isn't so pronounced. The initial cut, "Little Problems" is really more rocking funk than a tribute to James Taylor as Denhert writes in her liner notes. This would be in keeping with her stint with Fire. The one cover is the much requested "Over the Rainbow." It is soulful and very sensitive.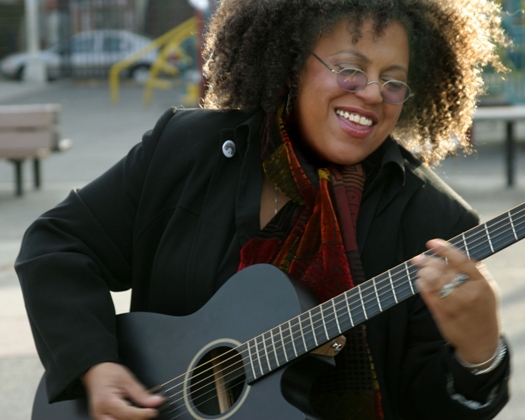 This album, dedicated to Denhert's father, is her attempt to produce music that would inspire listeners to overcome all their little problems. That's why she leads with a song called "Little Problems." The songwriting is good on these songs, but it is clearly Denhert's vocal delivery that breathes such life into these songs. Her voice is deeply rich and powerful, but can also be restrained for the effect she wants. She even recorded all of the background vocals through overdubbing.
She is supported by several guests on electric guitar, piano, and percussion. These are people she has toured with over the years.
Jam fans will love Lucky 7. The music is jazz improv at its best. The album is beautifully arranged and through all of it is Denhert's wonderful voice. I look forward to listening to more of her work and possibly seeing her live. She currently is in Italy, playing at Umbria Jazz 2008, but seems to restrict her touring to both coasts. However, she will make a swing through Colorado in August.