I have wanted to make a pilgrimage to the historic venue called The Stone Pony in Asbury Park, NJ since I first started to learn about good music in the early 90's. After all, this venue aided the careers of so many famous musicians including Southside Johnny and the Asbury Jukes fronted by actor/musician Steven Van Zandt, Bruce Springsteen, Patti Scialfa, Jon Bon Jovi, and wrestler Bam Bam Bigelow (former bouncer). Even the vice president of the Rock n' Roll Hall of Fame, Robert Santelli has said, "the club has already earned its place in history as one of rock 'n' roll's great venues. Most rock critics and historians that I come in contact with on a regular basis feel that The Stone Pony is one of the greatest rock clubs of all time." This pilgrimage in combination with moe. and the celebration of the 4th of July made this show one to remember.
This was my 30th moe. show and our journey started eleven years ago. As I walked in, I finally got to see the small stage that people have been telling me about surrounded by two full bars and an outdoor stage where moe. would be playing.
As the haze of the overcast day moved its way over the stage, moe. started with "Captain America," which was fitting for an Independence Day opener. The jam slowed down right into guitarist Al Schnier's song "Spaz Medicine." In a recent interview, Schnier said, "Yes, yes, we're breaking up for a short time. I don't like to call it a hiatus. And if we break-up, we get to do a reunion tour," kidding while discussing the band's time off that they are anticipating after the summer and moe.down 9. moe. took "Spaz Medicine to an eerie stop, and the southern sounding slide started into "Queen of Everything" from their newest album, Sticks and Stones, which they recorded in a hundred and fifty year old church rented out for inspiration. It was very refreshing to hear hardcore blues in the middle of this set. "Queen of Everything" was just the first example of moe.'s diversity as a rock band. One didn't have to wait long to hear their next example of dimension. The country western/bluegrass sounding "Time Again" was foot stomped next. This is how rock n' roll was started. When rhythm and blues met country western, American invented rock n' roll, and what better way was there to spend your July 4th than being down the shore listening to rock n' roll.
After "Time Again," moe. thanked the crowd and wished everyone a Happy 4th. Guitarist, Chuck Garvey then said, "I think Rob's happy. It's gonna be a good night. He's feelin' it. I couldn't get fireworks for him tonight, but I think he's still happy." He then dedicated "Spine of a Dog" to his wife who just underwent surgery. The crowd finished the opening lyrics and the jam started all the way into the set closer "Buster," which showcased moe.'s phenomenal percussion section of Jim Loughlin and drummer Vinnie Amico.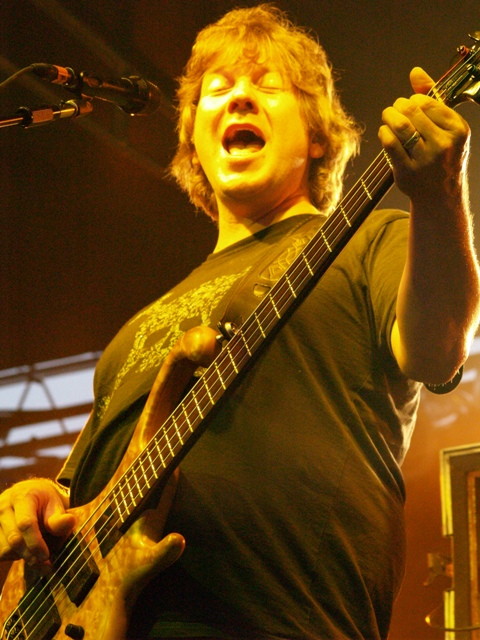 The second set was on fire, literally and figuratively! The fireworks started right before moe.'s first ever attempt at "America, Fuck Yeah," from the Matt Stone and Trey Parker movie "Team America: World Police." The crowd was pumped by this perfect cover, and the band went into one of my favorite moe. songs, "Meat," which included a "Star Spangled Banner" tease half way through. The fireworks lasted through the middle of the next song, "Moth," where bassist Rob Derhak continued to tease "Meat." The band picked it up a notch as the fireworks blasted out the grand finale. Loughlin's xylophone jazz/funk jam carried "Moth" into a spacey "The Pit." Another xylophone solo at the end of the song brought moe. back into "Meat," and after another Derhak slap happy solo that included a tease of Chicago's "25 or 6 to 4," the crowd shrieked in recognition of "Meat" again. The second set closed with a very playful thirty minute "Timmy Tucker." Each member of the band was very experimental using different tones, times, and sounds with this crowd favorite to make it different.
After a brief "We want moe.!" chant, and some normal hilarious band banter in the drizzle, the band came back to end the night with another song off of Sticks and Stones, "Wind it Up," written by guitarist Chuck Garvey. Later, the band U-Melt performed inside on the venue's original stage. I stayed for about half of the late show and watched moe.'s Al Schnier sit in with U-Melt for quite some time. This concluded my adventure at this monumental venue dubbed the Stone Pony after Linda Ronstadt's first band called the Stone Poneys in 1974, the same year the venue opened. Although some of the crowd was slightly immature and the bouncers were a little rude, I already can't wait to see my next show at the Stone Pony. In addition, try and catch moe. before their big break. There are only a few shows remaining.
Check out more photos from the show, including some great crowd shots.