"The time has come for you to be alive again!" shouts singer/songwriter/guitarist Trey Anastasio during a ripping rendition of "Alive Again" from his latest live release, Original Boardwalk Style (Rubber Jungle Records). The time has definitely come for Trey to be alive again, since he has just completed his one year court-ordered drug treatment program, and is gearing up to hit the road for a handful of solo performances before staging what is sure to be a grand fall tour.
Proving you can't keep a good man down, and trying to keep his music fresh in the minds of fans, Anastasio has released this live album properly as what might be called a "graduation" gift to listeners. Recorded over his 2006 New Year's Eve performances at the House of Blues in Atlantic City, Original Boardwalk Style captures Trey and his entourage (The Undectet) at their best. Trey's voice doesn't necessarily stand up to the challenge, but his guitar sure does.
The album starts off with a version of "Drifting" that does just that. It is slow, sloppy, and sort of meanders through its entirety. However, it proves to be merely a warm up as the rest of songs displayed here are performed with vigor and energy.
"Plasma" follows and contains some exceptional work by the horn section, along with some great improvisational guitar pieces by the frontman. An exciting rendition of "Money, Love, and Change", a fiery "Tuesday", as well as a fun and poppy "Shine" round out some of the better tracks laid down on this release.
Yet the apex of this disc comes when the band slings a rollicking and jam heavy version of the 70s-style rock tune "Mud City". Thick horns surround Trey's exceptional guitar riffs, while the rest of this eleven member group add significant substance to this tune that has always been a concert favorite since its birth on the album Bar 17.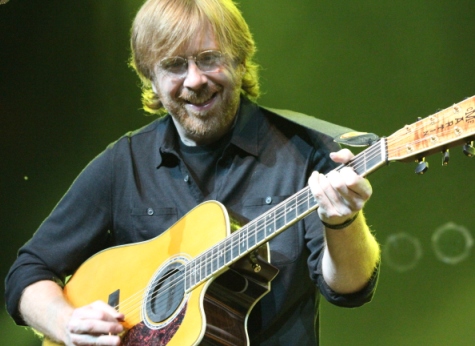 This is a very quality concert release from the former (and future?) Phish guitarist. It's a must have for any Trey fans, and a perfect example of what makes his group so exciting to hear in the live setting. Though the rumors of a possible Phish reunion are mounting, it appears Trey is ready to take some formation of this project back on the road this year, and by listening to this release it will no doubt be a highly anticipated endeavor.