The last day of Rhythms on the Rio 2015 was clear and sunny—and really quite pleasant temperature-wise. The day's event began as Saturday's did with YogaDurango offering an hour all-levels yoga class for festivalgoers. This free class was well attended by about twenty, very obvious advanced yoga practitioners yesterday, who were stretched out on the grass and under canopies. Today's participants were fewer. But yoga seemed to set a tone for a laid back kind of day today, though the music was definitely hot.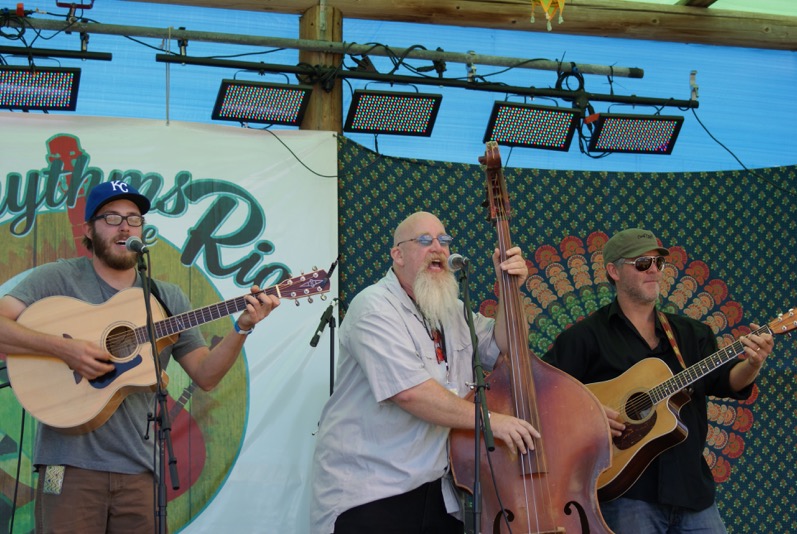 First off was one of my favorite bands, That Damn Sasquatch. I saw them for the first time at last year's Rhythms and was blown away. This four-piece band from Boulder CO is often labeled a bluegrass band or a zydeco band. Though this opens doors to corresponding venues, I think it can limit thinking about this band. Yes, they use bluegrass instruments (banjo, mandolin, guitar, and standup bass) and they use zydeco instruments (accordion and rub board). But these guys use those acoustic elements as a Launchpad for musical ideas that can take them into other realms. They remind me at times of the inventiveness of Railroad Earth, especially in their early years, but That Damn Sasquatch keep a little closer to those acoustic roots. But they are younger musicians who have many years to venture farther afield in their musical explorations.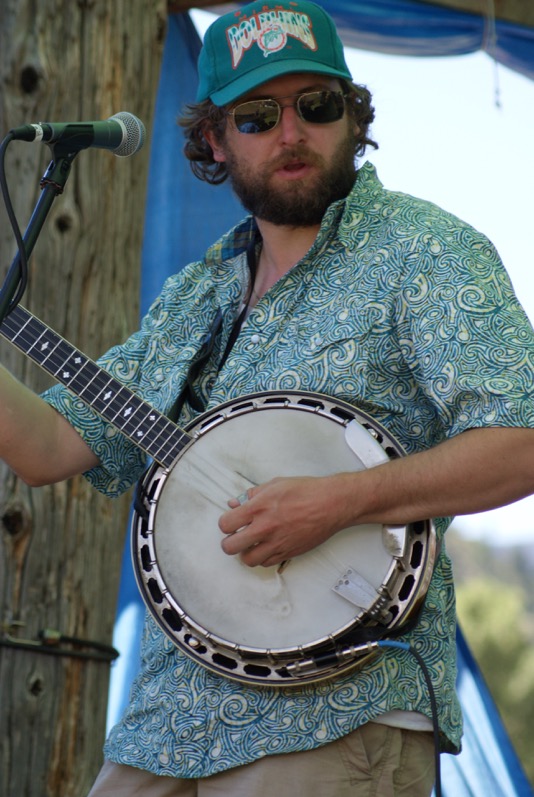 Let me take you through some highlights of their set. Like last year, they began with a crowd favorite, their original hot bluegrass tune, "57 Bel Aire." Their version of Bruce Hornsby's "The Way It Is" was such an enriched variant of that song. I didn't recognize it, yet the bones were there still. They followed with "Mid July," a fun, fast-paced bluegrass tune about finding peace.
Their cover of John Prine's "Paradise" was extremely well-done and a song I had rolling around in my head all weekend, hoping someone would play it. Since this festival sits on the banks of the Rio Grande, I'd been contemplating rivers and country living. I'm so glad they included it in their set.
Another noteworthy set list inclusion was guitarist Derek Bridges' "Mountain Man." It was a representative of their original writing—a good strong song—and it was well executed vocally with great phrasing and tight harmonies.
They invited Chris Thompson from Coral Creek up on stage as banjo player Spencer Crawford switched to accordion and mandolin player Mike Hall picked up the rub board for a Cajun number Spencer wrote called "Catfish John." It was a nice romp through the humid swamp country with a nice warning from Momma about that old hermit who lived there.
Another zydeco tune they did was another Spencer Crawford original about the oil spill in New Orleans. There was one telling line in that song: "…the party might be through." But like Katrina, NOLA survived and still does.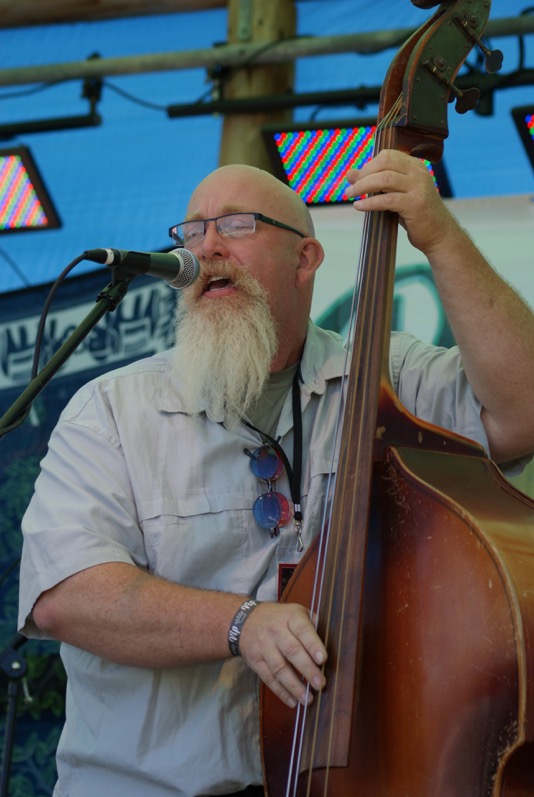 But what caught me by surprise and is so very typical of this band is what they did with another cover. This was B.B. King's "The Thrill Is Gone." It was a moody, bluesy rendition that retained some bluegrass flavor. Spencer sang lead on that one. Who would have thought a bluegrass banjo player had so much soul he could play the blues! But it worked. Chris Thompson added a sexy guitar solo to that piece. Tasty.
Another tune that was an unexpected cover but was a beautiful fit was The Who's "Squeeze Box." It works so much better with bluegrass and zydeco instruments and the voices of That Damn Sasquatch.
Finally, the last genre twist was Prince's "Kiss." It fits in a bluegrass medium. Derek Bridges' falsetto was fuller and huskier than Prince's and added so much to the tune.
However, it's That Damn Sasquatch's originals that are gaining attention. Their new album is hoping to showcase the writing skills of all of the band members. Bassist John Fisher's "Bluegrass Is My Home" illustrates his love of festival life. Mike Hall's "Silver Bullet Trailer," in contrast, is a fun song about a party trailer—an old Airstream. Spencer Crawford's "Come Back to the Holler" was reprised from last year, but a song that always moves me. And "De Jesus Rancheros" always is a compelling song.
After That Damn Sasquatch left the stage, the festival showcased local talent. The first was one of the reasons this festival exists. It's a fundraiser for the South Fork Music Association (SFMA) Children's Music Learning Program. The festival gathered funds and SFMA garnered sponsorships and grant monies to find an 8-week free music instruction program for children K-12 in the San Luis Valley. One hundred students over the five years the program has been in effect were given ukulele and classical guitar lessons free of charge. At the end of those 8-weeks, these children got to keep their instruments. Some of those children started writing songs. Some went on to other instruments. Some just became better learners in school.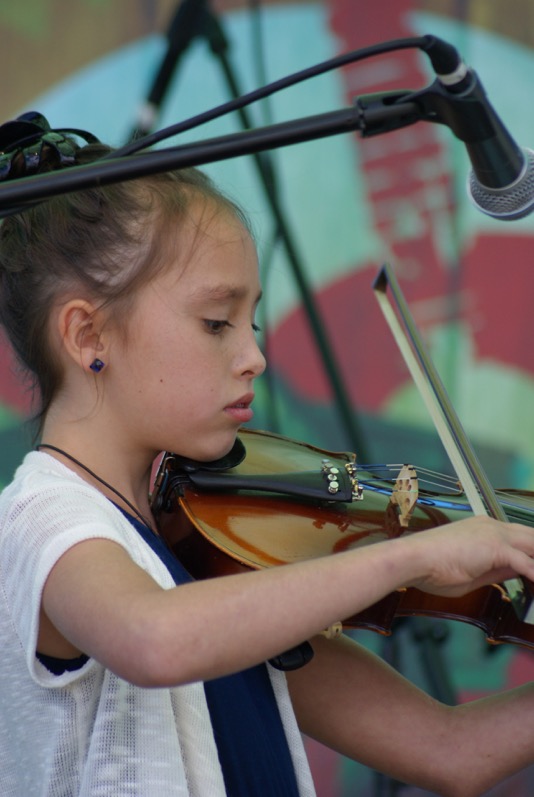 Today, Willa Sanchez gave a three-song recital with her music teacher. She had moved up from ukulele and took up violin. She played three duets with her teacher; one was a Mozart piece.
Following her, the SMFA did a little dance-off for children and two lucky dancers walked away with an acoustic guitar each. They were donated Jano Yule of Riverstone Minerals in Pagosa Springs, one of the vendors at the festivals.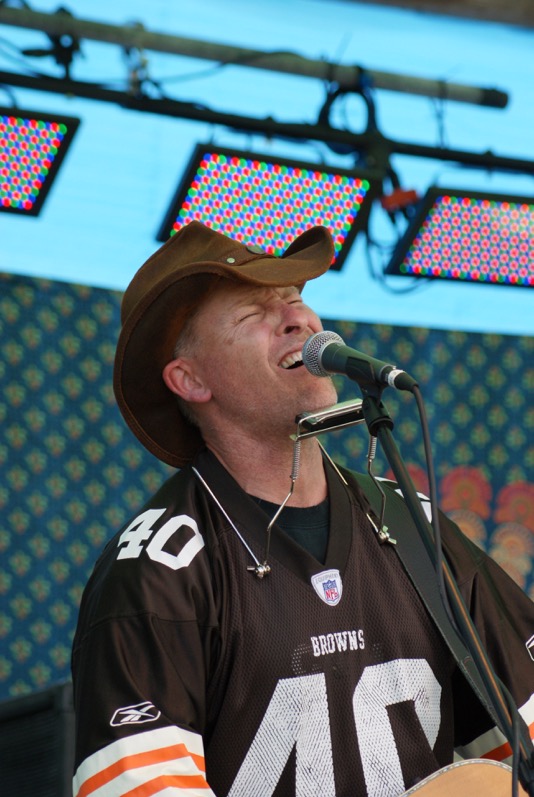 Next door to his booth was Mike Madden of Restrung in Durango. Mike creates unusual jewelry from used guitar strings and stones. Lovely work. A middle school counselor, Mike told me he tries to support the SMFA's encouragement of a children's music program.
While I was talking to vendors as the sound crew set up the next local act, I stopped in at the massage tent back stage. Anthony Arias from Illuminati Bodywork in Denver and his massage therapist colleague were offering massages to the musicians and staff at the festival. It's a vital service to traveling musicians who have to haul equipment in and out and who play for hours at a time. Hands get cramped from playing and backs and necks can suffer. And festival staff (usually volunteers as this one is) can overdo it, hanging lights or moving equipment. Arias does a mix of techniques, depending on what is needed. The musicians took advantage of it this weekend.
As I returned to the sound tent where Blake Himert of ITL Productions in Denver was running through the sound check, I detoured to the little beach area that was new this year. Kids were taking advantage of the sand and splashed in the shallow area by the bank. Grown kids were trying their hand at fishing in the river. I remembered yesterday during the New Orleans Suspects seeing a boat with two fishermen pull up near the beach and stopped to listen.
At a canopy nearby, artist Frank Campagna created three landscape paintings yesterday that were put into the festival silent auction. The winners were announced at the end of today's events.
Jim Peto, the winner of the SFMA Singer/Songwriter Competition earlier this summer, took the stage with the Cedar Street Band (bass, guitar, and drums). Playing electric guitar and harmonica, he shared his original tunes, what he calls garage rock, but really has more of a fifties Buddy Holly and rockabilly sound.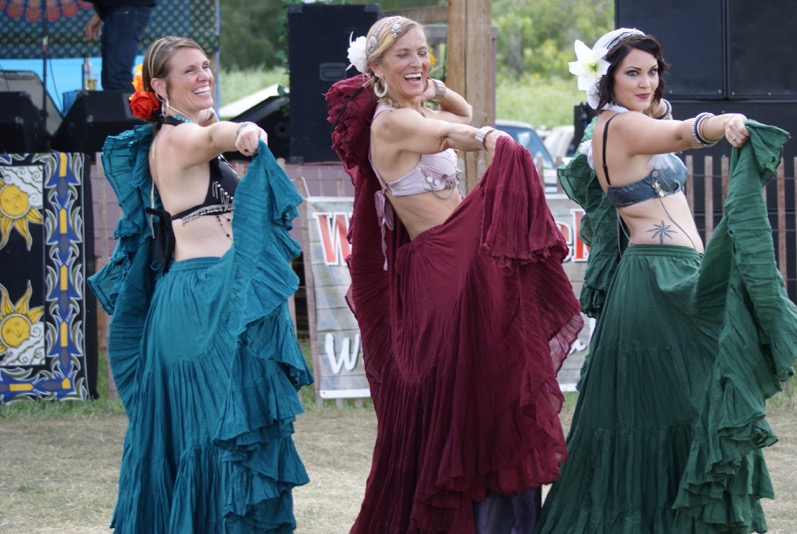 After Peto, there was a lovely demonstration of belly dance by three dancers from Crestone Tribal Belly dance project. This was the most creative oriental dance I've every seen. They did traditional-influenced dance and then, like many bands we've seen at this festival, they twisted the theme. Using a 30's or 40's jazz tune, "Skeleton in the Closet," they choreographed a dance using belly dance moves. It was amazing. The dancers also danced to an African tribal song and ended their short demo with a Cumbia in flowing skirts.
Closing out the festival was Grant Farm, a band that has played this festival for five or six years and are big supporters of it. Festivalgoers were eager to get their own dance on and these guys let them have their fill. They played a Grant Farm set with originals and covers and then launched into their Grateful Deal tribute set. They played non-stop for three hours. I am always blown away by the technical expertise of these musicians and by their vocal harmonies.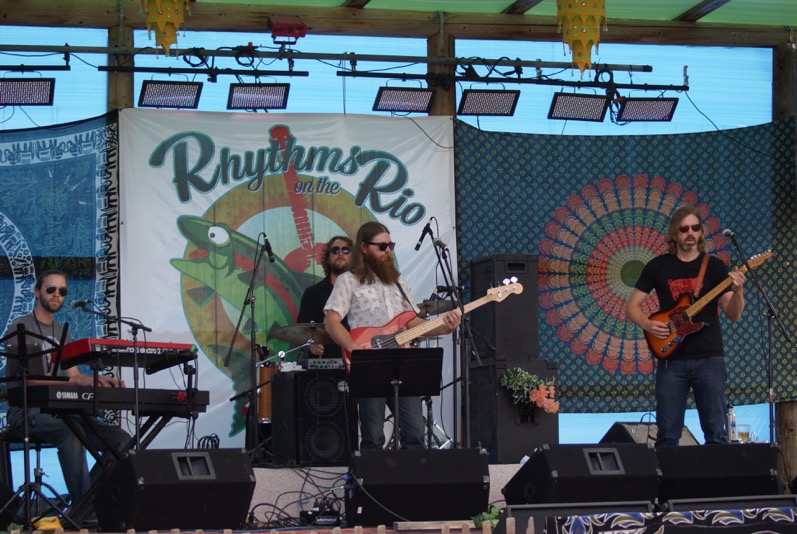 They began their set with a nod to it being Sunday by playing a strain or two of Amazing Grace and then launched into Peter Tosh's "Can't You See." This brought the festivalgoers out onto the grass to dance. Then they did "Baby, Won't You Come Back Home," "Gospel Road," "Two Cents," "Tides of Change," and so much more. They dropped new songs on us, including a tasty little number written by drummer Sean Macaulay. Each one cranked up the dancing and the great summer festival vibe.
The Grateful Dead tribute was stellar. Starting out with "Shakedown Street," Grant Farm led us through a section of the Dead discography. "Althea," "Beat It on Down the Line," "Stagger Lee," "Me and My Uncle," "Mississippi Half-Step Uptown Toodeloo," "Mighty High," and "Terrapin Station."
Drummer Sean Macaulay launched into a killer drum solo, worthy of Mickey Hart. His bandmates cleared the stage for him and he just let loose. It was a rich moment.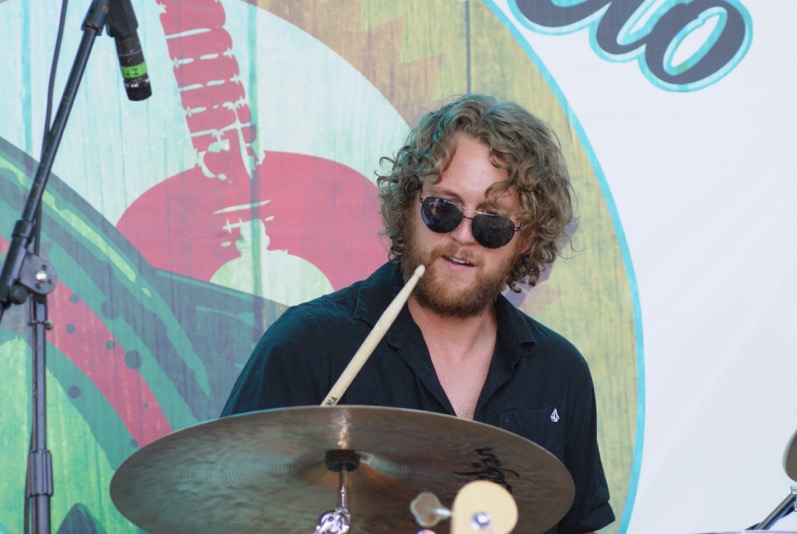 When the band came back, they creeped into an extended space jam. It was all eerie and full of effects, though Tyler Grant slipped in "You Are My Sunshine" on his guitar in all of the electronicness.
They ended the set with "Truckin," but the audience wanted more and Grant Farm did two other songs, a fast tune with lots of noodling by every one, and "U.S. Blues."
It was a fine ending to a perfect musical weekend in the high country of southern Colorado. Rhythms on the Rio is already planning next year's festival. I'm sure to be back…God willing.