Mardi Gras Indian funk band Cha Wa will release their debut album, Funk 'n' Feathers, on April 1, 2016, after years of explosive, thunderous live performances all over the Crescent City. The new recording is a red-hot combination of two of New Orleans' quintessential trademarks, Mardi Gras Indians and street level funk music. Funk 'n' Feathers combines deep funk, percussive polyrhythms, and a mix of singing and Mardi Gras Indian chanting that fuse into an intoxicating, hypnotic blend of culture that could only come out of the Crescent City. Cha Wa will celebrate the album with a hometown show on release day and performances at the New Orleans Jazz and Heritage Festival in April. "Cha Wa" is a slang phrase used by every Mardi Gras Indian tribe, meaning "We're comin' for ya" - and this band is definitely comin' for ya!

Funk 'n' Feathers is a direct descendant of the seminal Mardi Gras Indian-related funk recordings of the 1970s by the Wild Magnolias (backed by The Meters), the Wild Tchoupitoulas, The Neville Brothers, and Dr. John. But this time there is a contemporary twist - the production of Ben Ellman (who has also produced his own band, Galactic, as well as Trombone Shorty and others) and the mixing and mastering of San Francisco's super-hip engineer Count (DJ Shadow, Radiohead, Lyrics Born, etc.). As a result, Cha Wa's version of Dr. John's "All On A Mardi Gras Day" is a wild recreation of the original. The song takes you straight to the street corners of Uptown New Orleans, instilling the energy of seeing the Indians dancing in their traditional feathered suits, but it also embraces a production style, which is cutting-edge. Another classic, "Jock-A-Mo" (the original version of the song which later became a hit, and has been covered by many artists, as 'Iko Iko') is also made over by infusing it with the band's upbeat brand of funk and the fresh production approach. Davell Crawford, the grandson of the song's writer, and Irving Banister Sr., the man who played guitar on the original version in 1953 - and the father of Cha Wa's lead Indian Irving "Honey" Banister, provide deep New Orleans roots to the recording.

The two leaders of Cha Wa, singer/percussionist Honey Banister and drummer Joe Gelini, have been involved with the Mardi Gras Indians for years. Honey Banister, Big Chief of the Creole Wild West tribe, combines both the Mardi Gras Indian tradition and the history of New Orleans rhythm and blues. He was also a featured performer in the HBO series Treme. Gelini moved to New Orleans after graduating from the prestigious Berklee College of Music in Boston. Joe saw the Mardi Gras Indians emerging on Mardi Gras day to march down Dryades Street and, he says, "I was hooked. It's a spiritual thing. It's more than the music." Spy Boy J'Wan Boudreaux combines the lyrics and style of his grandfather, Big Chief Monk Boudreaux of the Golden Eagles, one of the most respected Mardi Gras Indians and one of the greatest Indian singers ever, with a 21st century take on this music. Other contributors to the album include John Fohl on guitar (Dr. John), Stephen Malinowski on organ (Ana Popovich), Yoshitaka "Z2" Tsuji on piano (Kermit Ruffins), and Haruka Kikuchi on trombone. Another well-known Mardi Gras Indian, Norwood "Geechie" Johnson of the Wild Magnolias, added bass drum and backing vocals. Special guests include producer Ben Ellman on alto saxophone and Colin Lake on lap steel guitar.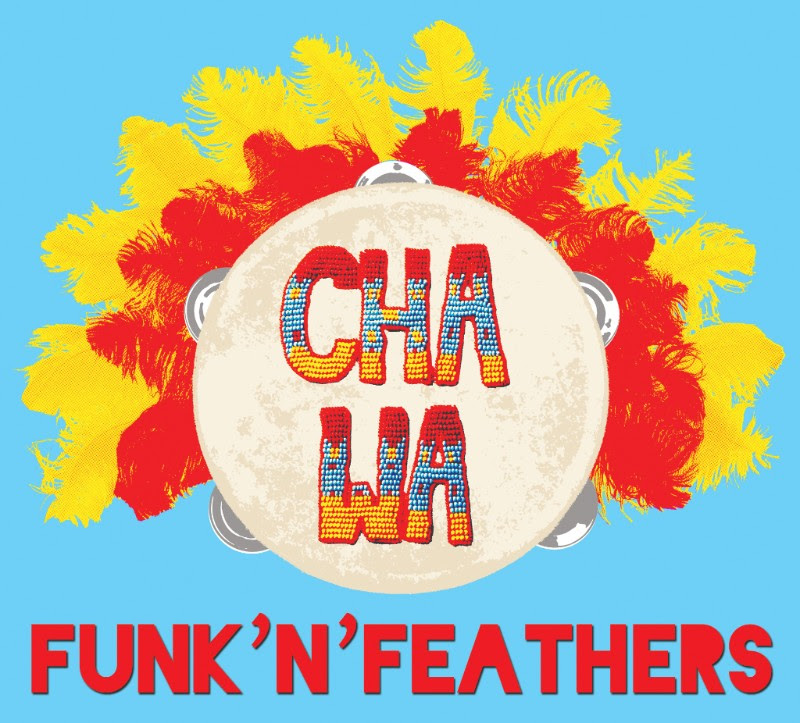 Cha Wa brilliantly finds the right balance between Mardi Gras Indian tradition and an edgier dose of the street funk which also originated in New Orleans. The band has gained critical praise not only from their hometown publications Offbeat, The Times-Picayune, Advocate, Where Y'At, and Gambit Weekly, but also through national tastemakers including Rolling Stone, NPR Music, and Dan Rather Reports. The music is spontaneous and spiritual at the same, and no two shows are ever the same. "I think we've reached that point where we can feel the direction of the music intuitively and we just go with it," says Gelini. "It's like having that heavy Indian sound with modern recording and modern production and using it all together. It's classic and contemporary at the same time." On Funk 'n' Feathers, Cha Wa has made a modern album featuring great energy and enthusiasm, but one which also draws from the deep well of New Orleans culture. The result? Cha Wa is coming for ya!

UPCOMING SHOWS:
02/04- Blue Note Tokyo - Tokyo, Japan
02/05- Blue Note Tokyo - Tokyo, Japan
02/08- Riverwalk - New Orleans, LA [Lundi Gras Celebration]
02/08- Tipitina's Mardi Gras Stands - New Orleans, LA
02/09- 30x90 - New Orleans, LA
02/27- Universal Studios Orlando - Orlando, FL
03/05- Howlin' Wolf - New Orleans, LA
03/31- Lafayette's - Memphis, TN
04/01- Blue Nile [Album Release Show] - New Orleans, LA
04/07- French Quarter Fest - New Orleans, LA
04/10- d.b.a - New Orleans, LA
04/21- Ogden Museum of Southern Art - New Orleans, LA
04/23- New Orleans Jazz & Heritage Festival - New Orleans, LA
04/30- French Broad River Festival - Asheville, NC
06/04- Michael Arnone's Crawfish Festival - Augusta, NJ