Yep, even in Illinois they like their grass blue. The Chicago-based progressive bluegrass outfit Cornmeal is proof of that. Combining elements of traditional bluegrass, country, roots, modern rock, and improvisational jam the group fosters a unique and pleasing sound that wins over fans across a host of genres.
Comprised of Allie Kral on fiddle/vocals, Dave Burlingame on banjo/vocals, Kris Nowak on guitar/vocals, Chris Gangi on bass/vocals, and JP Nowak on drums/vocals, the band has made a quite a name for themselves since forming around seven years ago. Appearances on the festival circuit (Wakarusa, 10,000 Lakes, Summercamp, and more) have bolstered a solid following and have given the group a base from which to jump. And these folks are aiming high.
Last weekend Cornmeal teamed up with West Coast rockers Tea Leaf Green for a two-night, sold out run at Denver's historic Bluebird Theater. Though Cornmeal filled the opening slot for these shows, the time may soon come when this group starts headlining theaters on their own, judging by the reaction they received from the crowd on Friday night.
The evening began with energetic folks shuffling into the venue at a quick pace as not to miss any of Cornmeal's set. Those who made it in on time were treated to an excellent opening version of "Feet on the Ground", one of the band's more popular originals. It was followed by the hard rocking, foot-stomping jam known as "Midnight". Only two songs into the night and already people were dancing all over the place.
As the room began to pack, the band continued with the folksy rock tune "Pocket Full of Time". It was succeeded by the down-home, rockabilly version of "That's That". At this point one fan was overheard saying "I came for Tea Leaf but I stayed for Cornmeal". It became apparent that the band was quickly captivating old and new ears alike.
The good vibes continued as the band performed "Rain Your Light", a breezy Dead-like song showcasing the band's exceptional vocals and harmonies. Several times throughout the song the audience could be heard shouting back the main chorus, "Like sunshine you rain your light on me".
Cornmeal's prowess for jamming came as they busted into "Onward", which gave each member their shot at showing off their respective skills. Solos by Burlingame, Ganji, and Kral saturated this extended jam with excellent musicianship. The superb fiddle playing displayed by Kral shows why she tends to be the focal point of the band. She may be the only female in the band, but the girl plays with brass balls.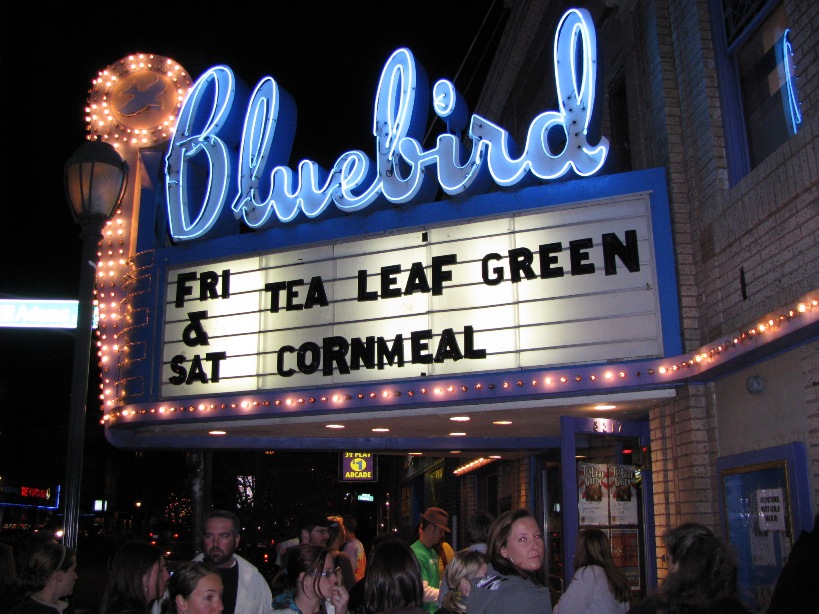 Their set concluded with an excellent cover of the Paul Simon classic "I Know What I Know". It was peppy, spot-on, and all around fun. Each member was seen jumping up and down, and the crowd did not hesitate to do the same. Not many groups have the talent to cover Simon well, but Cornmeal proved that no challenge is too big.
The hour-long set was a great warm up for the evening, but it was perhaps not long enough for those who were digging these new jamgrass studs. Anyone who was eager for more would get a taste later on in the evening. At the end of Tea Leaf Green's very hard-rocking performance, Kral and Burlingame emerged to join the band on a smokin' version of "Sex in the 70s". The interplay was supreme, and there was some smooth musical lovemaking going on between guitarist Josh Clark and Allie Kral. It was a perfect way to close the evening for both groups.
There is no doubt that Cornmeal is climbing the ladder in the jamband scene. With their pension for swirling multiple genres into one tasty treat, it will not be long before they begin enjoying some moderate success that likely none of them had deemed possible in such a short amount of time. Any music fans looking to hear something new absolutely need to check out this band play live. You won't go home hungry.