The holiday weekend gave most us a chance to enjoy some needed time off from our daily grinds, as well as fill our homes with friends and tons of the usual Thanksgiving feasts. And what better way to work off the turkey and tators than by dancing to the reggae, rock, and hip-hop sounds laid down by Michael Franti and Spearhead, who brought the noise this last Friday to Denver's Fillmore Auditorium as part of the annual Harvest Ball.
Touring in support of their fantastic new album All Rebel Rockers, Franti and his band returned to Denver to give fans a taste of those new songs along with some choice covers and older originals. And he was not alone in his quest, as he was joined by opening act DJ Mike Relm and Jamaican dancehall singer Cherine Anderson (who appears on the new album).
A short but appetizing performance by Mike Relm opened the evening, who showcased his DJ mixing skills with modern samples of classic favorites like Zeppelin's "Whole Lotta Love" and John Lennon's ballad "Imagine". His art dove beyond simple audio flavor as his accompanying video shorts and imagery lent substance to what could have been just another DJ slot.
Following his set the stage welcomed Anderson, an attractive singer with a voice much larger than her petite frame. She provided some originals and graced over Bob Marley favorites that proved to be a perfect set-up for the show that Franti was about to deliver.
A modest but energetic crowd exploded as Franti & Spearhead took the stage, and the band used that vibe to bust out a rocking rendition of "A Little Bit a Riddim", one of All Rebel Rockers more upbeat tunes. Perfectly executed, it was the ideal rhythm with which to start their extended set.
The up tempo flow continued with some popular notables from his 2006 release Yell Fire!, such as "Everybody Ona Move" and "Light Up Your Lighter", the latter of which persuaded the crowd to do just that. It also kicked off what turned out to be a "flame trilogy" as the group segued into a reggae-infused cover of the Dead's "Fire on the Mountain", and Peter Tosh's pot anthem "Legalize It".
Needless to say, those lighters were still in the air (and many a little closer to the face if you catch the drift) throughout these songs.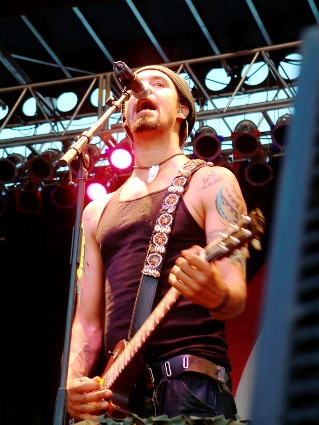 Though there was no set break during the show, Franti did bring things down a little by giving his band a rest and performed an acoustic interlude, where he was joined by Anderson at his side. Smooth harmonies and subtle guitar work was a beautiful breather.
Fifteen minutes later the band returned (along with Anderson) and helped deliver the final songs of the evening, most notably the ska-driven tune written about the president-elect, "Barack Obama". The crowd pumped their fists and screamed, "Yes we can!" in unison with Anderson.
Having already spread the good vibes, Franti then shared the love by closing the performance with his new dancehall ditty "Say Hey (I Love You)", arguably the most popular song off All Rebel Rockers. Even those who were exhausted couldn't help but grab a friend and boogie down one more time.
Attendees exiting the Fillmore were greeted by a beautiful snowfall that only Colorado can provide. The turn in weather may have chilled their warm bodies, but judging by the faces of the crowd pouring out onto Colfax Avenue nothing would be able to extinguish the fire from this evening.