They weren't the biggest band back in the late 60's and 70's, yet Grand Funk Railroad did meet their prime with top singles such as "We're an American Band" and "I'm Your Captain/Closer to Home." Forty years later the band still comes through town on the occasional tour, but as Saturday's concert at Elitch Gardens showed, the Grand Funk's train appears to be coming to a halt.
While their relatively short show did prove that the band still can turn out some of those classic jams, the long hair and leather apparel dawned by some of the members couldn't hide the fact that they're just getting old. Nevertheless, the musicians seemed to have enjoyed themselves on stage, as did the overwhelmingly small crowd that flowed in an out of attendance. The greater majority of the audience was made up of parents who endured a day of heat, rides, and rampant kids just to go to the show. Then, of course, were there all of those kids, dragged along to see some band they probably scarcely knew, if they knew them at all. Parents, kids, and devoted fans up front by the stage did however collectively have a good time as they danced to "The Loco-Motion" and sang along to "Some Kind of Wonderful." As the show moved along the venue seating slowly became more and more empty, while the open floor standing area began to accumulate more groups of people. By the time guitarist Bruce Kulick's heavily distorted rendition of the American anthem came around though, the theater had significantly cleared out in comparison to what it looked like at the kick off of the show. However, those that did stick around got a respectable performance of many of the groups' greatest hits and cover songs.
As often is, the focus of performance was between lead vocalist Max Carl, lead guitarist Bruce Kulick, and drummer Don Brewer, though Tim Cashion and Mel Schacher (introduced as "the God of Thunder") undoubtedly provided much of the support that contributes to the sound of Grand Funk Railroad on keyboards and bass, respectively. In what would be the second half of their set, Brewer had a decent length segment that allowed for a drum solo that reflected more of a control of dynamics and tempo than of depth. Contrasting to this portion of a solo focus, Kulick met the peak of nearly every song with a guitar solo. Cashion, Schacher, and Carl did not get the same touch of limelight, though Carl naturally led much of the show, given his role as main vocalist and second guitarist. A listen to the groups greatest hits record would confirm a wide range of styles, though most still embodying that "American band" flavor, and they made solid this variety in performance. From a cover of The Animals' "Inside Looking Out" to the more bluesy song "Time Machine," to the more straight forward, American sounding "Walk Like a Man (You Can Call Me Your Man)," a significant range of music was covered. Then of course the night was rounded off with "I'm Your Captain/Closer to Home" followed by "We're an American Band," the two songs that continue to make their name known today.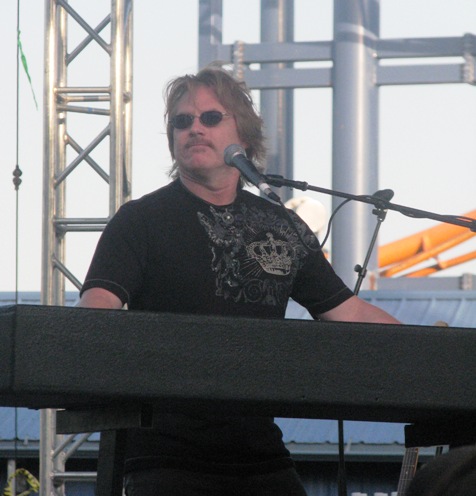 Considering the range they covered, the overall show was not bad, yet the performance was not unique or one that significantly stood out. Dressed in leather vests, cowboy hats, studded vests, and bandanas between them, it appeared that they were trying too hard. In combination with a few too many whoops and screams and the repetitive guitar solo in nearly every song, the performance seemed to be more for show and affect. Add to this an amusement park backdrop with park associates walking through with popcorn and light-up gadgets for sale, and Grand Funk Railroad was portrayed just as the atmosphere would suggest them to be: an older band hitting the road another year with their big tunes, playing for parents and their kids at small town festivals and amusement parks.