This Wednesday, July 1st, will mark an important one year point for Fort Collins band Tickle Me Pink. Just short of twelve months ago on this date in 2008, Tickle Me Pink were to celebrate the release of their first album on Indie label Wind-Up Records, but instead found themselves alongside many fans mourning the sudden death of 22 year old guitarist/bassist Johnny Schou. While it can only be imagined the stress and emotional struggles the band endured at this time meant for celebration but met instead with sorrow, Tickle Me Pink a year later is finding themselves climbing to greater success, if even only on a local basis. Support from the locals in hand with Colorado alternative rock radio station Area 93.3 giving air-play to "Typical" and "Madeline" and the group's touring collectively have been bringing the band to the forefront of the bands to come out of Colorado, The Fray, Flobots, and Meese being among the others. Power driven shows jam-packed with raw feeling and a well represented span of styles, just as Saturday's show at the Gothic Theater, make it no mystery as to why Tickle Me Pink is building success only a year after the tragic loss of a friend and band mate, and the release of their first record.
Supporting Tickle Me Pink on stage, the show represented opening bands Hearts Like Lions, Life In Electric, and I Hate Kate. Denver band Hearts Like Lions started the night with a fun set that got their musical style across, though their vocals proved to be a weakness as they became lost in the music with a lack of power and depth. Fellow local band Life In Electric followed, with a set far more heavy in comparison to Hearts Like Lions with more volume, distortion, and more "screamed" vocals accompanying a visually formed performance. After being thrown into a shock in the change of musical styles, the audience seemed to find itself more at home with the significantly more calm and alternative sound of I Hate Kate. Of the three I Hate Kate, the only of the opening bands to be from out of state, most brought energy and excitement to the audience with their repetitive yet catchy dance tunes and crowd interaction. Dancing and excitement rose with their vivacious set as the crowd slightly packed in more and the temperature inside climbed with anticipation for the main act.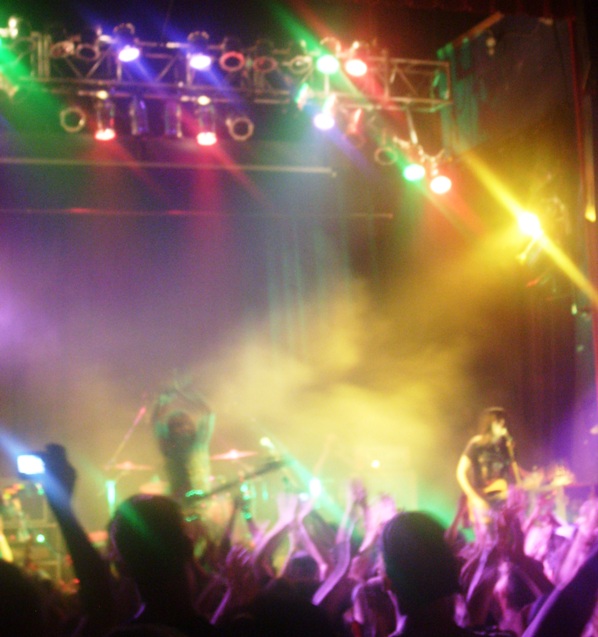 The crowd hit its maximum for the night during I Hate Kate's set and for the greater portion of Tickle Me Pink's, with the young pre-teens and teens right up front at the stage, the age getting gradually older as it moved away from the stage and towards the bar. The hot, active atmosphere established during I Hate Kate's set only carried over and amplified for Tickle Me Pink's. Surprisingly early on in their set, Tickle Me Pink played their first single "Typical" with much fan frenzy and response from the audience. Possibly more surprising was their driven performance of their second single "Madeline" at the end of their set rather than as an encore song, as may have easily been expected. For the band to have played their two biggest hits and only singles at the begging and end of their set, leaving neither for an encore performance, was an offbeat move. Each musician's extremely high spirit and emotion through entire set though made each song into its own little performance. Even during the couple of acoustic song played, including "Tomorrow's Ending" in memory of Johnny Schou, expressions of gradification were subdued yet nonetheless felt. Aside from much of the driving, pounding rhythm and rock n' roll stage antics, the remaining power to come out Tickle Me Pink's performance was found in Sean Kennedy's vocals. Kennedy's unique voice not only captured the emotion of the songs, but remained impressively true to his vocal sound on recording. To put so much into the vocals it would be imagined would put a strain Kennedy's voice. However the front man managed to push trough for the two-song encore. In these songs, each completely different from one another in style and message, Kennedy did not only push his voice further, but took it to a different level, first on a cover of The Darkness' "I Believe In A Thing Called Love" only to be followed by Rage Against the Machine's "Killing In The Name Of." Kennedy's soaring, high pitched vocals full of vibrato and all those little vocal nuances in "I Believe In A Thing Called Love" easily switched gears into the less melodic, anger laden vocals in accompaniment of "Killing In The Name Of." Despite the rather opposite styles in song choice, the audience ate it up. On each song the crowd were just as excited, if not more loud and moving than during their entire set. With the whole crowd dancing and singing along and the joining of members from the opening acts on stage, chanting together with the crowd "fuck you I won't do what you tell me," the show ended with an encore set that gave the audience it's final burst of a surprisingly highly enjoyable performance from a once unknown Denver band.