It's good to live in the Charlottesville, Virginia area, these days.. The recent remodeling and re-opening of the historic Jefferson Theatre has energized the local music scene, and provided an injection of even more entertainment variety on any given night of the week. Even in a snowstorm.
I'm not typically one to temp Mother Nature's wrath, by driving or being out in really bad weather, when I don't have to be. Then again, this had not been a typical winter. Quickly approaching the all-time snowiest winter on record, 8-10 inches of snow was forecast and expected to blanket the night.
We had already exceeded the typical annual snowfall amount by over a foot.
We would learn a mere 24 hours later, that an even larger blizzard was on the horizon. And not long after -- we'd spend a frigid night in a house with no power, and our three year old, after an associated ice storm's wrath. But we didn't know any of that – yet. The snow had been falling steadily for hours. Cabin fever overtook us and we set out for the show.
The challenging drive and treacherous roadways were about the only complaints of my evening, thankfully. Tea Leaf Green seemed to take the stage with a joyful aggression. Sounding tight and well-rehearsed, the San Francisco quartet stepped off effortlessly with Red Ribbons. But until I heard the sultry harmonica opening to Emma Lee, I wasn't quite in the groove. But they had me, from there – out.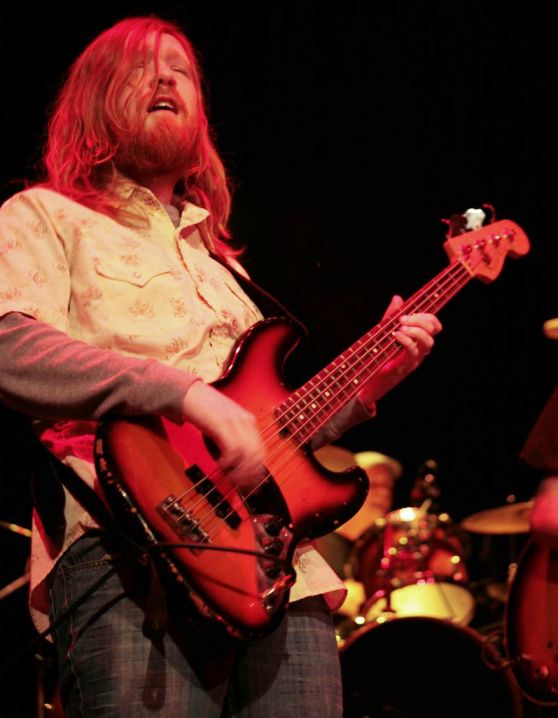 I haven't had a chance to see this band in a couple of years. Despite the rapidly deteriorating weather, we were able to see all of the first set. It was great to hear all of what initially made this band sound good, still there. Just better with time. Recently signed to Red Light Management, based here in Charlottesville, the band joked how this was kinda a 'second home town,' now. Here's hoping the band is able to visit his Cville family on a regular basis.
Frankly, it sucked to have to leave early. But it was the right decision for us. We'll live to catch Tea Leaf Green again.
Check out more of Gina's great photos and for more information on Tea Leaf Green, including upcoming tour dates, check out their website.
Tea Leaf Green members:
Josh Clark - Guitar, Vocals
Trevor Garrod - Keyboards, Vocals
Reed Mathis - Bass, Vocals
Scott Rager- Drums, Percussion