What do you get out of attending a Phish show? What do you get out of attending MANY Phish shows? Why do you see live music performed at all? Surely you've fielded this question before; I know I have. A relative looks at you quizzically, or maybe it's a co-worker... "You're going out of town to see them, AGAIN?" They'd say, incredulously. We all have our variously rehearsed answers, at least everyone I've asked did. A list of them would first include the music, certainly. But the crowd, the lights, the sound, and the soul of a show also play their roles. Those reasons, and many more -- are why some of us plan our annual vacations and entertainment budgets to feed this musical obsession, despite the loving but quizzical looks from some of our family and friends. But when was the last time you asked yourself, why? And, over the years, has the answer ever changed? Writer Bob Lefsetz said it well, "When done right, music makes you want to join the circus, leave everything that bothers you behind in pursuit of the sound. You wonder why people followed the Dead, [and] still follow Phish? It's because when the music hits, everything's all right."
And don't you think we all could use a dose of 'everything's all right?' Living near the great Chesapeake Bay, in Virginia, it's hard not to imagine the proportions of the BP disaster in the Gulf. We continue to be a nation divided politically. The rhetoric grows more caustic and disinterested in civil discourse as we all march towards the next big election. And while the economy is showing growth in some areas, it's still functioning like a wobbly-kneed newborn fawn in others.
That same shaky economy is also affecting the concert industry. Ticket sales are off for many tours this year, Phish included. The 'reunion mania' is officially over now. The hordes of carpet-bagging ticket scalpers have vanished in the mist. And for the most part, those still standing are fans who were here well before all the madness of hiatus, and of Coventry, and of course, those reunion-scalper-ticket-prices. While I'm sure the band and their management would like to see complete sellouts everywhere, I must admit that it was kind of nice to just be with phamily. At least that's what it felt like, on this night. But I suspect more shows will fall in the sold out column as their individual dates approach, and more word goes out about the fierce precision with which the band is performing.
The arrival of Phish's 2010 summer tour into Portsmouth, Virginia's Ntelos Wireless Pavilion couldn't have come fast enough for Mark Terry, of Greensboro, NC.
And who could blame him? It was the fourth night of the tour, at the smallest venue on the tour, a beautiful amphitheatre on the Portsmouth Waterfront. And it was a waterfront that, thankfully, was not under siege by any more than the usual maritime traffic and about 6500 fans of a Vermont quartet.
It was the band's first time playing in Portsmouth, a beautiful town minutes away from the Phish tour stalwarts of Virginia Beach, and Hampton. Solid Phish Country. At least the 'southern cousins.'
Attending his 21st Phish show, the audio taper from North Carolina expected to catch at least five shows this summer, and is "considering doing Deer Creek and Alpine, in August." As a taper, I think it's safe to say that Mr. Terry's prime motivation for attending is the music, and to a strong degree that includes an appreciation for the sound and the mix. "I think Garry has the sound DIALED right now. The sound has a real crispness to it that it didn't have last year", he said. "Mike is coming through in the mix like never before, and I know that makes a lot of people happy", Mr. Terry continued. "Garry switching the band from analog to digital has made a huge difference. I'm sold!"
Not everyone is as enamored with the work of Phish's new FOH soundman, Garry Brown. The departure of Paul Languedoc and with him the analog boards of pre-reunion Phish, combined with the arrival of Brown and an all digital set up, has been noticed to varying degrees of appreciation. But isn't that always the way of the soundman? Destined to never please them all? I'd heard the grousing about the quality of the Live Phish soundboards. But a dedicated board was given to their care, starting first with the Red Rock shows, [I think] and the sound quality is far improved. Yet I've still heard some negative fan noise about the sound at the shows themselves.
Scott Mogol of Village Sound Co. Inc. is a Baltimore based sound professional with 15 years of experience starting first as a crew member, and working his way behind the board for bands like Fishbone, System of a Down, moe., and The Disco Biscuits. Mr. Mogol offered a brief overview of what has changed with respect to Phish's audio, "In short, almost everything has changed." Mr. Mogol explained. "Paul mixed on analog consoles throughout his career with Phish, while Garry Brown mixes on the latest and greatest of digital consoles (DiGiCo SD7). He is also mixing on the hottest PA system du'jour, d&b's J series line array speakers," Mogol added. But that's not calling Languedoc's work substandard, by any measure. "Garry has an advantage over Paul simply by the fact that he has newer, higher fidelity gear at his disposal," Mogol said. "Not to say that what Paul was using was not great sounding gear, but a lot has changed in just 10 years."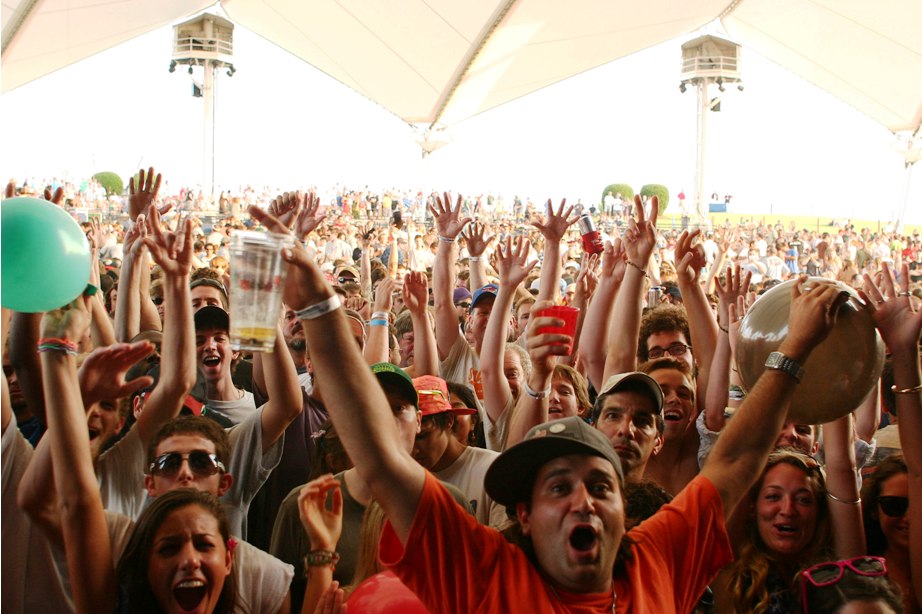 Could the occasional sound-grousing fan merely be resisting the change that was seemingly inevitable, regardless of who sat in the FOH chair? I mean the idea of Phish transferring their audio from analog to digital isn't all that outrageous. It would have happened, regardless. But before I was able to ride off into the sunset with just that thought, Mr. Mogol further clarified his point, "As far as mixing styles, it seems to me that Gary likes his vocals higher in the mix than Paul did. But each engineer has a different style of mixing, and what sounds great to one person's ears may sound like poop to another." A trained ear like Mr. Mogol's had to point this out to me, but I can hear that now. And just as each engineer has his or her preferences in sound, so do fans.
Our North Carolinian, Mr. Terry, felt that "Page seemed a bit low in the mix," presumably speaking of Page's keyboards, and not necessarily his vocals. Nor did he hear much improvisation, he said. But Mr. Terry took great pains to rave about this night's show, regardless. "So, what REALLY stuck in Portsmouth......?" he said with a grand pause. "Gin. I think if we were in 03/04, this would have taken shape and gone somewhere. Trey finds an out around 11 minutes and closes up shop in the song. What was cool though, was Mike. Throwing bass lines in a totally different key that should have NOT worked, but somehow, it came together perfect. Although not very experimental, the Gin was solid" Mr. Terry said. Bathtub Gin would appear to be the show-stopper for many. Blogger 'Mr Miner' called Portsmouth's Bathtub "…a game-winner that will no doubt land on highlight reels of the first four shows of tour."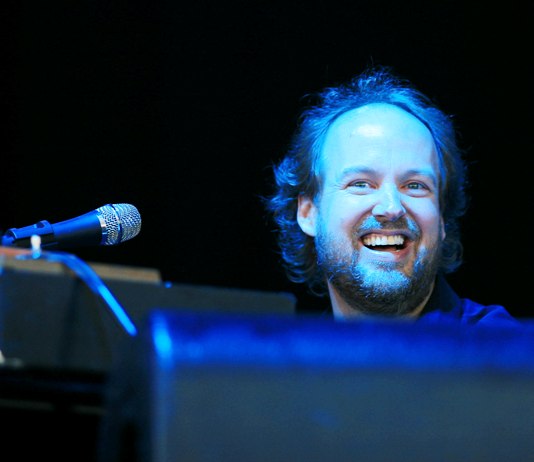 It was a solid show all around, but the first set clearly excelled. The placement of 'Slave' was a surprise, so early in the show. Mike Gordon's bass shone brightly on the dark and intense, My Friend, My Friend. Covering Tom Waits, along with a deftly crafted Beatles' Day in the Life, Phish sounds as crisp and full of musical intent as they did in the mid 90s On this night, however, it didn't seem to be about extended improvisation. The small, intimate outdoor venue offered up a cool respite from the heat of the earlier shows of the tour. Portsmouth had provided a new city for those on tour to explore. Many took water taxis to get to the show, or the ferry. We all felt just a little isolated, and amongst friends. The mood was festive and light-hearted on both sides of the stage. The band sailed a tight ship through Portsmouth, with many highlights. High energy from the beginning, and a willingness to throw caution to the wind from the very first song kept the show moving, with only limited hiccups, mostly in the second set.
Blogger 'Mr Miner' could see what I could not, as the show began. The opening song was to be an unplanned request. He wrote, "Trey immediately noticed a large "Tube" cut-out sign held by a fan in the middle of the floor. As soon as the crowd saw the sign catch Trey's eye, everyone launched into collective "Tuuuuuuuube" chant. And the band was more than happy to oblige, altering their original plans for [the] ballistic opener."
At least one other request is purported to be have been played by the band on this night, who were clearly in good spirits, and in splendid musical form. This brings our motivational exploration of Phish fans squarely into the realm of the musical soul. Ms. Sam Crow of Richmond and Ms. Leah Jones of Virginia Beach saw their first Phish shows as 16 year olds, in 1997. Each one claiming to have attended about 55 shows each. But the women attended the show in Portsmouth, and secured spots on the front rail for more than just a desire to boogie up close and personal with the band. Holding up a sign that read: "This Moma wants to dance in memory of Mario Miller," the women were acknowledging for themselves as well as a large number of the Hampton Roads jamband fans, the loss of a longtime fan, friend, and supporter of live music. Did the band see their hastily scrawled sign on the front of the rail, and play their request? Ms. Crow believes they did. "The guys came out, Trey squinted to read the small writing on the sign and smiled. I then looked at Page and he seemed to be reading it also. I swear he winked and nodded. They then played it the 7th song first set! It was amazing."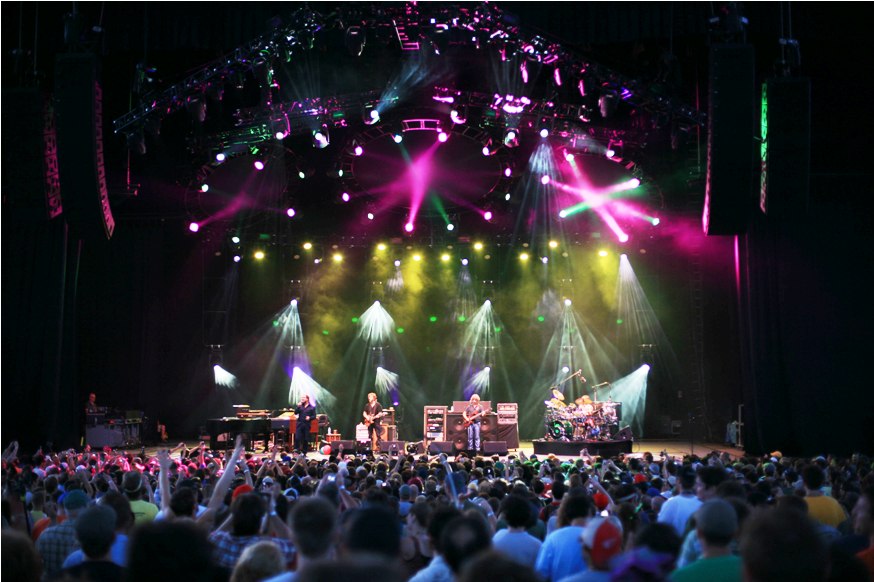 Mr. Lefsetz was right about the power of music. And for many, the experience of seeing music created live further intensifies the power. And on a perfect early summer night, on the water, with a band that is firing on all cylinders -- the power can intensify even more. It won't solve world peace, mind you. But it has its' value. Mr. Lefsetz concluded, "... a great concert is, a respite from the bullshit."