There was a buzz in the air of Boulder Colorado, October 9, 2010. On the cool fall Saturday night, people were celebrating life, friendship, and the end of a very destructive fire that burned outside of Boulder early last month. Lasting nearly a week, the Boulder Fourmile Canyon fire was the most destructive wildfire in Colorado history; destroying 169 homes, and scorching nearly 8000 acres of land. To help support fire fighters and relief efforts, local band and fellow fire evacuees the String Cheese Incident held a benefit concert. Accompanying SCI in support of the fire victims were bands, Big Head Todd and the Monsters, Yonder Mountain String Band, members of Phish, and Leftover Salmon. Sharing the night with such a phenomenal line-up, Cornmeal hosted the official Boulder benefit after-party at the Fox Theater.
The 5-piece electric acoustic band out of Chicago, has proved themselves as a band that is able to consistently create high-energy and foot stompin' bluegrass jams. With only three albums released, Cornmeal has spent the majority of their 10 years together out of the studio and appeasing the hungers of their loyal fan on the road. Their original songs, which the band primarily plays, are able to captivate the heart and spirit of an audience. Such powerful songwriting coupled with an energetic, hard hitting, easy-going bluegrass, there is no wonder why Cornmeal has such dedicated fans.
Members Wavy Dave Burlingame on banjo, Kris Nowak on guitar, Chris Gangi on the upright bass, Allie Kral on fiddle, and JP Nowak on drums are able to deliver the goods. With all 5 musicians providing vocals, Cornmeal is able to create a lighthearted, yet, energetic form of bluegrass. It seems the band is able to translate a traditional form of Americana music to a younger generation, by incorporating a bit of rock-n-roll and solid songwriting. Inspiration through thoughtful and multi-layered lyrics on top of a well organized and beautifully played music, made the night truly enjoyable. The high-spirited and catchy "When the World's Got You Down" seems to lend a voice to tan audience of young adults that me be facing difficulties in life. Plowing through song after song, Cornmeal delivered a non-stop rock-grass show that took the audience to new heights.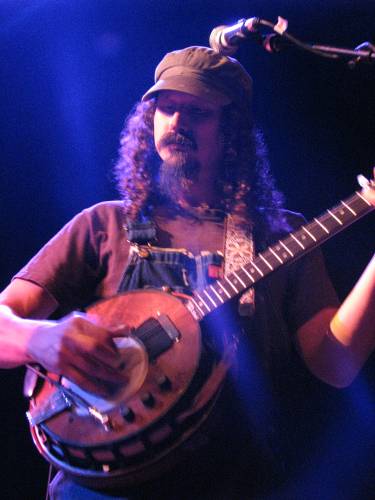 As the night roared on, crowds from the benefit began to file in. Still in full gear, the new members of the audience helped fuel an awesome second set that was full of leg slapping, foot stampin', hooting, and hollering. When I'm gone, won't you let my music play, members of Cornmeal belt out as they magnificently rock each of their respected instruments in a twangy "Rain Your Light on Me". As the memorable crowd favorite wrapped up, a swift countdown began the next song, epitomizing a key feature of a Cornmeal concert experience. Transitions between songs were very swift and any sort of opportunity for a breather were non-existent. Balancing out the rapid progression of songs, several songs were drawn out by long jam sessions showcasing each member's extraordinary skill. Charlie Daniel-esque Allie Kral wailed all night on her fiddle, often putting her entire body into her swift fiddle strokes showing the crowd a raw look into her soul. Burlingame and Kris Nowak lend a twangy and funky sound to the band on the banjo and guitar. Finally, Gangi and JP Nowak set a rhythm that can range anywhere from a low tempo bluesy mellow beat to a high paced dance jam.
Nearing 3am, Cornmeal wrapped-up their 2nd set. The audience, many of whom had begun rocking-out early that afternoon, was beginning to show a bit of fatigue. Pleads for an encore were answered as Cornmeal made there way back onstage for the final song of the night. With members of the band playing a soft "Stand By Me", the audience joined in singing, When the night has come, And the land is dark. and the moon is the only light we'll see, no I won't be afraid, no I won't be afraid Just as long as you stand, stand by me. Thanking the audience humbly, Cornmeal left the stage as sweat drenched, wide-eyed fans began to make their way to the exit. The perfect end to a well-crafted show, full of warm people, smiles, and hard dancing.