Keller Williams rolled into Chicago a little early for his February 5th 2011 shows. He had to make time to get to the Chicago Children's Museum, the American Girl Doll mega store, and all the while celebrating his birthday. His work day, if you can call it that, was a rigorous one. At the 2:30 opening door for his matinee show, kids of all ages piled thru the foyer where they escaped the cold. Inside the Park West, the kids were greeted with drums and percussion toys of all sizes and shapes laid out across the main dance floor.
Inside the foyer, Keller Kids' shows have selected a charity to be represented. Chicago's charity was Jane Adams Hull House, an association that provides child care, domestic violence counseling and prevention, economic development, family services, job training, literacy training, senior services, foster care, independent living, and housing assistance for 60,000 children, families and community members each year in communities in and around Chicago.
Ken Crampton of Everybody Drum led a massive guided drum circle for kids and parents to engage one another with a language that isn't common for everyday expression. "Not everyone's drum sounds the same," he explained to the kids. "ooo goo PAC, ooo goo PAC; Everybody lift your hands UP! Wiggle your fingers! Now with these three sounds, ooo goo PAC, we can make a rhythm." It was incredible to hear the little hands making such big sounds. "Tastes like chicken! Tastes like chicken!" Ken had the kids start the rhythms and along they would follow until the crescendo of thunder at the time Keller took the stage.
And so began the freak show. Superfreaks could purchase a pass to both Keller's matinee show and the evening 18+ performance. With that Superfreak pass you get a special laminate that not even the photographers or press got. It really speaks highly for the way Keller feels about his fans. The time and effort that goes into his performances is evident with not just a balloon drop, not just a confetti toss, but then again a third combination of streamers, confetti and big blasts of light! That is all, of course, in combination with some Keller geniusness. He played both tunes from his new release Kids and some favorites for the adults including Freeker by the Speaker and Best Feeling. How many other performers in the jam band circuit can say that they play two shows a day, one just for the kids? Anyone familiar with the Chicago area would appreciate his Bozo clown-like antics. The show made me wish we had Bozo back, but a kewler Bozo, a Bozo like Keller Williams.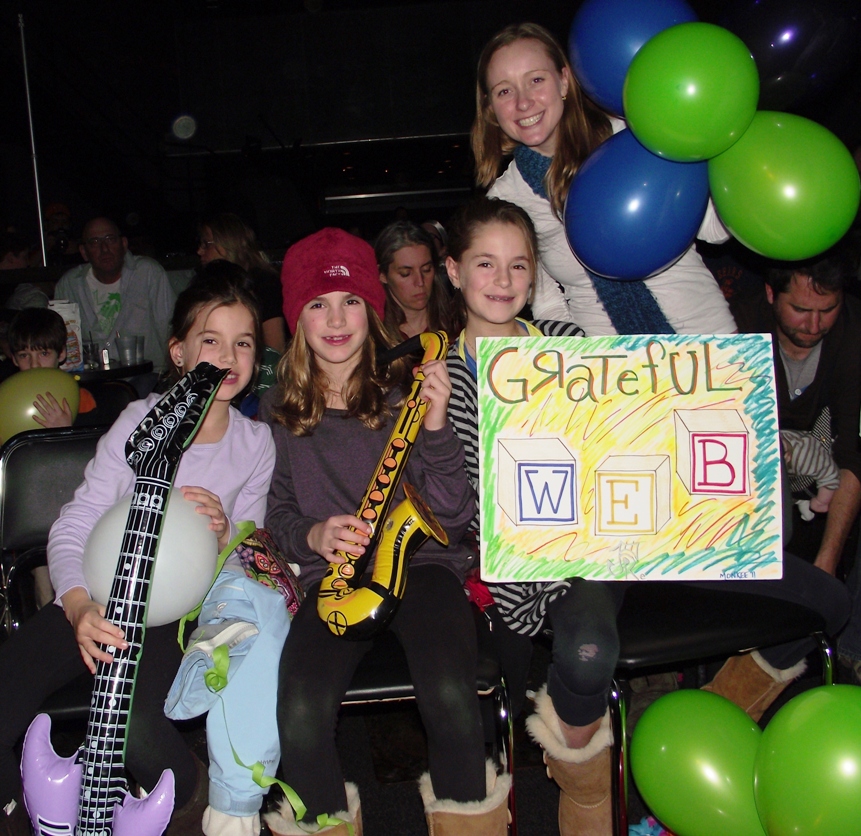 "Hi Kids! You ready to have some fun?!" Confetti burst and Keller opened with a personal favorite, a song about how he blames every indiscretion of the gaseous kind on mamma for fun, Mamma Tooted. "Who thinks I can make my guitar sound like a harmonica?!" "Who thinks I can make my guitar sound like an organ?!" Keller went on and explained to the kids that he has this crazy pedal that allows him to do this! And this! And this! His onstage antics played along on stage with the audience members singing songs like Car Seat, Grandma's Featherbed, and Takin' a Bath.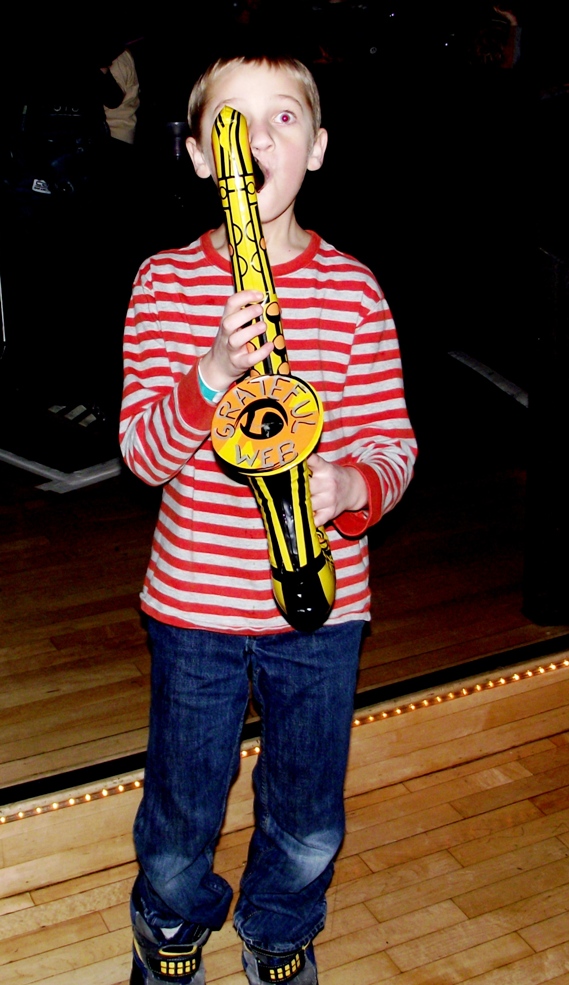 Frank Zappa once said, "Writing about music is like dancing about architecture." I couldn't agree more. It's hard to explain the vivacious life of this show on a 2D piece of paper (or flat screen from the web page you are reading). Today I'm trying to convey devil sticks, drums, kids everywhere, glow sticks, balloons, old friends, new friends, and Hula Hoops. Not the dazzling fire-spinning, power-of-the-hoop kind of hula hoops, but twirling-colors-and-fun kind of hula hooping childish grins hula hoops. "If you drop it, you pick it back up!" Keller invited his wife and kids on stage to hula hoop with their LED light-up hula hoops while he amused himself laughing and leading with his light up devil sticks. As the party wrapped up, Keller got off stage by leading a parade towards the foyer complete with When the Saints Go Marching In on trumpet, trombone, and a saxophone. Kids with hands full, grabbing at all the balloons and glow sticks they could manage to carry, bounded out after him, taking the fun with them out to the Chicago city streets.