Mash-up master Gregg Gillis, aka Girl Talk, didn't give a concert last night at the Ogden Theater in Denver, he threw a party. Complete with balloons, confetti, a machine that blew streams of toilet paper through the air, and his own intricate brand of generations of multi-genre beats, hooks and lyrics blended together, he served up dance party cocktails to an eager, thirsty crowd.
As Girl Talk's attention to musical detail has increased, so has his stage show. A large LED back drop and wrap for his command table displayed pixelated visuals cued up to the music. Random images of thumbtacks and dice raining down the screen and images of the audience dancing complimented an intricate dissection and reassembly of catchy top 40 hits. While Gillis seems to be scaling back tradition of inviting the audience up on stage, it was apparent that a few handfuls of college girls in short skirts and hot-pants had been bribed with fanny packs to be stage dancers.
The crowd transformed into a sexy writing mass of booty shaking as Gillis ran through "seasoned" tracks, and collages from his latest release, All Day. His style epitomizes the growing musical diversity of your average listener. In the age of MP3 players and increasing accessibility to vast amounts of music, Girl Talk utilizes such a wide variety of samples in his production, in turn spreading his appeal across a pretty large demographic.
Gillis puts a tremendous amount of consideration and effort into building tracks. A breakdown of the samples from his assemblies can be found here. He's somewhat of an unconventional genius. Jay Z lyrics over the top of General Public's "Tenderness;" the acoustic guitar from Jane's Addiction's "Jane Says" coupled with music sampled from "Express Yourself" (N.W.A) with some lyrical loops from "Teach Me How to Dougie" over the top. There are musical components in his compositions ranging from AC/DC and the Ramones to Miley Cyrus, Peter Gabriel, Herbie Hancock, Lil Kim and Simon and Garfunkel.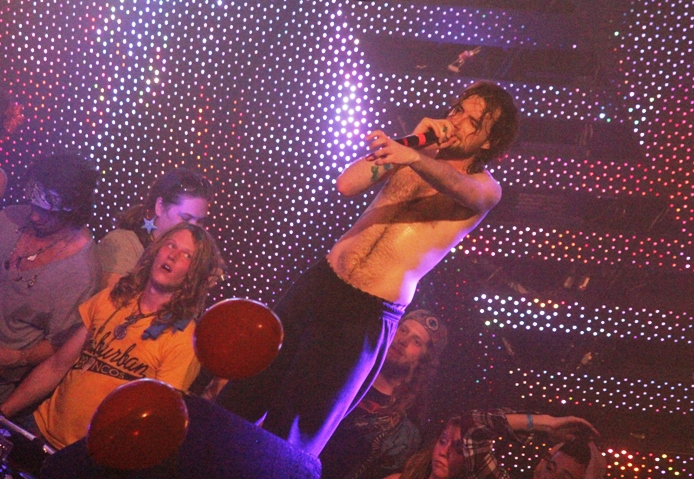 Behind his high table, bookended by two large wedge monitors, Gillis masterminded the music, bobbing his head and dancing non-stop, delighting in his orchestrations and their mesmerizing effect on his fans. Wearing a hoodie and a blue bandana to keep his shoulder length hair at bay, the bearded artist hardly looks the part of the dance party host. But then again, in this day and age, fashion stereotypes are out the window.
Some see Girl Talk as a conductor of a modern day pop symphony; some dismiss him as another DJ ripping off other artists' tracks. No one can deny that he creates catchy, well thought out jams; and he makes the crowd get down. Night one of a two night stand in Denver had fluorescent-clad, 80s fashioned fans shaking and grinding, densely packed into the 1,650 capacity theater. The collective house energy could have powered a small town, or at least the remainder of Girl Talk's show in the event of a power outage.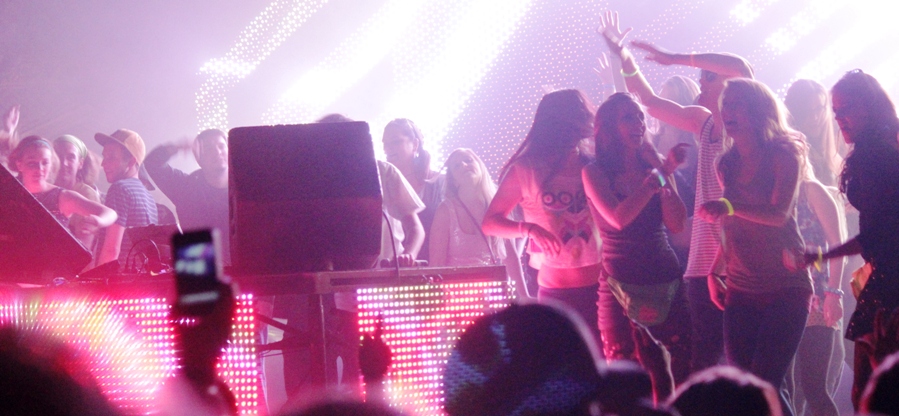 Check out more photos from the show.
Thanks to Pitch Perfect PR for their hospitality.