"Happy Earth Day! We burned a bunch of gasoline to get all these people into this room, but we try to be low impact once we're here. I suppose we could have been super environmental and not played but… Hey! It's 12:31 am! It's not Earth Day anymore! Yeah! Let's not worry about it and have a good time!" Greensky Bluegrass hollered from stage at the Kinetic Playground in Chicago IL, when they played with Mountain Standard Time on 4/22/2011.
My favorite kind of music is broken down into 3 different genres: bluegrass, disco, and Michael Jackson. This show gave me two out of three which satisfied my inner punk rowk girl that still says disco is dead. I've had so much bluegrass to choose from lately and I must say, this was the perfect way to spend Earth Day in Chicago. The club is right off the red line and the parking is plentiful if you do need to drive.
In the heart of the city, Earth Day is every day. This is about as green as it gets which is a vehicle that is twisted and bent but not broken. Last had I checked out Mountain Standard Time at Summer Camp 2010, I remember them talking about driving out of Nederland Colorado into Illinois and leaving a snow/ hail storm into what was the hottest Midwest sticky sweaty day seemingly ever. What a glorious weekend that was! But this was a different band. These boys are not just your average young backwoods mountain boys strumming on their guitars. Now they have the miles to back up their jamgrass with sass that gives the good drum of bluegrass a touch of acid jazz.
Mountain Standard Time brings it right on time with their uncanny ability to put up a fight but say it right with just the proper tempo change to make it funny and fun. The screaming sax was more than just the keys Kyle was blowing; it was enriched with the Mardi Gras funk of the band supporting him. The road has changed them since that last sweaty sultry Summer Camp day. They now know how to funk slowly and how to funk hard.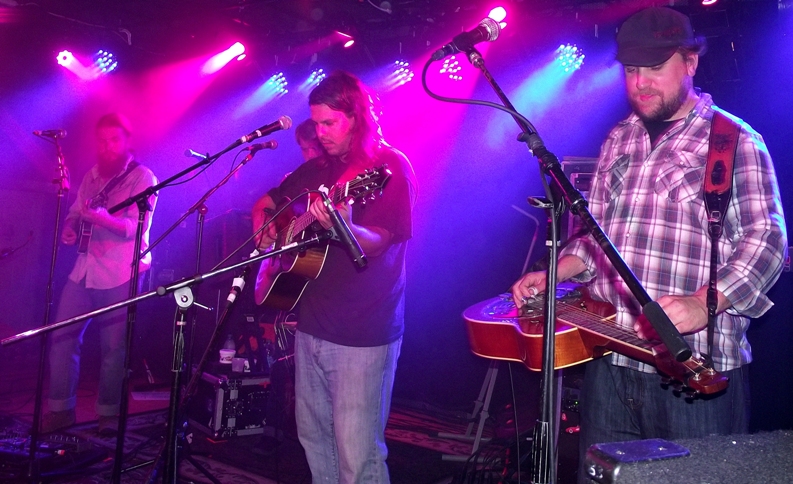 Greensky Bluegrass took the stage after midnight when the club was good and worked up. Hoops, drinks, vending, and friendly vibes were on tap even though cash was all they accepted at the bar. It felt very much like a shakedown street brought inside a storefront. After the hello announcement of Earth Day and the sheepish confession of their Earth un-friendly ways, they exemplified the Midwest and how Chicago likes it.
"Keep Music Evil!" There is a reason we don't legalize marijuana here yet. Chicago likes our music dirty, we keep our weed black market, and obviously our politics are a big old game of gangstas and millionaires.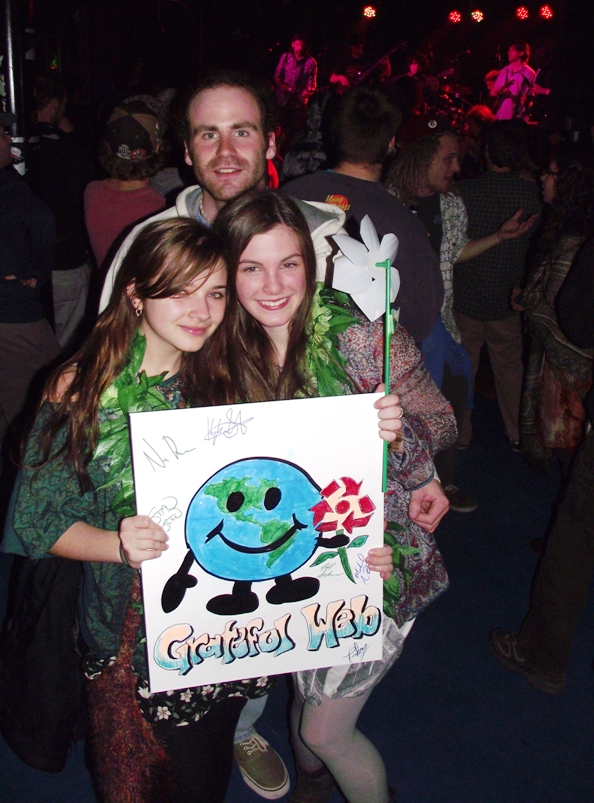 The Grand Rapids based band features Anders Beck, and I wasn't ever previously informed that you pronounce his name Ahhhnders Beck, like aunt instead of ant. So I was told. I was told that Beck has an "ambient feel on the dobro." I also was told that Jerry Douglas would be a suitable comparison for Anders Beck. If I could compare Anders Beck, I would compare him to the Ice Cube of bluegrass. I do believe that if Greensky Bluegrass covered Today Was a Good Day, I must bust from the sheer delight of musical glee.
But then Greensky did that for me anyway. They closed the show with a big old thanks for coming out and Happy Earth Day! Then they played Michael Jackson's Heal the World into a Beat It encore. Greensky brought the traditional bluegrass with the feel of a rush. It was as if bluegrass pressed the nitrous button inside its racecar, or as if bluegrass had drank a red bull for breakfast. Bluegrass lost its way and I'd rather take the long way home with these guys. The tight nods, jumps, and breaks of GSBG balanced perfectly with the first set of break-beat bluegrass starring MST.
Hope to catch everybody from the show out at the Bruce Hornsby set at Summer Camp!