The 1990s were an excellent time to see live music. Not only were some of the oldest touring mainstays in their mature prime (i.e., Grateful Dead, Allman Brothers Band, Rush, Eric Clapton) but a legion of next generation bands were emerging as part of a new mentality of what it meant to have a tour following. Naturally the most popular example of this was Phish, who had their birth and material laid out in the 1980s, but really starting throwing killer gigs around 1993. Next might be the likes of Widespread Panic or Dave Matthews Band. Seemingly rock 'n'roll bands with so much more to offer to their particular group of devoted tour-heads.
Another truly awesome form of the live-music medium gained legitimacy as well; the "performance rock" generation. Coined by father Zappa who's live gigs gained legendary status for being raunchy, campy, but musically sophisticated. The more hardcore of a Frank fan you were, the more you would get out of their insider's choice set lists. The 1980s would have bands like The Tubes and Talking Heads taking their own vein of performance rock to a different level. The real influx of this sub-genre would come as father Zappa retired from touring for health and spiritual betterment. It was time for a new generation of this tradition. Out of the late 80's would come bands like Aquarium Rescue Unit (hillbilly acid jazz), Ween (rockabilly cigarette-smoking weirdness), and most importantly Primus.
Bassist Les Claypool, Drummer Jay Lane, and Guitarist Larry LaLonde would come closest to the spirit of Father Zappa. Their power-trio had dynamics that other acts would spend their entire career perfecting. Though many people that grew up in the 1990s might remember Primus' whacky music videos that got airplay on MTV back when it was "certifiably hip", or the iconic theme song for the Comedy Central series South Park, these twinges of mainstream popularity undermined the group's layered complexities and one-of-a-kind personality.
Though Jay was a founder of the trio, he sought out other musical explorations instead of touring with Les and Larry as Primus. Claypool and LaLonde would go tour with many different drummers under the title of Primus. Personnel consistency was less important to the band's thriving than Les Claypool's front-man mentality and the direct adherence to his creation.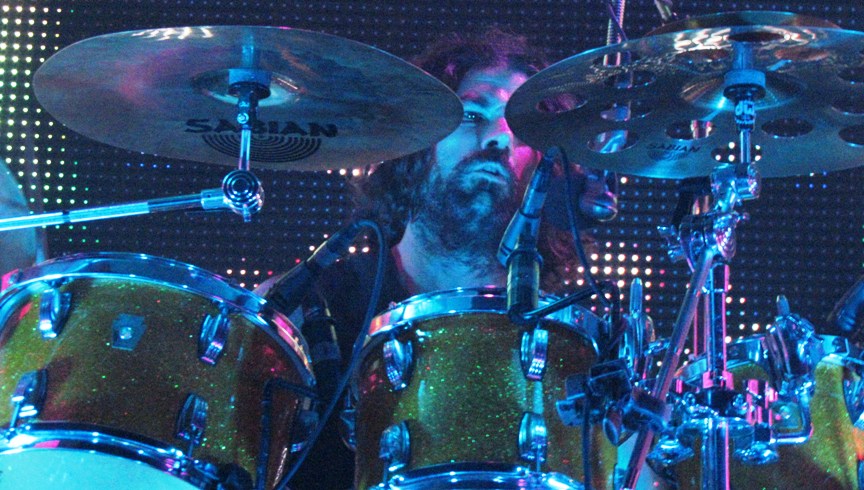 Claypool is truly Primus' brainchild. A bass virtuoso and part-time commercial fisherman (not a joke), Claypool has toured rigorously with Primus and other solo efforts since 1990 onward. His musical complexities and off-kilter vocal styling is like a nightmarish dreamscape you don't want to leave from. Part of the Primus sound is his lead vocals, which get channeled through different levels of distortion creating an eerie canned-radio effect. Describing Primus dynamics proves to be extremely difficult since really nothing else out there sounds quite like it.
I have had the pleasure of seeing Primus three times, and Les' solo endeavors also along the way. As a casual fan (for lack of a better term) I have become versed in some of the happenings of a Les Claypool event. Usually demonic-looking animal masks are involved (most famously his pig mask), a fan-made bass creation known as the whamolla will be brandished, and off-kilter comments a-la Claypool will interrupt even the fastest shredded number. Much like father Zappa, you just simply have to see it.
My third time seeing Primus was last Monday at Denver's historic Ogden Theatre. With a mere standing capacity of 1500 standing people, the venue was completely sold-out for a two-night standoff. When I arrived, I was not surprised to find minimal standing room available. I found a spot up front and off to the side. What I was surprised about was the general patience and kindness that the hoards of Primus fans had toward one and other. While Primus wouldn't quite qualify as metal, or any genre for that matter, many of the fans are a little more rough and tumble than say a Dead or Phish show clientele. This aside, everyone seemed to be in the same packed venue, waiting for the same band they love to come on, and everyone kept their cool in very close quarters.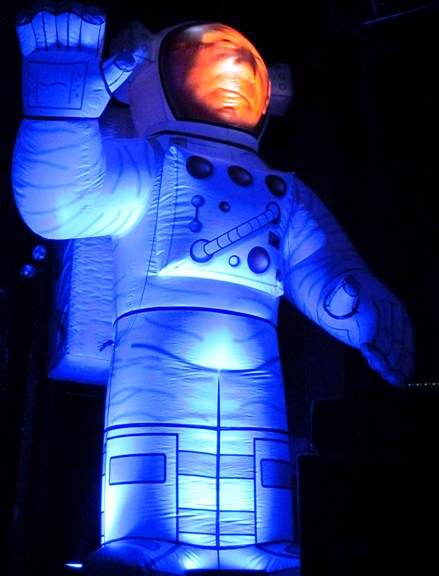 The stage setup was another trip. Two gigantic blowup spacemen and a multi-media backdrop make for visual over consumption. As the house lights dim the crowd goes nuts. The famous "Sprach Zarathustra" (also known as 2001: A Space Odyssey theme song) blares through the house PA. An image of a man's head is illuminated onto the head of the blowup spaceman. The head looks back and forth up and down, and will be projected for the rest of the concert. As the theme music ends, the trio energetically rambles on stage.
This review would not be complete without mentioning that last year Les welcomed back Jay Lane, who spent the 1990s and 2000s touring with Bob Weir's Ratdog, and more recently Weir and Phil Lesh's Furthur. One could only imagine the transition from Dead-family music to the rigid and thrashy Primus sound. Lane is a drummer of masterful versatility, and after a successful summer tour last year, Primus went into the studio with Lane to record their first album with him as drummer and the first Primus record period in nearly a decade. Green Naugahyde sounds like primitive Primus. Reminiscent of the early days of "Pork Soda" and "Frizzle Fry" the band is getting back to whatever it can refer to as roots. The album has met critical and fan praise and is generally considered a successful comeback for the trio.
Living in the present, the three launch into their set with a classic "Those Damned Blue-Collar Tweekers". The crowd goes nuts. Though the band is heavily promoting their new album this night, they start with one of the originals. Next, they break into "Dutchess and the Proverbial Mind Spread" off of 1997's The Brown Album. Recognizing the tunes but not knowing all of the song names, legions of happy fan-boys fill me in on any and all questions regarding the set list. More classics emerge with Primus mainstays "Sgt. Baker" and "Tommy the Cat". My favorite of the first set and in general is "Jerry was A Racecar Driver" which to me is the quintessential abbreviation of the Primus sound. The vocals, the shredding, the intensity; all of the elements are present.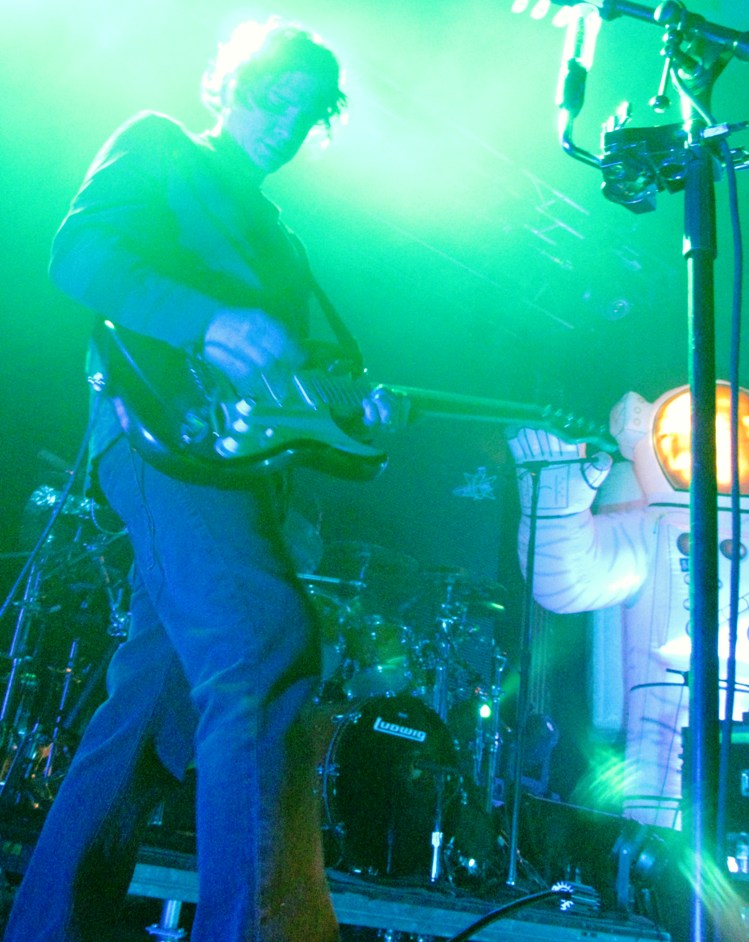 Noteworthy to mention is one of the coolest set breaks I have ever stood through. The multimedia screen, which has been actively projecting old music videos and iconography, now presents three classic "Popeye the Sailorman" cartoons in succession. Claypool doesn't want his audience getting restless and distracted. Though they took a modest set break (definitely less than half-an-hour) there is no lapse in entertainment at a Primus concert. Clever way of keeping the rowdies at bay.
The second set is a different trip. More-or-less the entire Green Naugahyde album performed start to finish. More often than not, if a beloved band is playing new material, it's more or less a drag for the audience who is expecting their favorite classic bust-outs. Something about nostalgia and that familiarity factor is warming and welcoming. Primus has always been less about "hits" and more about a collective sound. Nobody seemed to mind the showcasing of the new material as the entire second set. In fact, during this set was when the most classic Primus happenings occurred. The Les rants, the pig mask, the whamolla. All during new material. To me, this is evidence that Primus has jumped the hurdle of grandfathering the new songs into their repertoire. Very smart in this fan's opinion.
The highlight of the new material for me was "Jilly's On Smack" which truly sounded like it belonged on 1990's Frizzle Fry record. As the band exits for encore, more multi-media madness distracts the usual cliché encore cries. The three return with the Primus oldies "Golden Boy" and "Frizzle Fry". Though the new material was taken in stride, the audience is thrilled with the familiarity of those originals. Came and conquered.

I did not have the pleasure of attending the second night. I'd imagine the sold-out crowd was treated to more surprises with the new material having been worked out night one. I am ecstatic to see how the boys continue to work out their career as the Primus trio. With the new album and the heavy touring the past two years (four Colorado appearances since 2010) the prospect of future happenings seems promising. I truly salute Lane, LaLonde, and Claypool for their worthy fresh efforts and the possibility of a more active touring future.