Should auld acquaintance be forgot,
and never brought to mind?
Should auld acquaintance be forgot,
and auld Lang syne?
For auld Lang syne, my Jo (or my dear),
for auld Lang syne,
we'll take a cup o' kindness yet,
for auld Lang syne.
Bottle rockets and snap pops~ on December 30, 2011 Abakus, EOTO, and Disco Biscuits took to a stage of beauty at the Auditorium Theatre at Roosevelt University in Chicago IL. It was the firecrackers before the full display the next evening when Future Rock opened to their hometown crowd and Disco Biscuits brought home 2012 on New Year's Eve proper. It was a clear night in the windy city, but a mild breeze kept it comfortable for the fabulous New Years outfits. Disco Biscuits brings out the flash and razzmatazz. I missed Abakus' opening act in the will call line and confusion at the doors. The theatre did allow for re-entry so it was a little crazy at the doors for the earlier part of the evening. There was a coat check and a fully stocked bar in a beautiful Frank Lloyd Wright designed theatre. We began the celebration…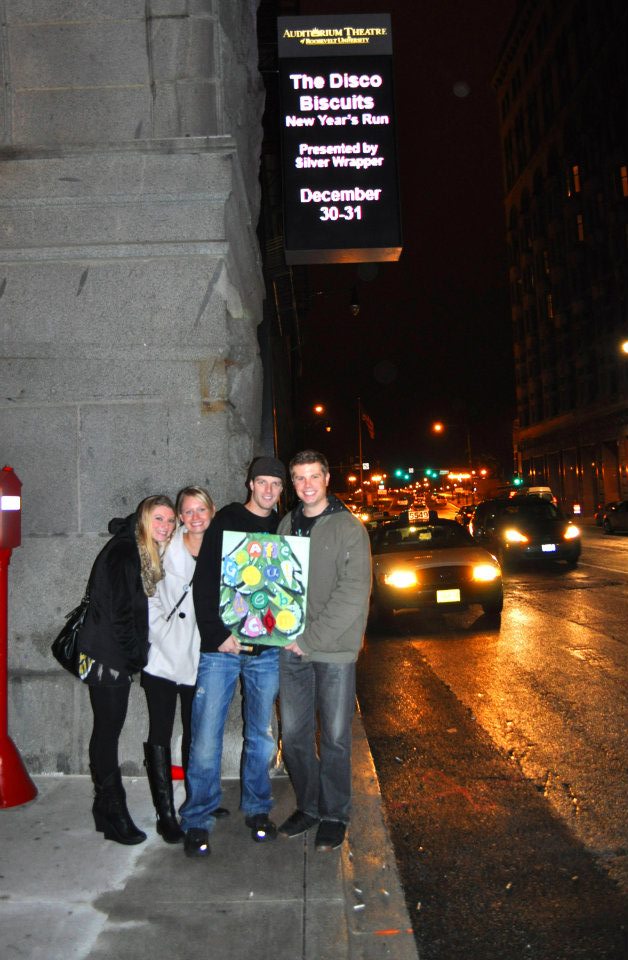 EOTO was doin' their thing by the time I got settled. The grimy grip of a musical tunnel was fully functioning as I fluttered my eyes on a scene of rushing stars. The starship of their dance trance music is like a spider web to me. Sometimes when I see them the spider web is one of beauty and glory like charlotte's web. This particular evening I felt they wove their web with the sticky icky whomp thomp that while satisfying to the crowd did not excite them. They were all on average an age of about 21. That would make them born in 1990 or about then. Playing hits mashed up into your electronic buzz from the 80's didn't hold the impact I was hoping it would. I was held captive in the web, stuck like a bug waiting to be devoured by the inevitable hungry spider. I personally believe perhaps the spider bit me like the only the venomous wail of two drummers in tight rhythm can. I like EOTO and I hope I am wrong about the younger crowd not feeling the impact of the dirty 80's metal crunk stuck in there. I would love to chat with the kid in front of me that told me he was a senior in high school a couple days after the show. Did it stick? Did he rilly identify with EOTO's music? Why? Did it knock his heart off beat? To quote Keller Williams from his music blog entry about his great experience at EOTO, "There is something for anybody but not just one thing for everybody." This show was easily labeled electronic music, but that label is quite deceiving when you realize the talent on stage. This is no simple push of a button. This is meticulous, careful construction of a desired sound.
The set break included producer Abakus. He came back onstage to keep the party going and rilly brought a groovy mood back to the abruptly quiet theatre. I did not know that his father is Dave Davies, The Kinks founder. The crowd hardly skipped a beat still pressed towards the front rail riding for set break, what a legendary night!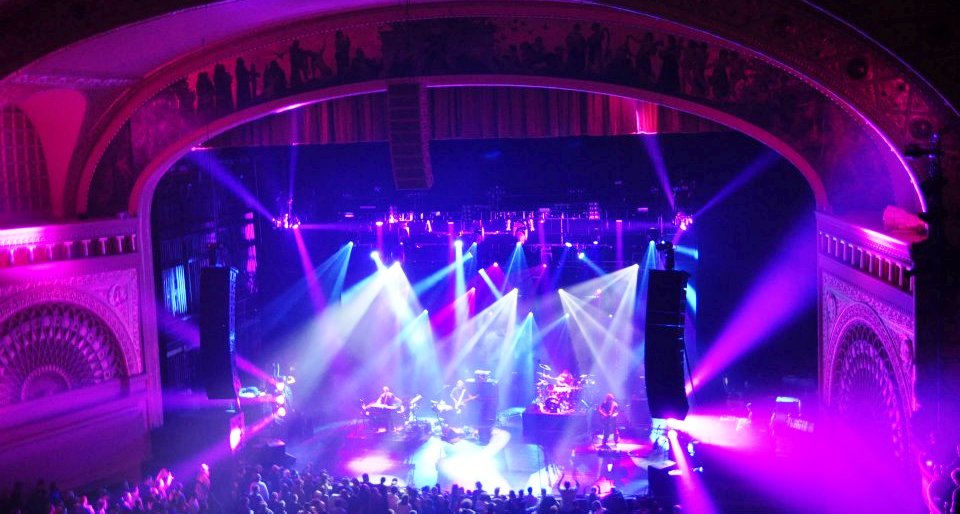 The Disco Biscuits took the stage to a blizzard of lights. Sing along now! Four Disco Biscuits, three balconies of killer views, two members of String Cheese Incident, one son of The Kinks founder and a partridge in a pear tree. A far cry from a discotethque, albeit gorgeous, the lights were moving faster and stronger than the crowd due to lack of dance floor space. The Auditorium Theatre was the perfect, but almost too perfect a setting for this flawless musical performance from the Biscuits.
Set I: 7-11 > Munchkin Invasion, Mindless Dribble > Lunar Pursuit > 7-11 > Mindless Dribble > Run Like Hell1
Set II: Strobe lights and Martinis > Pimp Blue Rikkis > Strobe lights and Martinis > I-Man, Morph Dusseldorf2 > Basis for A Day
Encore: Portal to an Empty Head > Svenghali1 > Portal to an Empty Head
1 ending only
2 unfinished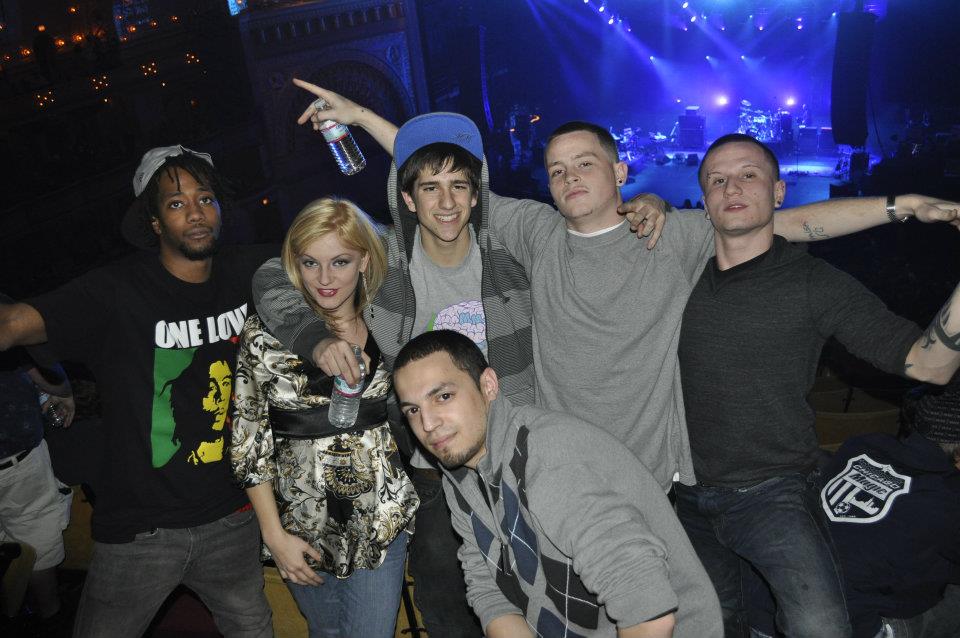 Bittersweet as remembering good times of the past can be, I could have been anywhere for New Years 2012 and felt this good. There was more chemistry in the crowd of best friends, illest crews, and lovers' kissing than there was chemistry on stage. But then again, this was only December 30th. What a great first set…They fired the lazers, they played Munchkin, a tune they did not play during their entire run on the East Coast for the Christmas shows… They connected with the audience and yet not quite with each other. The energy on stage is always reflected by the crowd. I don't mean to sound ungrateful but reflecting upon it, I feel that a different venue, while not as pristine, would have better showcased these bands. There was a cross mojonation that got all jumbled up, as Austin Powers would say. The security was tough as it should be for a Frank Lloyd Wright building, but honestly, no glow sticks!? Gotta at least give a girl her light saber when entering the starship!