Going to see Yonder Mountain String Band in your t-shirt and shorts in February is pretty special, especially when you're from Boulder. I was lucky enough to catch YMSB last night, which for me is fortuitous timing considering I am in town visiting my mom (and planning a monster trip to The Galapagos next week). The venue in Fort Lauderdale, Revolution, is about the size of the Fox Theater in Boulder. One major difference – rather than the smell of the sweet kind you're likely to smell in Boulder, you are stuck with cigarettes everywhere! D'oh! Nonetheless, Yonder was in fine spirits, particularly Ben who is just glowing after recently becoming a dad (Mom and kid doing well in California). Also, Ben's sister lives down in these parts, which he mentioned a few times. In fact, he even told us this is really the only time of the year he gets to see his sister (their 1x per year annual stop to South Florida).
Hearing conflicting reports as to The Infamous Stringdusters opening (I was thrilled at the notion) – ultimately that was not the case – but Yonder made up for it with a lively show – YMSB opened with Flatt and Scruggs' Polka on a Banjo – which makes it nearly impossible not to start shaking your bones. Though I don't think Yonder nailed the first set last night (I did see 4/5 shows over their Boulder Theater New Years run) -- it still was solid. One of the most animated musicians in the biz, Jeff Austin, Adam Aijala (who I really think is the most underrated member of the band – and arguably the most talented), the aforementioned new Dad, Ben Kaufmann, and Dave Johnston were giving what South Florida needs more of -- music from the heart. Let's face it: The Miami area is not a hippie haven - which Ben alluded to last night – "it's nice to know there are at least some like-minded folks here" – The truth is, most everyone I talked to last night were total sweethearts and just as thrilled to see Yonder in town as I was.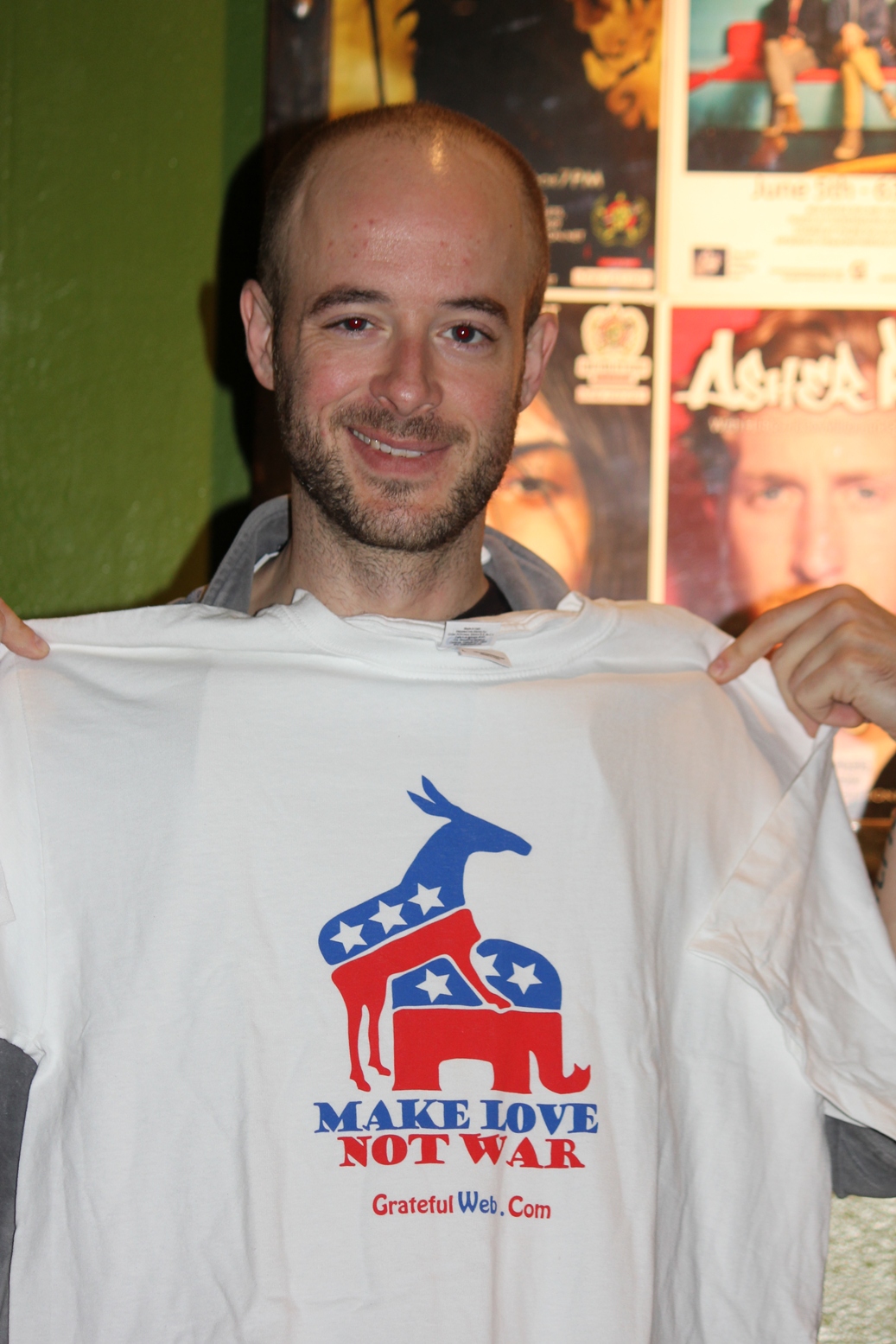 After seeing YMSB on their epic New Years run, I realized how nice it is when Yonder has someone to sit in with them (Darol Anger on New Year's Eve – and Andy Hall, the Dusters' dobro player). I will confess I was hoping for Andy again – he adds another dimension to the music, much like Jeff does when he sits in with the Dusters (who recently lost their long time mando player). But fortunately with Adam's flat-picking, Dave's prowess on the banjo, Austin's fiery fingers moving up and down the fretboard, and Ben keeping the groove, things were still sounding sweet. Ben, who is a song-writing machine, played at least 1 or 2 new numbers. One of the many aspects of Yonder I admire is these guys really are genuinely nice fellas. They're all friendly, not even the slightest air of pretentiousness (Ben was kind enough to let us photograph him with our 'Make Love Not War' shirt), Jeff was the biggest sweetheart when we interviewed him, Adam constantly has the nicest kind smirk on his face when he plays, and Dave always seems to have an anecdote to share.
Yonder Mountain String Band almost never stops touring, they're one of the hardest working bands in the industry, they're constantly reinventing themselves (Ben playing a few tunes on the piano in Boulder was a special treat), and never stop giving everything they can to satisfy their fans and themselves.